Wounded vet? Special forces? POW?
How to spot a military fraud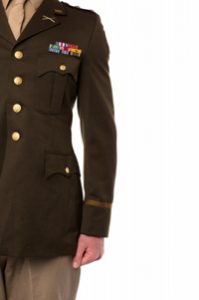 Some people who claim to be military are actually military frauds. When a sociopath wants you to believe that he's honorable, he may tell you that he served in the military. When a sociopath wants you to believe he's a larger-than-life hero, he may tell you he was a black ops commando.
VeriSEAL.org, an organization that verified the backgrounds of Special Operations Forces personnel, exposed more than 35,000 phony Navy SEALS. This is truly amazing, because only 11,000 men actually graduated from the SEAL training program, and its predecessor, the Underwater Demolition Team, since 1947. In other words, there are three times as many military impostors as actual SEALs.
Another organization, the POW Network, exposes people who exaggerate or fabricate American military credentials—those who claim rank they never achieved, medals they never earned, enlistments that never happened. This is known as "stolen valor." The group posts wannabes' names, photos and details on The Fake Warriors Project. How many are there? Five thousand military impostors and counting.
Here's what you should remember: True military veterans rarely talk about their experiences. If someone is trying to impress you with tales of heroism, there is a good chance he or she is lying and is a military fraud.
How to verify military service
Despite stories of "covert missions" and "classified information," you can indeed verify military service claims. For the U.S. military, you can find out:
Dates of service
Rank
Marital status
Decorations and awards
Place of induction and separation
Duty assignments
Duty status (such as discharged or retired)
And more
Official military records are stored at the National Personnel Records Center in St. Louis, Missouri. Information about U.S. service personnel is available to the public under the Freedom of Information Act (FOIA). Getting the information is not difficult. To make a request, all you have to do is download a form and mail or fax it in. Include a cover letter requesting the records under FOIA, and ask for all available releasable information. If the person was never in the military, you'll receive a reply telling you that the center has no record of him or her.
If the person served in a National Guard unit on active duty, the National Personnel Records Center will probably have information. If not, you may need to contact the Adjutant General's office for the state in which the person claims to have served.
If you think you know someone who is a military impostor, report your suspicions to the Fake Warrior Project, administered by the POW Network. Just go to the organization's website and fill out a form.
How to verify Special Operations Forces claims
To become a U.S. Navy SEAL, a soldier must complete Basic Underwater Demolition/SEAL (BUD/S) training—a six-month program that weeds out 75 percent of each class. Then, each SEAL goes through further training in his mission specialty.
A former SEAL captain, who has done his share of busting fakes, says a simple question might help you spot a phony. It is: "What was your class number?" If the guy stumbles at all in his answer, he's lying. A true SEAL never forgets his BUD/S class number. Class numbers are now up to the mid-200's.
POWs and other heroes
Is the guy claiming he was a prisoner or war? Or that he won the Congressional Medal of Honor—the highest and most prestigious military decoration in America? Here's where you can check him out:
POW Network lists all prisoners of war from Vietnam.
U.S. Army Center of Military History lists all Congressional Medal of Honor winners from all wars.
Military Times Hall of Valor is a database of valor award citations of heroes from the U.S. armed services.
Legion of Valor lists all recipients of the Medal of Honor, Distinguished Service Cross, Navy Cross and Air Force Cross.
POW Network has already exposed 1,400 fake Vietnam prisoners of war. This is another astounding number, because only 660 U.S. servicemen actually were prisoners in Vietnam and came out alive. Again, more phonies than true heroes.
FakeWarriors.org offers more links to help find the truth.
Military frauds in other countries
Fraudulent claims of military service are not limited to the United States. Following are links to help you verify military service—or find out if someone has been exposed as a phony.
Australia
The Australian Government Department of Veterans' Affairs provides nominal rolls of all military personnel who served in armed conflicts. The website includes links for World War I, World War II, the Korean War, Vietnam and the first Gulf War.
Australia and New Zealand Military Impostors investigates military phonies and exposes their lies on its website.
Note: Lovefraud welcomes additions to this list. Send links to donna@lovefraud.com.
If you've met a U.S. Army officer online, he might be in this lineup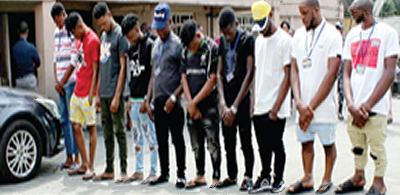 Thousands of scammers are online, posing as U.S. military, trying to entice unsuspecting victims into sending them money. In 2018, authorities in Nigeria arrested 10 men who were doing just that. Here's the news:
Love scam: 10 Nigerians pose as U.S. Army officers, on NewTelegraphng.com.
In romance scams, con artists may spend two to three months grooming their targets (that would be you). They slowly gain the target's trust, proclaim love, and promise to be together. Then they start asking for money. If you hear any of the following, it is a scam:
"I need money for a satellite phone."
"I need to pay for official travel documents."
"Since I'm deployed overseas, I need to pay for my travel to see you."
"I was in an accident and need to pay my medical bills."
Real soldiers never need to pay for communications, documents, travel or medical expenses.
NEVER, EVER send money to someone you've met online. It is a SCAM.
One easy way to know if the soldier you met online is a military fraud
Thousands of lonely women, looking for love online, meet members of the U.S. military. The men are handsome and rugged, they're serving in harm's way, and they're also lonely. The men chat the women up, the women fall in love. The men want to pursue the relationship, but, they say, they need financial help to do it. Can the women send money?
Remember — don't do it! It's a scam!
The U. S. Army Criminal Investigation Command says this: DO NOT SEND MONEY TO PEOPLE YOU MEET ON THE INTERNET WHO CLAIM TO BE U.S. MILITARY.
An authentic U.S. service member NEVER needs financial assistance for transportation, communication fees, medical costs or marriage processing fees. If someone is asking for money, it's likely he is a scammer from West Africa.
Here's the easiest way to spot a scammer: An authentic member of the military will have an email address ending in ".mil." If the person cannot send you an email from an account ending in .mil, and receive email on an account ending in .mil, he is a scammer.
Ask for his official military email address. They may have excuses like, "I don't have one," or, "we're not allowed to give it to civilians," or, "we're not allowed to use it for personal stuff." These statements are LIES! All members of the military have email addresses, and they are allowed to use them.
A scammer may be able to create an email address that resembles a U.S. military address, but it may have a hidden "reply to" address. So here's what you do:
Ask him for his official military email address.
Compose a brand new email and send it to the address. Do not use the "reply" button of a previous email from him.
If he does not receive your email, he is a scammer.
More information:
CID advises vigilance against 'romance scams,' scammers impersonating soldiers, on Army.mil.
Next: How to spot a romance scam