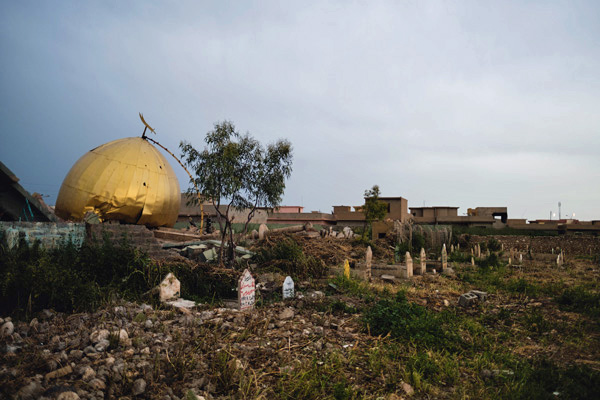 UPDATED FOR 2021 — Evil exists. That was the revelation posted back in 2014 by Richard Cohen, a columnist with the Washington Post. The world once again appears to be a dangerous place, so it seems appropriate to revisit this concept.
The impetus for Cohen's column was the atrocities committed by the Islamic State — the jihadists who overran Iraq, murdered anyone they didn't like, and beheaded American photojournalist James Foley.
"I used to not believe in evil," Cohen wrote in his article, The Islamic State is evil returned. Now he does.
Cohen compares the acts committed by the Islamic State to those of other purveyors of brutal atrocities Adolph Hitler and the Nazis. In the generations since World War II, Cohen notes, philosophers and editorial writers have obsessed over the question: "Why?" Why did the Nazis inflict such horrors on other people?
Cohen quotes the conclusion of another writer, Martin Amis: There is no why.
Why evil exists: Psychopaths
On the contrary, I believe there is an explanation for evil actions, like those committed by the Nazis and Islamic State jihadists.
The people who come up with diabolical plans for mass murder and other atrocities are psychopaths.
Here's the key point to understand about psychopaths: They are fundamentally different from the rest of us. They are literally missing the trait that makes the rest of us human.
Psychopaths have no ability to love.
This is the point so many people asking "why?" fail to get. They are trying to interpret evil behavior through a normal lens. They ask how any normal person can do what these tyrants and murders do.
The answer is that these acts are perpetrated by psychopaths, and psychopaths are not normal.
Human motivation
Human beings experience four social motivations:
Attachment — the desire to be with people, especially a significant other
Sex
Caretaking — a desire to look out for and take care of other people. This is the essence of real love for another person.
Power — the desire for a superior social position.
The first three motivations — attachment, sex and caretaking — are the three components of romantic love.
The fourth motivation — power — isn't necessarily bad in measured doses. After all, it's our power motivation that makes us want to be achievers and leaders.
According to Dr. Liane Leedom, in normal people, the power motivation is held in check by our love motivation. We want to secure power and social position for ourselves, but not at the expense of severely hurting someone else.
Psychopaths, however, are totally different.
Psychopaths, Dr. Leedom explains, have no love motivation to put the brakes on their power motivation. They experience power and control as totally exhilarating, and don't experience love and the desire to care for others at all.
So psychopaths have an out-of-control desire for power, with no concern about what happens to others. That means a psychopath can do whatever he or she wants to pursue domination, and experiences no guilt or remorse about steamrolling anyone who is in the way. This is why evil exists.
Gathering followers
Widespread atrocities, such as those committed by the Nazis and Islamic State, require the involvement of many people. How do all these people get involved?
First of all, the leaders of evil movements are likely to be psychopaths. Saddam Hussein was a psychopath, according to his personal physician. Most people consider Adolph Hitler to be a psychopath, although he may have had other mental issues as well. Cult leaders are probably all psychopaths.
We know first hand how convincing and manipulative psychopaths are. They convince other people to go along with their plans. In the beginning they are magnetic and charming, but later, as their power increases, psychopaths may increasingly use tactics of fear and brutality.
So what happens to the followers?
Many of the followers may have psychopathic traits themselves. The more disordered they are, the more they are willing to do the leader's dirty work.
Psychopathy is also, in a way, contagious.
High levels of aggressive and brutal behavior reinforce an individual's power motivation, and weaken the caretaking motivation. So people who already had psychopathic traits become worse. And those who perhaps did not have psychopathic traits, but cooperated with the evil movement in order to survive, lose their humanity and become more callous.
Finally, some people in the movements are brainwashed — especially those who started becoming indoctrinated while young, like the Hitler youth and many boys educated in jihadist madrassas.
Dealing with evil
Here's another article about conditions on the ground in Iraq:
'They're so evil': Pastor serving in Iraq says Islamic State's murderous rampage like nothing 'seen since the days of the Holocaust,' on TheBlaze.com.
So what does this all mean for the international community?
Leaders whose job it is to make national and international policy need to understand that evil exists. They need to know what we know about dealing with psychopaths:
They lie.
They cannot be trusted.
They will promise anything, then do what they want.
Their sole objective is winning.
If you give them one inch they will take 10 miles.
You cannot appeal to their humanity, because they have none.
They do not care who gets hurt or killed, including their own families and members of their group.
All of us at Lovefraud know what's like to have a psychopath wreak havoc in our lives. Unfortunately, psychopaths are also capable of wreaking havoc on a grand scale.
Evil exists, and the world is dealing with it. I hope our leaders who are deciding how to respond recognize that.
This article was originally posted on Sept. 1, 2014.