Editor's note: Please welcome a new contributor to Lovefraud.com — Eleanor Cowan, author of "A History of a Pedophile's Wife."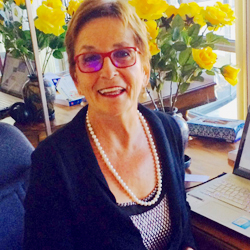 Born in 1948, the same year women first voted in Quebec, she began her life odyssey with a lovely home, good food, some affection, and soon, the company of nine siblings. These are the details she relied upon, not the nights of sexual abuse, the constant criticism of her mother, nor the religious oppression in her strict family. With the alcoholism of her mother and the chronic absence of her Dad, life slid downhill fast. She became a devout Catholic, an anxious people pleaser  — and a complete stranger to herself. Three drug-rapes into her 20's, she decided to erase the past, turn a brand new page, get married and have a family – and promptly married a pedophile who molested their children. After writing her book, Eleanor gladly visits groups, presents her story and answers questions about her entry into a mature adult world where tears and laughter can co-exist.
From Moon to Earth
"Your son lives on the moon! "Teddy's Grade 2 teacher complained, her grim face and gruff tone an accusation to me. "Teddy's somewhere else – far away and all of the time. He stares out the window. He hears nothing. He dozes off. What's distracting him all the time? Something at home?
"Boy, she needs a communication course," I said to a parent at the school gate. "Can she not speak less offensively to parents? My son's a smart, imaginative kid! Maybe he's bored in her class?"
What my disgruntled self didn't know was that Teddy's chronically unemployed and highly-educated father regularly molested his sister – and probably him – while I waitressed nights to pay the rent, bills and groceries.
But where was I, really? Who was I during those years of blind ignorance? I'd read an article about two types of time – Chronos and Kairos. One is clock time, tick tock, tick tock. The other is about the time we become conscious, awake and aware. I began to learn that, for a long time, despite my frenzy of daily accomplishment, I'd been in a deep, sleep. I'd slept through every alarm.
Slowly, very slowly, through watching others, through comparing their happiness with my own constant undiagnosed anxiety, I awakened to understand a simple fact: I wasn't happy.
"Women fought for decades for the right to work, have careers, be breadwinners," said my husband, Stan. "You have that hard-earned privilege and you're complaining?" Despite a deal we'd made that once he'd finished the university studies I paid for, he'd support me while I stayed at home with our two toddlers, that pact never happened.
"I'm over-educated, "he claimed when the time came, "while you can do anything from waitress to secretary with ease cause you're so pleasant." So, Deep and Profound stayed at home while Bubbly Pleasant waitressed at night – work that allowed me to be home with the kids during the day.
Stan focused on his interests. He forgot to take the kids to the lessons I'd paid for and accused me of being hysterical when I got upset. "You treat me like a criminal!" he shouted. I began to cook before I left for work and to clean up when I got home. Over time these double shifts affected my health. Some nights I'd dream of running desperately through thick, restraining tar.
I paid the high price oblivion cost – and so did the children I loved.
When my children were ten and twelve years old, with the help of good people I trusted, my haze cleared enough to crawl away from fourteen years of comatose craziness, abuse, and exploitation.
Walking home from work several months after I'd left Stan, I suddenly stopped. Sunshine filtered through golden autumn leaves overhead, their maple shapes dappling the sidewalk below – and I gasped – with joy! I had full custody of my children, work I loved, and was studying to upgrade my profession. It was the first time I'd felt so allied with myself. A new self was coming home.
I had no idea, though, that leaving Stan was only the beginning. Sure, I was free of one abuser – but unless I changed, I was told, I'd be a magnet for more of the same.
Soon, the blame started. An inexperienced social worker taught me new vocabulary. "You're what is known as a 'colluder', an 'enabler'", she said during a home visit. "You need to wake up to your own part in this mess. It takes two to tango, after all." My self-esteem plummeted. My fragile confidence shook with this new knowledge – about myself. Fortunately, a more senior social worker dismissed the trainee from my case and instead, invited me to a twice-weekly support group. I was given a pile of books too. I read them all and stuck with the group, despite the diminishing numbers. It got tough to take the focus off the abuser and to keep it on ourselves – our fragility, our pathological loyalty, our chronic passivity and tolerance of abuse – and the terrible cost to the children left unprotected.
Page by page, meeting by meeting – I awakened. I began to respect my own wishes. One small example is that I learned about "policy statements", such as "Let me get back to you about that," when invited to do unpaid overtime or volunteer despite fatigue. If I couldn't yet say 'no', at least I could stall. I learned I could press 3 to review a phone message until my 'no' sounded just right.
I learned vocabulary such as incest and rape survivor, post traumatic dissociation, adult child of an alcoholic, people-pleaser and chronic co-dependent. I was stunned they all applied to me.
If I'd have been an awake woman of high self esteem, if I'd valued myself enough to listen to the clues, I'd never have married Stan – nor would he have chosen me. Or, I'd have left much, much sooner.
One summer's evening, a full two years after I joined a group I never imagined I'd be part of – the Support Group for Parents of Sexually Abused Children, I sat together with my son on the back porch of our rented home. He pointed afar.
"Look, Mom, it's a full moon!" Turning to me, he added, "I'm glad I live here on planet earth, with you."
"Me too," I replied, "I'm so, so grateful we've landed at last.