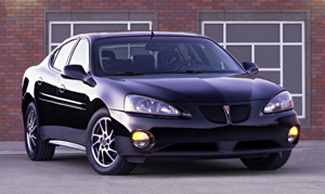 At 11 p.m. on a Saturday night, wearing new lingerie from Victoria's Secret, I awaited the arrival of my fiancé, James Montgomery.
He'd been out of the country on a secret military mission (so he told me). But he could escape his duties for a short time, so he was driving more than 1,000 miles, from MacDill Air Force Base in Tampa, Florida, to my home in New Jersey, to meet me for a passionate rendezvous.
He arrived in a vehicle I'd never seen before a black Grand Prix. "Whose car is this?" I asked.
"It belongs to one of my mates from MacDill," Montgomery told me. "He needed the car brought up north, and I needed to get home. It worked out well."
I believed his explanation at that point I had no reason to doubt him and we had our rendezvous.
Years later I learned that the car belonged to a woman Montgomery started dating five years before I met him. He continued to date the woman I call her Kim in my book, Love Fraud while married to the wife before me (who died suddenly) and then to me.
He was not out of the country. Kim, who lived in Florida, was staying at his townhouse in New Jersey for two weeks.
Montgomery married Kim 10 days after I left him. The next day, yet another woman whom I call Sylvia in my book flew to Florida to visit Montgomery.
He drove Sylvia around in Kim's car. Sylvia, however, was on to him, searched the glove compartment, and found out that the car belonged to Kim, not Montgomery.
Why did James Montgomery do this? Why did he risk one woman finding out about the other woman? Most likely, for the thrill of it.
Duping Delight
I've heard this story time and time again. One woman told me that the psychopath she knew routinely arranged for several of the women he dated to be in the same place, explaining to each of them that the other woman was a "business associate" or "friend."
A man told me that the woman he dated arranged to attend a trade association event where he was receiving an award and brought another man.
Psychopaths love getting over on people, especially their partners it's called "duping delight." And they have a thirst for excitement. So to feed both their needs, they often try to see how close they can bring their various partners together, without the partners catching on.
Soulless psychopaths
Why is it important to know that psychopaths do this? Because it shows how they truly view romantic relationships: as a game.
Psychopaths do not pursue romantic relationships for love, but for exploitation. And perhaps the cruelest form of exploitation is playing with other people's hearts just to entertain themselves.
Psychopaths truly are soulless, and this behavior is proof of it.