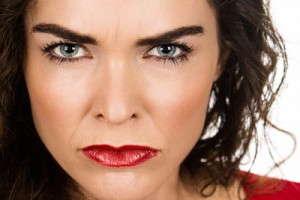 Millions of sociopaths live among us, and a significant proportion of them are women. Unfortunately, many Lovefraud readers have learned about female sociopaths the hard way.
Over the past few years, I've exchanged emails with a Lovefraud reader whom we'll call "Steve22." Steve22 has been involved with a woman for about 20 years. Slowly, over the last 10 years, he figured out what was wrong with her: She has a serious personality disorder. She exploits and manipulates others — particularly him.
Luckily, Steve22 never married the woman, and now he is planning his exit strategy. He will soon retire, and he'll leave not only his job, but also the female sociopath. They do share a house, and she's a hoarder. Steve22 has moved many of his valuables to storage. She hasn't noticed.
Although Steve22 has lost a lot of time that can never be replaced, he is at peace with the situation. He also has advice for other men who realize they are involved with a female sociopath.
Following is an email that he sent me not long ago.
Steve22's email: Leaving the female sociopath
I feel much more comfortable (not stressed or concerned) about her anti-social – sociopathic tendencies and stop them in their tracks. She already hates me, but for some reason doesn't want me to leave. Still working on my exit plan, though.
I looked up the Hare PCL-R and graded her exploits. Found out she's a high-functioning sociopath. Sometimes it takes time and I thoroughly like to have my evidence complete before leaving "Dodge," so to speak. Just being careful.
I don't blame myself with exception of the years of lies and deceit not knowing what she is. Just wish I had them back and would've found someone I could converse with and share my life with, now that I know the signs to look for. Instead of grey rock with this one.
Regardless, I am financially good, have my health, relatives, friends to visit by myself renting a RV of some sort. It's just frustrating going thru my stuff when the house is pack-ratted by her and her stuff. Once in a while she'll mention are you leaving or moving out? Ha.
I do not doubt my perception after the chaos I've been put thru. Have great friends who won't come out to visit knowing I live with a whack-a-doodle. Most of the manipulation comes when we are alone, though. But she gets her whining in and I tell her to get over it … which never happens.
Below are my guidelines …
If you suspect you are dealing with a female sociopath, I recommend you take the following steps:
Don't share personal information. Remember that sociopaths will use their knowledge of you against you. The less they know, the safer you are.
Minimize contact. If you suspect the person you are dealing with is a sociopath, it's best to keep your distance. If she is a person you have to deal with in a social setting or at work, be superficially pleasant but don't allow yourself to get involved with her on a deeper level.
Maintain objectivity. If the sociopath is sharing a story intended to invoke feelings of pity or sympathy for her, maintain an objective eye. That's not to say that you are to be cold or unfeeling. Just make sure to avoid getting caught up in emotion.
Disengage. If you are dealing with a female sociopath who is disrupting your life, avoid engaging with her by disengaging. Don't engage in pettiness. Don't allow her to push your buttons.
Forgive yourself. If you've gotten caught in the web of lies spun by a female sociopath, don't blame yourself. You were never a match for her skills, and you did nothing to bring on the problems she's caused in your life.
Seek support. Share your experience with people you trust. After the chaos of being involved with a female sociopath, you may doubt your own perception. Those who care about you can help validate your experience.
Awareness of female sociopaths
Thank you, Steve22. Your advice is exactly what many other men — and women — need to hear.
Steve22 became romantically involved with a female sociopath, although the romance eventually disappeared. But we may also encounter female sociopaths in our families, social groups, communities and workplaces. Hundreds of survivors have told me about their involvements with these women, and yes, the experiences are painful and damaging.
The stories of Lovefraud readerw who had sociopathic mothers are particularly disturbing. These women are totally incapable of maternal love and should never have children. Unfortunately, they do, and the children suffer.
Data on male and female senior sociopaths
I collected data on the harm caused by both male and female sociopaths over age 50 in the Lovefraud Senior Sociopath Survey. The results indicated that in some areas, sociopathic males cause more harm than females. In other areas, males and females are equally harmful.
My colleagues and I analyzed the survey data for a scientific paper that was published earlier this year. We organized the data on harm into six categories: negative relationship characteristics, child maltreatment, rule-oriented workplace harm, person-oriented workplace harm, physical and emotional harm to respondent, material and financial harm to respondent.
The results showed that sociopathic men exhibited significantly more harmful negative relationship characteristics, such as dishonesty, insincerity, manipulation and a lack of empathy, than sociopathic women. Men also caused moderately more physical and emotional harm to the survey respondents, and somewhat more material and financial harm. But when it came to child maltreatment and workplace harm, there was no significant difference between male and female sociopaths.
Watch for warning signs
Our society often has an idealized view of women — as soft, loving, caring and motherly. I think it's fair to say the majority of woman are like that. But we need to understand that there are exceptions.
Actually, society sort of knows this, but disordered women are usually not correctly identified. Females who are called "gold diggers," "home wreckers" or "promiscuous," may, in fact, be sociopaths. Millions of them live among us.
Learn more: The Basics — Love fraud and how to avoid it (free webinar)
The warning signs are essentially the same as with male sociopaths. The women are charismatic and charming, at least at first. In romantic relationships, they are often incredibly sexy. Then they lie, manipulate, blame, love bomb, and try to gain your sympathy. Eventually they become vile, unless, of course, you try to escape. Then they turn on the charm again.
So as you educate yourself about sociopaths, and see lists of traits and characteristics, please be aware that they can apply to women as well as men. The exterior package may be different, but inside, these women are just as empty as the men.