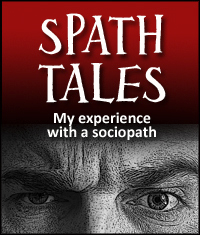 Editor's note: Lovefraud received the following email from a reader whom we'll call "Agatha."
I started to talk to a male friend I was connected to on Facebook after I had a tough break up. He said he reached out to me because he had just gone through similar and thought he could help.
After a few weeks we started to flirt with each other. I did at first, then he went full blown. Within a week of this talk, he admitted he loved me. I did think it was soon but I felt the same.
Then he said he wanted to marry me, possibly have a child, grow old together. Said we were life partners.
I went to visit him and spent a three-day weekend with him, and he had his two young sons for the days of that weekend. So I got to know them.
He kept saying he loved me, meanwhile I now know he was involved with other women, to what extent I cannot confirm, as he threatens me with harassment if I contact anyone.
He first asked if I'd co-sign on a car loan, to which I said yes. He has all my information.
Then his cell phone was going to be turned off and I paid the $250.
Shortly after my visit, he started to "erase" me because I was caught checking into his numerous lies.
I also had been messaged by a woman who said he was using her for money, but he told her I was a stalker and not to talk to me. I have her messages, which I hardly believe were made up.
I also got messaged from another woman who said he has been messaging her via Facebook with sexual messages and videos and photos, several of which he sent to me.
Soon he started to ignore my texts, but still told me he loved me but that he was just busy with traveling sales. I find out now that he may have already been cultivating his next victim and I was catching on to his schemes.
I now know he did this basically to two other women and owes tens of thousands of dollars to men and women. I was in law enforcement so I am surprised I fell for this, but when my gut feeling told me something was up, that is when he started to withdraw.
He was unavailable when my 18-year-old dog died, saying he was sick with a stomach virus.
Shortly later he became vicious with me and broke up.
He has since hoped I die a horrible death, because I told one of his former girlfriends about what he actually was telling me, as opposed to what he was saying to her. She realized he was lying and told him she couldn't be friends any longer.
He flipped out on me and made threats. He also has called my therapist three times to complain about me, as I see a therapist from what I dealt with in law enforcement. My therapist said he is a classic narcissistic manipulator.
I have a Master's degree in Criminology and now in hindsight, I see he is either a sociopath or a psychopath.
I have had a real problem believing that I was to blame in the ending of the relationship as he totally blamed me for being pushy (calling him out on his lies and deception).
I'm getting better, but the fact he is still out there doing this to other women shows me he is going to have many more victims, and has had them in the past.
I have a real problem with his behavior that is fraudulent. He recently was in a bachelor auction and his bio was fraudulent, and then in a calendar for a charity and his bio was false in that as well.
He hits all of the traits you have for the sociopath.
There's so much more to the story as we have mutual friends. He is a predator. He knew I was vulnerable.
He seized the opportunity and he did such a good job. I am blaming myself and still thinking of the time he was nice. And he's involving his kids. This is wrong.