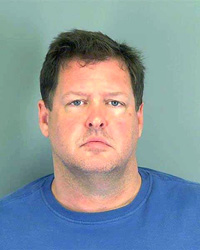 Todd Christopher Kohlhepp, 45, of Moore, South Carolina was denied bail yesterday after being charged with kidnapping and murder.
Last week, news broke that a woman had been found alive in a metal storage container on a rural property in Woodruff, South Carolina. According to the Spartanburg sheriff, she'd been in the container for two months, chained by her neck "like a dog."
Kala Brown, 30, along with her boyfriend, Charles Carver, 32, had been missing since late August. Brown and Carver went to the 95-acre property, owned by Kohlhepp, to do work for him, and when they arrived, Brown said, Kohlhepp shot Carver. His body was just found.
Brown told authorities that four more people may be buried at the property.
Plus, Kohlhepp himself confessed to a 13-year-old quadruple murder that took place at the Superbike Motorsports shop in Chesnee, South Carolina. He has been charged with those murders as well.
Bond denied for suspect in 7 murders, kidnapping in South Carolina, on FoxNews.com
South Carolina's 'serial killer': Convicted rapist who 'kept woman chained in a metal container and killed her boyfriend' is charged with four counts of murder after confessing to 13-year-old quadruple murder, on DailyMail.co.uk.
All of these crimes were committed after Kohlhepp was released from prison in August 2001. He was sentenced to 15 years in prison for rape, and served all of it.
The first crime
On November 25, 1986, when Todd Kohlhepp was 15 years old and living in Arizona, he forced a 14-year-old girl, his neighbor, into his home at gunpoint. He tied the girl's wrists with a rope, put tape over her mouth, and raped her. He threatened to kill her 6-year-old and 3-year-old siblings if she called the police. Then Kohlhepp walked the girl home.
He was arrested the next day. Five weeks later a probation officer with the Maricopa County Juvenile Court Center wrote a comprehensive report, outlining his history of callousness, aggression, antisocial behavior, psychological test results and previous counseling.
The report is a perfect description of a born psychopath.
Kohlhepp's psychological evaluation:
IQ of 118 above average
High levels of antisocial personality
Not psychotic
Not willing to take responsibility for himself
Distrustful of others
Unconcerned or lacks understanding of how his behavior affects others
Defense mechanisms include projection and massive denial
Difficulty with authority figures
Ego inflation to bolster his feelings of low self-esteem and inadequacies
Demanding, self-centered
Undersocialized Aggressive Type Conduct Disorder
Antisocial personality characteristics
Narcissistic personality characteristics
Potential to act out in the moderate to moderately high range
Kohlhepp's childhood:
His mother saw behavioral problems starting at 15 months old
Parents divorced when he was 2 years old
Kohlhepp was mean to other children
In nursery school, he destroyed other children's projects or hit them
He chloroxed a goldfish and shot a dog with a BB gun
Kohlhepp's mother remarried, and he hated his stepfather
Kohlhepp's natural father, William Sampsell, did not see his son for 8 years
When Kohlhepp was 10, he was acting out, so his mother sent him to stay with Sampsell for the summer.
The report says: "Mrs. Kohlhepp states that after the summer visit, Todd was determined to live with Mr. Sampsell. She states that he threatened her on several occasions, threatened suicide on several occasions, and completely destroyed his newly remodeled bedroom. Mrs. Kohlhepp states that Todd picked the furnishings for his room and two days later destroyed it with a hammer."
Kohlhepp's mother exhausted her finances to provide counseling or any service that might help her son.
She said Kohlhepp "pushed" every day.
Kohlhepp's school district psychoeducational evaluation:
Talked out in class
Destroyed material
Uninterested in class work
Easily frustrated
Overly dependent
Easily excited
Temper outbursts
Isolated by the group
Demanding of teacher attention
Defiant
Sensitive to criticism
No learning disabilities
Referred to counseling
The report includes information from a neighbor: "She states that, upon moving to the neighborhood, Todd could be described as 'a devil on a chain.' "¦ it was obvious he is obsessed with sex and weapons. He was also obsessed with hurting others "¦ Todd locked her son in a dog kennel cage and rolled it over and over. She states that her son was crying and screaming and Todd was laughing. She states that, on another occasion, Todd had her son by the hair, banging his head against clay pipes."
In the end, the probation officer recommended that Todd Kohlhepp be transferred for adult prosecution.
He was convicted and sentenced to 15 years in prison.
Read the Kohlhepp Transfer Report
Suspect charged with keeping woman captive was troubled teen, on AP.org.
Real estate license
While in prison, Todd Kohlhepp earned his GED high school equivalency degree, and an associates degree in computer science.
After his release from prison in 2001, he got a pilot's license, earned a degree at the University of South Carolina Upstate, and pursued a real estate career.
In applying for a real estate license in 2006, Kohlhepp admitted that he had a criminal record. But he explained the incident, saying he had a gun for protection because of the high crime rate in Phoenix, and was caught up in a police crackdown on firearms. He never mentioned the rape.
His full statement is included at the end of this article:
After body found, sheriff says it could be work of serial killer, on GreenvilleOnline.com.
Todd Kohlhepp got his license and opened a real estate business. At the time of his arrest, he had nine agents working for him.
What can society do?
Todd Kohlhepp started behaving badly at 15 months old, according to his mother. She struggled to raise him, spent all her money on counseling, but nothing worked. He committed a horrific crime at the age of 15, spent 15 years in prison, but then the criminal justice system had no choice but to let him go.
Two years later, Kohlhepp admits, he killed four people at the Superbike Motorsports shot.
Two months ago, he killed Charles Carver. He's a suspect in more murders, but authorities haven't released information yet about them.
Robert Hare's Psychopathy Checklist Revised was developed and published while Kohlhepp was in prison. Maybe if he had been evaluated with the PCL-R, it would have been apparent that he was a high risk of re-offending.
Even if he were deemed to be dangerous, then what? In the U.S., people are locked up because of what they do, not because of what they might do. Usually, this is a good thing. But not when someone is a vicious psychopath.
How can society protect itself from people who are pure evil? I don't have an answer. Do you?