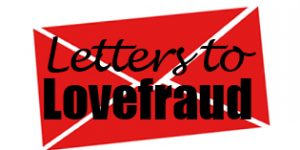 Editor's note: Lovefraud received the following letter from a reader whom we'll call "Emilie18."
I met him in October on a dating site. He was 4 years younger than me – 59. His profile picture showed a rugged, good-looking middle aged man. His profile said he said he was ex military, ex truck driver, had a stroke and was losing his sight but wanting to travel. We chatted on the site for a week – he claimed he moved to my state to live with his brother after a nasty divorce 6 months before and had two married, adult kids living in Kentucky. He lived in a town 100 miles away. He wrote every day, then after a week, I gave him my number. He had a charming southern accent. I met him at a restaurant three weeks later and he started calling every day – long conversations. He told me amusing stories about his military days, shared personal history, talked about his hopes and dreams. Within a month, he drove to my house and spent the night, then, a few weeks later, the weekend. By Christmas, he was talking about us living together, professing his love.
I remember feeling hesitant, but he was gently insistent and I believed he truly was falling for me. He said he was smitten. He talked all the time about us traveling the country in an RV – his big dream. I told him I was unsure how this would work, if he was going blind. He laughed and said I could be his chauffer. He showered me with compliments, small gifts, long phone calls, romantic outings. It felt so nice, being adored.
My last dating experience, two months before I met him, had ended abruptly – a very nice man, but commitment phobic. I had not dated for 30 years before that. After a horrible marriage, a series of awful boyfriends and loss of self-confidence I gave up on men – figured I had really bad taste – or bad luck. I knew this was progressing too fast, but he was persistent.
In January, he asked if I would loan him some cash to buy a truck. I hesitated, but he assured me he had the funds, just had to free them up, and the opportunity would be gone before he could get them. I insisted the ownership be in both our names and he agreed. He did pay me back half of the money right away – also in cash – with a promise for the other half "when his disability settlement came in".
I posted a picture of us to his Facebook page and his daughter answered in surprise – he had never told her or his son about me. That was a surprise – when I asked, he said it was none of their business – that they had "sided with their Mom" and he wanted nothing to do with them.
He claimed he was going blind from diabetes and the stroke, and he did have a disability case pending. I had taken him to eye doctor appointments, so it sounded legitimate, his going blind. He moved in in May, and for the next eight months, all was lovely. The only downside was his inability to perform in bed. He did have ED, so we had found other ways to pleasure each other. He had no issues when we were dating, but all sex stopped abruptly within a few weeks of his moving in. He claimed it was bad for his blood pressure and caused blood clots in his eye.
He got along with my pets, said he loved the quiet, rural environment, cooked dinners and desserts (he was an amazing baker) and helped around the house. But he insisted I get new furniture, saying mine was uncomfortable – and a new bed – he hated my waterbed – said it hurt his back. He insisted on making repairs to the house, but said he needed tools to do that. Of course, I paid for it all as he had no income. He found an old tractor he said we could use around the property – I paid $2000 for it. Then he found a trailer for the tractor – another $2700. I paid for a trip to Colorado for my family reunion – his portion was about $1200. He wanted to buy me a handgun for my birthday – but he could not pass the permit as he had a Kentucky license – so I ended up buying it – AND one for him. All the time he said he would pay me back when his settlement came in.
My family and my friends started distancing themselves – they did not like him at all and he badmouthed them to me. I noticed his stories, repeated with every set of people we met, changed details and circumstances. I started noticing alarming little things – his temper was quick and violent. He never yelled at me, but almost came to blows a few time with restaurant workers who were "too slow" or "got the order wrong." It was embarrassing, and I lived in a small town. We stopped going out.
All this time I was working full time, bringing in a nice paycheck. He took odd jobs here and there and paid for his own insurance and bought a large share of the groceries. He paid for gas and car repairs, but he never offered to help with utilities or pay rent. In March the next year I took him to the disability hearings. Interestingly, he was able to drive to and from his jobs, and to visit his family 100 miles away, and the 5 miles to town. He worked around the house and drove the tractor; he shopped, cooked, cleaned and weed-whacked the yard – all with no problems – but when we went to court a few towns away, for the hearing he insisted I drive, used me as a guide, holding on to my elbow, touching door frames and counters. I jokingly said that he had a really good act. He got mad and refused to talk to me all the way home. He slept on the couch that night. When I confronted him, he angrily informed me he was OK with familiar places, but not ones he did not know, and did not appreciate my inferring he was a liar, and he was tired of "being handled." I was shocked. This was our first big argument.
His disability settlement money – about $40K – came in May and, without warning, he took a job in the next town over, managing and refurbishing apartments for a friend. He said it was temporary. He was gone for days at a time. I noticed more and more of his clothes disappeared every time he came back to the house – he claimed he needed them for work – but within a month almost everything was gone. I had access to his bank accounts and saw he was going through his funds like water – he said it was for supplies for the apartment repairs and he would be paid back. A few weeks after he got his settlement he said he found "our RV" and wanted me to front him $17000 to buy it "until the landlord paid him back" – he said he needed the money immediately as the sellers had other offers. I scrambled to take money out of my HELOC and credit cards – he insisted on cash. He paid back $7000 within a few days and said he would make payments for the rest. I reminded him that I needed to repay the HELOC right away. He gave me $1000 a week later.
By June he was living full time in the RV, saying he had to be there for the apartment renovations. I started investigating (spying) and eventually found out he was seeing a much younger woman – a tenant of the apartments – and had been since early May. His phone records proved this – and an acquaintance confirmed he had seen them together many times. When I confronted him, he lied about everything, then started telling his family and friends that I was "handling" him, that I lived too far out of town (his RV was parked 3 miles from the nearest town!), that my animals bothered him (they never did while he was living with me). By August his new lady friend dumped him (I checked his text messages whenever he came to the house), and he started calling again, saying he intended to move back with me when the job was done. I told him that was no longer an option, as I could not tolerate a liar and a cheat. He asked why I was being such a bitch. I reminded him of his debts – half the truck, the tractor, trailer, tools, gun and RV – over $15,000. He claimed he did not owe me anything – that he had paid me back months ago – a total lie – and would take me to court to prove it.
He refused to sign a promissory note. I found out he had changed the truck ownership to his name and sold the tractor and trailer – all without my knowledge or permission – apparently, he forged my name on the titles. He never registered the RV with my name, as he said he had. He had closed the joint bank account and bought a new phone in July when he finally figured out I could look up where he spent his money and his phone records (I had paid for his phone, too.)
He threatened me with "legal action" when I kept asking for my money. He showed up at my house and emptied the garage of all his remaining tools – and most of mine – while I was at work. I had changed my door locks so he could not get in the house – but I forgot he had an old garage door opener. I reprogrammed mine. I decided I was safer just letting it all go. I had no proof of his debt, after all – he had seen to that, asking for everything in cash. I knew he was armed (with the gun I bought) and I knew his temper. And I knew he would make my life miserable if I persisted about the debt. "No contact" was healthier. I blocked his number, and changed my Facebook privacy settings.
It has taken me over a year to mend, to figure this all out. I was sucked in, believed everything he said, and was completely blindsided when it all suddenly ended after he got everything he could from me – a place to live, toys and tools, and an RV to live in. A few months later friends told me he was back on the dating sites. In March I heard he had moved in with a woman 10 years older than him who owned a home, had been divorced/widowed four times, each with a healthy settlement, had her own RV. He had met her online a month earlier. I found out her address from another acquaintance and anonymously wrote her a warning letter, but I am sure he had convinced her I was the "bitch from hell," and had convinced her he was a saint.
Looking back it is obvious he is a narcissist – his grandiose, ever changing stories, his exaggerating his disability, his charming me to get what he wanted, then dumping me when I started questioning him. He was not close with his family, and tried to separate me from mine. It took me a while to realize I had done nothing wrong, that I had no reason to feel guilty or stupid – that this was a game well played by an experienced player, and my only fault was believing it. I only hope that my telling my story will help others.