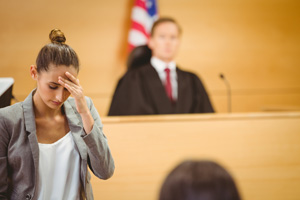 After suffering the trauma of domestic violence, many victims are terrified to face their abusers in court. The federal Americans with Disabilities Act (ADA) can offer support, so in recognition of Domestic Violence Awareness Month, Lovefraud Continuing Education presents the online course, "Surviving Court When You're Traumatized" on Oct. 17 and 25, 2016.
Domestic violence victims often suffer from anxiety, depression and post-traumatic stress disorder, explains Dr. Karin Huffer, an adjunct professor at the John Jay College of Criminal Justice and author of the course. When victims must appear in court with the abuser for divorce, child custody or other legal matters, their symptoms may make it impossible for them to respond appropriately and participate fully.
"If the courts fail to supply an unbiased forum and equitable protection, the victim may end up with Legal Abuse Syndrome an additional injury that is a form of post-traumatic stress disorder," Dr. Huffer says.
Dr. Huffer identified the condition of Legal Abuse Syndrome when she noticed that her therapy clients who were involved in litigation were not making progress in their healing. She realized that every time they went to court, they were re-traumatized.
The Americans with Disabilities Act was amended in 2008 to cover invisible psychiatric injuries, such as anxiety, depression and PTSD. Therefore, people who have been diagnosed with conditions like these can request accommodations from the court administrator. Accommodations may include being accompanied by an advocate, appearing by video or telephone, breaks in the proceedings, and more.
In this two-part online webinar, Dr. Huffer will explain the process of requesting accommodations from the court administrator, which is completely confidential. According to the federal law, accommodations are not discretionary the judge does not have the ability to approve or deny requests.
"The most important thing is addressing the victim's fear of using the federal mandate to help them in court," Dr. Huffer says. "Without it, the court become a long arm of abuse, and the trauma goes on and on."
Dr. Huffer's online course, "Surviving Court When You're Traumatized," provides the tools domestic violence survivors need to stay focused and fight for their rights. They will learn to protect themselves and use the ADA so they can get a fair hearing.
The course takes place on Monday, Oct. 17, and Tuesday, Oct. 25, 2016, 8-9 p.m. EDT. For more information, visit  "Surviving Court When You're Traumatized," on Lovefraud Continuing Education. 
Lovefraud Continuing Education offers online courses to help people spot, escape and recover from narcissists, sociopaths, psychopaths and other manipulators. Courses for mental health professionals explain how people with exploitative personality disorders behave in relationships. For more information visit: