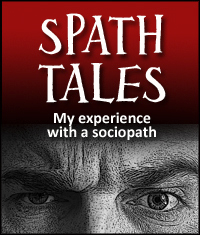 Editor's note: Lovefraud received the following story from a reader whom we'll call "Gemma."
I married my sociopath after a whirlwind long-distance relationship. He swept me off my feet, seemed to love everything I loved. He introduced me to his family, I found soon after he had been married three times before.
He said he married his first wife because she was pregnant, his second to get her into the country (she was Columbian), and he married his third wife to give her a feeling of security. I later found out he had cheated on every one of them.
He told me he loved me and had saved the best 'til last.
Things were OK to begin with, then I started noticing his control. He would tell me how to clean, how to load the dishwasher, then he moved on to me. He started picking my clothes for me, wanting me to lose weight and dress provocatively.
I was not happy with this and told him. He then started demanding oral sex in the car whilst driving, and even took out the console, saying he had made it easy for me!!! He wanted oral sex daily, and was always playing with his penis and genitals. I found out from various people that he had a colorful past and had been accused of child molestation.
He obviously denied this. He was never at fault, not even for his previous divorces. I believed him, because he is a professional liar and does it so expertly.
We moved away from his hometown because there was always chaos and drama in his family, and it was making me ill. His daughter was (is just like him) 27 years old 2 divorces, bankruptcy, and many, many new men in her 9 yr old's short life.
Soon we began a new search for a home hundreds of miles away.
One day his brother arrived on our doorstep with his boyfriend to stay with us for a short while. He was extremely intolerant of him. His brother and boyfriend separated and his brother was suicidal; he sent me a text saying he was going to kill himself.
When I told my ex of this, I was told to be quiet as he was on the phone!!! He was not even interested. I drove 60 miles to see his brother, who was Baker Acted.
My ex did not even ask how he was. He did, however, take the opportunity to steal his brother's laptop from his home while he was in hospital.
Anyway, to cut a very long story short, he became obsessed with pornography, online sex sites, sex with women in my bed whilst I was at work.
And the lies!!!! My God, they were unbelievable. I knew he had sex with more than 6 women, and found out later he had always been unfaithful to me. I saw his bogus email accounts.
I divorced him after he broke my ribs and had me arrested for domestic violence.
I moved 470 miles away, telling no one where I was. I cut off ties with his family. He had no male friends at all, just women.
I moved away, and 9 months later and no contact with him whatsoever, I came home from work to find my home had been broken into. 12,000 dollars worth of personal belongings stolen, even my Xmas presents. It was 12th Dececember.
I called the police because I knew it was him. He stated I had invited him, but the state attorney did not believe him.
He was arrested and charged with 2nd degree felony burglary. I was again forced to be dragged through the legal system and interrogated by his defense attorney. He had given her some fantastic tale of me inviting him, and giving him my property.
He pleaded no contest and is currently on 2 years probation.
He moved his ex 2nd wife into our home after I left. She gave up everything on his promise of love, security and happiness.
Within 2 years she was out of his home, penniless, homeless and no job. She is currently taking him to court for theft and fraud, and so it goes on.
He has moved on to another woman ten years his junior; she is from Cuba. We tried to warn her, but again he has worked his charm and she is smitten, believing every filthy lie that comes out of his mouth.
I have a permanent restraining order against him and he has to pay restitution to me. But I know when his probation is done he will be back to get revenge, because that is who he is.
He is obsessed with revenge and the police don't do anything. I have called them three times because he has violated his restraining order. They don't do a thing, despite me telling them that my ex has threatened to kill me. I had to write to the Chief of Police and threaten to go to the newspapers before they did anything.
And so I wait because I know he will be back. I live alone because I no longer trust men. I have a security system in place, cameras and emails and Facebook in false names, because he has already hacked into every account I had.
In the meantime he continues his web of lies to his attorneys, his girlfriend, the judges and he does not miss a beat. I just thank God for the state attorney who absolutely believed in me 100%. I am sorry I cannot say the same for the local police department.