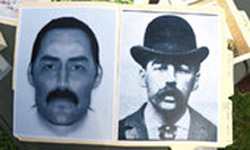 H. H. Holmes killed at least 27 people and possibly many more before he was hanged in a Philadelphia prison in 1896, according to a story in the Philadelphia Inquirer.
Before coming to Philadelphia, Holmes built a hotel in Chicago now known as "The Murder Castle." It was equipped with secret tunnels and staircases, gas chambers and more devices for torture and death.
Mark Potts, a history buff from Berks County, Pennsylvania, speculates that Holmes may have also been "Jack the Ripper," who murdered five prostitutes in London in 1888.
Was Phila. killer Jack the Ripper? on Philly.com.