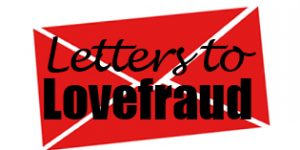 Editor's note: Lovefraud received the following letter from a reader whom we'll call "Lois."
I have no one to turn to, as I have never spoken to anyone regarding my friendship with the narcissist apart from the narc, which suited him perfectly.
This friendship was in person but I live in a different city so it was mostly on the phone and a few face to face meetings during the year. However, I was also dropped and put in the box as needed, and picked up as soon as he would leave his families' or friends' home and work. And I had to be there when he was ready to make contact. However, the same did not apply to him. Many times when I needed to lean on him he was not contactable.
I have gone no contact now for 2 months, been hoovered a few times but managed to avoid getting sucked back in. Now he has got the message that I no longer will provide him with the "fuel" he depended on so much from me that he has also gone no contact for 2 weeks now, by that I mean his hoovering has ceased since then.
What I struggle with is not having that friend I spoke to daily and having someone turn to. The company that I got used to over 6 years and all the things he would do, which now I realise were all ways to keep me hooked and manipulated. Every night I would receive a good night and every morning a good morning. And calls and texts throughout the day. Made me so dependent on such gestures and crumbs and all the time I thought it was a way of saying thinking of you rather than creating this covert web of manipulation.
I grieve the illusion of that great friendship and soul mate I found in him. My sentiments towards our friendship were so pure that it hurts that all this time he was taking me for a ride. During the 6 years friendship I did see several red flags but I ignored them and tried to focus on the positives in him rather than my intuition.
It pains me that I will never have that friendship with him again nor will I ever speak to him again like we used to. That is what I grieve the most.
He was never out right nasty with me, but rather with hindsight I can now see was manipulative, gaslighted me and I was permanently on a roller coaster and often told I was over sensitive. Silent treatments were periodic even though I was not the cause for him to withdraw for a week at a time, but I was made to suffer whilst he appeared to speak to everyone else. If he had issues with other friends, our friendship would have to suffer, as he would withdraw from this friendship too. So I was made to pay too.
For the past year we have been in no contact on and off. Once for 4 months as he suddenly disappeared out of the blue and then came groveling back, telling me that he did it to protect me.
Knowing him has caused me to have panic attacks, insomnia and fatigue. Over the past 6 years there have been days I struggled to get out of bed, as my brain and thoughts were so muddled and confused. I felt I became hooked onto this toxic friendship. If I did not hear from him it would pain me. This was not normal. It took the last 4 months break for me to find out about narcissism and suddenly I realised that is all what I had gone through.
Please help me as I struggle alone in all of this watching YouTube videos and reading to archive a better understanding and trying to now give self love and self healing to get out of this mess.
Donna Andersen responds
Lois,
Yes, your friend has been manipulating you. Here at Lovefraud, we typically talk about manipulators in the context of romantic relationships, but these people also manipulate friends, family members, co-workers, neighbors it's simply how they live their entire lives.
But you didn't know that. You thought this man was your close friend, someone with whom you shared so much.
Please understand that your reaction is typical of someone who has been manipulated. Even though he was not authentic in your relationship, you were. Your friendship, your caring for him, were real. Therefore, your loss is real, and your grief is real.
You do need to process your emotions. So it is okay to feel your loss and your grief. However, do not let the grief and loss weaken your resolve to stay away from him.
Maintain No Contact. Do not see him. Do not call him. Do not send email or text messages to him. If he sends any to you, do not read them. Do not visit him on Facebook or any other social media platform. In fact you should block him.
The longer you stay away, the more his toxic hold on you will dissolve.
And what exactly is that toxic attraction? It is addiction.
Involvements with sociopaths are addictive, even when the involvement is a friendship. So you have to treat it like an addiction. Just like someone who is giving up drinking or smoking, you need to quit and not go back.
If you do allow him back into your life, sooner or later, the bad behavior will start again. In fact, it is likely to be worse. And you'll be back where you started except that you'll also be angry with yourself.
So how do you stay strong through the recovery process? Distract yourself. Keep busy. Do things that you like to do. Activities involving other people will be really helpful especially if they present the opportunity to make new friends.
While you are moving along the path of healing, be gentle with yourself. Know that you were exploited because you are a normal human being, capable of offering real friendship.
But now you know that these manipulators and exploiters live among us. So if you start to see similar behavior in someone else that you meet, you'll know to keep the person out of your life.
Involvements with sociopaths are painful. But sometimes they also bring a gift the gift of wisdom.