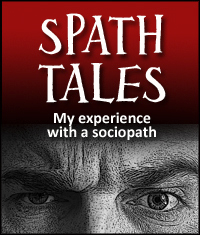 Editor's note: Lovefraud received the following story from a reader whom we'll call, "Andrea19." Names are changed.
I separated from my ex husband/sociopath in May of 2014.
He lied in court under oath in on February 2015 and I had full custody of both kids for 8 months.
We divorced in July 2015.
October 2015 we had joint custody of both kids.
Then my ex had both of my kids for three weeks in a row to take them on a cruise.
I had a bad feeling with him having them for an extended period and I was right.
He used the time to coach my daughter to say my boyfriend at the time had inappropriately touched her.
On the day my daughter went to an unscheduled counselor appointment that I naively took her to and my ex was at her school making sure she went she disclosed her story.
On that Monday night I had just said to my boyfriend at the time I cannot believe my ex has not found a way get rid of you.
At 11:00 pm as I was getting out of shower CPS was at the door with a report that floored me.

And my nightmare started the kind that does not go away and is the most horrible thing a person can do to another person especially when it's not true.
It was his way of taking my only support system that was not scared of my ex.
It has been a horror story from then on.
When CPS came on Thursday May 11 to take both of my children out of my home to foster care it was the worst day of my life.
The last thing that my 8 year old daughter said to the 2 CPS workers as we packed her bag as she cried was I lied on Steve and has only gotten worse since that day.
I fought the accusation as my daughter recanted two times before she was schooled to continue to tell the same story which was that my boyfriend at the time had touched her pee pee.
My daughter adored Steve and he adored her treating her as his own daughter. She never showed any signs of abuse of any kind.
She loved Steve and my ex husband could not stand it. He was paying child support and I stayed in the marital home that he built. His evil ways that he used my children is just what he does.
When you get on his black list he has no conscience and will do whatever he can to try to put me in jail take my children and leave me homeless.
I fought him in court from May 2017 until January of 2018.
I spent an enormous amount of money.
And still got my kids taken away.
Finally after being diagnosed with Parkinson's disease I told my children in family therapy that I needed to take a break not from them but him as my ex wouldn't allow my daughter and I to discuss the supposed abuse.
She cannot lie to me as being her mom I know when my kids lying.
So my ex made it impossible to continue visitation and my health was poor from the years of court. I needed a break for my own health.
I married my boyfriend and stabilized my meds for Parkinson's along with my anger for allowing my ex to torment me and not being heard when I wanted to fight in court.
But all I got told by my horrible attorney was to believe my daughters accusations.
Or I would lose my kids.
Well guess what I jumped thru all of CPS hoops and still got my kids given to guess who my sociopath ex husband.
After taking from May until October 2018 even with a court order my ex will not let me speak to my daughter. Instead of me filing a motion for him keeping me from my kids he stalled from October 2018 until now and is taking me back to court demanding me take another psychiatric evaluation.