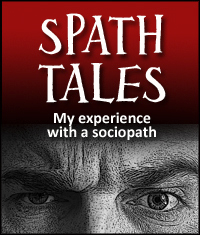 Editor's note: Lovefraud received the following story from a reader whom we'll call, "Willa."
My Mom and sister are mean and they don't feel guilt. They made the pain seem normal.
I finally hit bottom and had to wake up to a reality I never dreamed was true, "psychopaths are real."
I was in a relationship for 4 years of torture. I thought he was my dream man. I thought we where going to marry. When we met, he was 35 and lived with his mom and dad. They said he was a loving son, good boy never in trouble. I never saw him drink, drugs, smoke.
He liked everything I liked. It was like my perfect twin soul mate. He did what I wanted to do. He went along with everything I wanted. Outwardly I never saw him angry at me. He never showed any feelings really. He had a poker face and I did not know it.
Early on he would disappear and not call me back for days. One time in the beginning of the relationship, we talked on the phone. He was picking up his mom from work, taking her home, then taking the car to come over to my house. He did not show up. I called and called looking for him; I was crushed. He calls me back 3 days later and tells me his dad had a problem and he had no way to call or come over.
I hurt so bad when he was gone I needed him to feel better. Things kept coming up that did not fit in his life that I was in. We talked and spent time together every day. I would find something in his car and go on for hours trying to get the truth out of him. It was always like getting hit by a two by four, shocked! I believed we where working towards getting a place together. It was hell. On and on with lies and arguing for hours to get to what I thought was the truth.
He stalked me, he broke into my house when I was sleeping, the second time I called the police. He would look into my windows while I was trying to go to sleep. I thought he did not know better, like he will learn by going to jail.
He never said anything to me to reveal he was angry, so I kept taking him back. People would see him around my house and call the cops. I did not understand why he did that. I thought he was slow. I kept believing he needed to grow up, that's all.
He kept getting fired, and he always seemed to be the victim. I was losing my temper and always upset. I finally ended all contact when the screaming raging hateful woman called me and told me he was her man. I was shaking for hours after that. I kept thinking he should protect me from someone like her.
Then while at my mom's for Christmas, my best girlfriend calls me and tells me her friend has been seeing him and wants to move him into her house. Talk about betrayal. I freaked out. My best friend knew he was seeing her girlfriend, while I was thinking he was trying to learn how to keep a job so we could move in together.
I went through hell, pain I have never felt, angry freaking out everyday. I got counseling. I wanted to get away. I loved him; he was everything to me. I cried and told my best friend everything, she never told me. I was convinced he loved me and did not know what he was doing, I had no idea who this man was!
My dad died towards the end and he was so mean. I'm still not able to work, I can't go to sleep untill I fall out around 3 am. For 2 years after it was over I looked for shadows in my bedroom windows.
I think about things he said, my friend said. Always feeling like I should have known.
It's been 8 years. I don't go anywhere he may go. He would have moved back to his mom's eventually, they moved so he would not have been around my town. That's really hard to deal with. My best girlfriend's friend already had him living with her. She kept him in the area.
I met my best friend at the woman's resource center, where I went to get support while in the relationship. He knew who she was, and the woman he moved in with went to the center, I never saw her, or met her.
I'm in therapy, on meds, no friends. Being with that man was like putting a gun to my head. I finally got it.