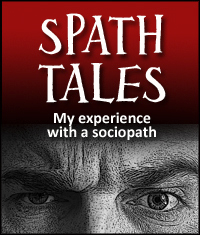 Editor's Note:  This SPATH Tale was submitted by the Lovefraud reader who posts under the name "sunshinejan." The names in this story have been changed.
I married someone I met online after a relatively short courtship that I and friends/family felt was sufficient to answer our questions and made us feel secure as conservative evangelical Christians about his intentions and character.
Once I was married and moved out of the country away from my family and gave up my beloved profession and friends to be with him, I knew immediately something was wrong, but I felt trapped.
He abused my credit in two countries and lied before and during the marriage about his financial situation.
He played shell games with at least 12 credit card accounts (nine in my name) in two countries (that I know of) and took loans out against the house that was financed in my name and liquidated investments and retirement funds.
He made liberal use of gas lighting and other techniques of emotional abuse until I sought psychiatric help under the impression I was "crazy."
He had unprotected sex with me when I was passed out from ambien repeatedly when I was off birth control and chronically ill and on multiple narcotics, heedless of the possible consequences to my health or that of a fetus's.
He hid financial records and had statements sent to his work address so I wouldn't see them, even the ones concerning my own accounts. Because he worked for a bank, he was able to navigate his way around the system very well, and friends and family and even therapists thought *I* was the crazy one.
After all, I'd have to be crazy to find fault with someone like Stan!
His external persona is that of a golly-geez Opie Taylor-esque good guy who wouldn't hurt a fly — slightly awkward and dopey.
The real Stan, however, that I saw, had black shark eyes that were empty void recesses of selfishness.
The only thing the children and I ever meant to him, I believe to this day, were ways to legitimize him socially and benefit him financially (with my spotless credit and an opportunity to become a US citizen).
I don't believe he's even capable of love as other humans understand it.
We still suffer the consequences of his financial choices that have limited my children's educational potential and quality of life.
He snuffed our lives out and we're still struggling to rekindle our hope.