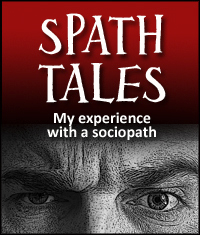 Editor's note: The following story was sent by a Lovefraud reader whom we'll call "Carmella." Read Part 1.
I had been asking questions to the family friend about why the guys were either quitting or getting fired within a few weeks. My guy kept blaming them; they started out great but in his eyes they turned out to be lazy.
The next day is when I spoke to family friends that had worked for him only to be fired or had quit. He was bullying them and had told them what they did together stayed between them, don't tell me.
They confirmed my suspicions, he had a fling with my old neighbor, was talking to other women on the phone, meeting other woman for lunch and kissing them goodbye etc. All the while telling me he wanted to spend the rest of his life with me and that he loved me, he cared about me.
He would tell me there would be time later for us to spend together to grow our relationship, better intimacy, quiet time etc.
He ran when I CONFRONTED HIM. When I didn't respond to his matter of fact empty apology, he stopped talking to me and told his story as the victim to his 80-year-old boss, blaming me for everything. She fell for 99.9% of it.
This woman is a retired policeman, past assistant to chief of police and he convinced her. She has connected him to many wealthy affluent clients and he has conned them all while living this double life.
The night he had been drinking, I found he had been at a strip club drinking all afternoon with his sales rep from the local building materials store.
He had more serious intentions with my neighbor, as he had stated to one of the workers that once he obtained his license he would be driving her Mercedes.
One of the workers who quit because he couldn't stand it anymore said that he had stayed behind after they put in new French doors to her patio telling him not to tell me.
The friend said the job was a breeze and that he was rubbing her back and they would be standing very close together when he would come back inside from getting something from the truck.
My guy admitted staying but expressed his disgust with the worker because the job was very difficult and due to him leaving early he had to finish it by himself. So he knew he better tell me he stayed but he lied as to why.
This particular worker stated he was tired of being yelled at and treated like garbage. He stated he was tired of being left to do all the work while he and another worker ran around so he could whore around.
Both workers said he was taking calls from other women calling them baby, sweetheart, and doll. He had begun answering me "what's up" or yes dear, like I was the elderly woman.
This man is with someone else now just 4 months later, picture on Facebook and surrounded by church going friends. The picture of him and the new female is old and foggy.
I truly believe I was his target for someplace to land, transportation, etc., whatever he could get that he needed. He manipulated me greatly but thank God my gut told me things were not right.
It is devastating to realize someone you loved would do something like this.
There is much more to tell but I do believe he is at least a narcissist if not a sociopath.
I do not know what to do; if he is using all these people, exploiting them; what else will he do?
He has a very extensive background and I was very stupid. I have a kind heart and look for the best in people. He was very aggressive with the attention, the songs, phone calls on my days off and when he was volunteering somewhere. Every opportunity to call and say he loved me over and over.
I would tell him he could not know that yet; it was too soon, but he persisted that he had never felt this way about anyone in his life. He would die without me "¦ desperation for what he needed.
When he went out shopping he called and called and called. When I was away from him I questioned it all, second guessed myself, because it seemed like the pressure was on to brainwash me to convince me.
If I were to report him, there would be great scandal and he would probably be incarcerated again, pulled out of the work release program.
The problem is that all he does is suspicious. Time spent out working 16 hours a day and they don't question it, they don't check to see where he is.
He is posting on Facebook; I am dumbfounded and made the fool.
I hope the female he is with now gets away from him and soon. I am sure he has others in the background, just in case he needs someplace else to go. He was communicating with other women, taking them to lunch and dinner; he was looking for back-ups when this fell apart, as he knew it was on its way.
BUT even though it was crumbling, up to the day I confronted him, he kept saying things like next year this and next year that. He had no intention of next year, only to use me until he was on his feet to move on or found something better.
If someone truly loves you, they don't just up and run away, close off all contact, have his elderly boss intervene for him as he feared legal action against him. She defended him to a point you would not believe.
She did however, say she told him he was either going to clean up his life or chase women, and if it was the latter she was dropping him.
This guy had me so convinced he was on the straight and narrow.
Last but not least, the work he did on my house voluntarily to impress me ending up being mediocre at best. He left 3 simple projects half completed and with damages, minor but still damaged due to him, I feel, just not giving a damn. These projects should have been done in a couple of weekends. He dragged them out over the summer, some 6 months.
It is very difficult to get over something like this. You feel betrayed, made the fool, humiliated, emotionally heartbroken and shock.
When you are a decent human being who gives people the benefit of the doubt, it is very hard to imagine that people actually act this way with no remorse, no regret, and no sincere apologies of any kind. No attempts to make amends, none.
He has literally disappeared, which to me signifies GUILTY AS SIN.
And remember, to him, everything was my fault. I didn't treat him good enough, didn't love him enough, made him feel like s*** and he told all this to his sponsor, the elderly lady and she bought it.
He is amazing at the charismatic and charming personality. A more perfect respectful gentleman I have never met. Go figure, but this too shall pass.