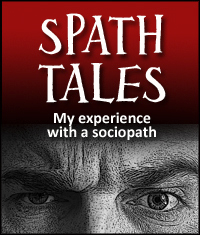 Editor's note: Lovefraud received the following story from a reader whom we'll call "Liliana."
I married a pathological liar, manipulator, abuser, gaslighter, and evil person who breaks promises, lies directly into one's eyes for years on end, twist the truth, makes up complete falsehoods, accused ME of abuse, filed a report (unsubstantiated) with child services, accused ME of abusing myself(!), and accused me of a myriad of outrageous things, all to conceal what he really is.
He nearly destroyed me. I loved him, or who I thought he was, and he left or was rather, court-ordered to get out, and he never looked back, except to try to achieve vengeance against me.
He hasn't seen our children for 3.5 years, and one of our children is only five. The sociopath won't get his court-ordered parenting evaluation done. The sociopath lies and has even lied to the court, and his lawyer has lied to the court, and nothing gets done about it. The kids and I just try to stay on an even keel and avoid contact with "The Destructor."
The lies started from day one about his past, about his achievements, about his character, his experiences in life. He particularly lied about his pornography use. His family says he is pathological liar and I used to believe HIM that they just misunderstood him, until I lived it.
When it dawned on me that he had presented himself as a completely different man than he really was on the inside, it nearly destroyed me.
It has taken four years to start to get my life back. He alienated my family from me, and I was doing this by myself, with only GOD, my friends, and therapists to help.
I've been through an earthy form of hell. I'm getting past it after four agonizing years.
Now, I have a friend, only a friend, although he's like it to be more but it's not. I am unable to risk opening myself up to another man at this time. He is a very fundamentalist Christian, who thinks my ex-husband, is evil full of the devil and says everything I ever had with him was a devilish lie and not real.
In a way, it helps me move on, but in another way, it has caused me incredible pain. I struggled and ruminated and turned over that Rubik's Cube for four years, trying to figure out what happened and what went wrong, and how to let go and fully move on without endless grief.
Ever loved someone with your whole self and felt that you were together before this lifetime and will be together in eternity?
Well, I was there and he wasn't and he lied a lot, all the time, and he did not communicate, and he would never change things, but say he did only to "keep the peace."
Six months of marriage counseling was actually six months of lies coming out of his mouth.
I do think he is mentally ill, because he could do those things without any remorse he was able to justify his actions, as I was the unreasonable one in his mind, and the change wasn't who he was, but rather than telling me this, he lied.
And he was okay with that.
When I would find out, he'd lie some more, and I ended up being incredibly hurt, over and over and over and over you get the picture.
Lie, continue the behavior, be discovered in lies, deny, apologize, justify, love bomb, promise, and continue the behavior in a "stealthy" way. It was an endless cycle, creating a Trauma Bond.
He got abusive. He pushed me down. He bruised my body. He sprained my ankle.
He alienated my family from me for a time, because he would call them and tell them lies about me that I was an alcoholic, that I neglected the children, that I was "crazy." That's fixed now, thanks be to God.
Yet, I loved. I loved.
After a while it began to destroy me inside. I tried to tell him this, but he had no empathy, only disdain.
Now, he lives lies. He would take the kids from me if he could, but he can't. He asked the court to put my kids into the foster system instead of them being with me.
These are happy, healthy, thriving children, one of which is on A/B honor roll in a gifted program at school. He called child protective services to try to get them away from me, and they dismissed the whole thing.
He even says today that I am crazy and he is trying for "joint custody." This while he smokes like a chimney and "works" 15 hours a day and keeps his guns unlocked with his bullets nearby.
God and all of his holy angels stand in his way. Every scheme he comes up with fails.
I never wanted an enemy, but he's put me in a position where I have to be a soldier in order to protect my children and my family. He is a terrorist who keeps me in a constant state of vigilance and suspicion of what he's up to next and how to block him.
I can see what he's going to do next because he's no longer able to lie to me without me seeing through it… eventually, and knowing how to deal with it.
My friend, my lover (the best lover ever), my "soul-mate," and the father of my beautiful children has become a mortal enemy to be shielded against and defeated instead of loved with all of me, as I intended. I gave my love to the wrong man.
He's a fool and sick to give up what he had. (What I thought we had?) Wife, children, house, belongings, sex, love, family, meals together, companionship, the sharing of music, movies (with movie quotes and song quotes galore), laughter, a promise of a life together until natural death at a ripe old age…
For what? Why did he give us up? For pornography, secret chatting, and probable "tete-a-tetes" on his delivery route, where he could move around from house to house with little commitment, lots of opportunity for sexual encounters, a regular route of them, and no responsibility.
For lies, lies about another life, another persona, who he "really" was. About a child he fathered and walked away from long before I met him, and a woman he tormented and threatened to take her child from.
I wasn't the only one. I probably won't be the last.