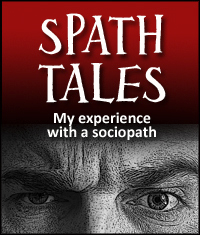 I have spent the last 7.5 years in a relationship with a sociopath. I gave more than I had to give mentally, emotionally and financially.
He barely worked in that time. He lied, cheated and did his best to convince me I was crazy. He would steal and swear on his children he would never do that to me.
The last two years of the relationship I would often tell him he was a sociopath, but it wasn't until the last six months that I truly started researching the disorder and everything I read on the topic was him to a T! It was as if someone sat back documenting his behaviors, then put them all together to create this disorder.
The charm, false sense of entitlement, pathological lying, parasitic lifestyle, impulsivity, no regard for others, lack of empathy, playing the victim, above the law, manipulative. I could go on, but we all know the traits.
This "man" knew I would give him anything, but would steal from me anyway. The thrill of getting away with it just to play the victim or try to convince me I was crazy when I dared to confront him.
He lived in my home, did not work, would not help clean, would not help with the kids, had me raising and supporting his kids, and if I had the nerve to ask him for any kind of attention he would blow up in a rage and call me every name in the book!
I was supposed to give and give some more, but I was not allowed to ask for anything in return.
In the end I felt so empty and worthless it was affecting my ability to be a mother, an employee, a friend and basically every aspect of my so-called life.
I would cry daily, begging him to show me he loved me because his words meant nothing to me anymore and all I would ever get in return is laughed at or called names. Never once did he just take me in his arms and apologize or tell me he loved me.
Until I woke up one day and felt absolutely nothing for him. I had a new-found love for myself, and knew it was time to save me.
I woke up and realized I had given far too much to someone who deserved absolutely nothing. I told him on that day that if he ever stepped foot back onto my property I would call the police, and if he tried me I would get a restraining order.
I have not spoken to him since the day I decided no contact was the only way to save myself!