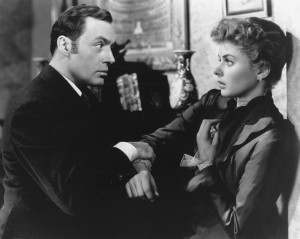 Here on Lovefraud, we often talk about "gaslighting," which is a strategy employed by sociopaths to exert control over their targets. According to Wikipedia:
Gaslighting is a form of mental abuse in which information is twisted or spun, selectively omitted to favor the abuser, or false information is presented with the intent of making victims doubt their own memory, perception, and sanity. Instances may range simply from the denial by an abuser that previous abusive incidents ever occurred, up to the staging of bizarre events by the abuser with the intention of disorienting the victim.
The term comes from the 1944 movie Gaslight, starring Ingrid Bergman. In this movie, the villain, Gregory Anton (Charles Boyer), marries Paula (Ingrid Bergman), to gain access to her home. He starts moving items, and accuses Paula of taking them. She, of course, doesn't know where they are. Then they reappear, and Gregory says Paula is losing her mind. She eventually has a breakdown.
When I first watched the movie, I thought the Gregory character accurately portrayed an abusive sociopath. Still, I thought the idea that he would intentionally remove items and make them reappear was a bit far-fetched.
Then I started hearing from Lovefraud readers who described exactly that experience. One woman told me her sociopathic partner kept hiding her keys, and then accused her of being mentally ill when she couldn't find them. A man told me that the woman he was with would move his possessions, then accuse him of being forgetful.
But the following story takes the cake. A young woman posted a story on Reddit Relationships entitled:
My [22/F] boyfriend [25/M] is hiding all my stuff and I have no idea why
The guy moved in with her and immediately started taking things chocolate, documents, books. When she asked him where they were, he claimed not to know. Then the items reappeared.
Luckily, members of the Reddit community educated her about gaslighting. The end of the story tells how she dealt with it, which is truly priceless.
UPDATE: My [22/F] boyfriend [25/M] is hiding all my stuff and I have no idea why
Links submitted by a Lovefraud reader.