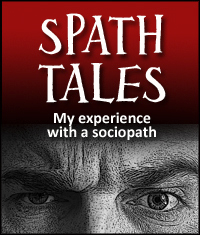 Editor's note: Lovefraud received the following story of abuse and domestic violence from a young woman whom we'll call "Kassandra21."
I became host to a parasitic sociopath that eventually entrapped me by getting me pregnant, abused my oldest child psychologically and physically and was eventually arrested.
It all happened so fast that by the time I understood what was happening my life was a total train wreck. My vulnerabilities made me weaker due to my drug and alcohol use, I was way too accepting of people, loved to love people, yet was unloving to myself. I also had my own place, kids, a car and income, and also partied, did drugs and had meaningless sex encounters.
I was completely charmed by a person who was a complete loser. He is pathological liar, and he played up the pity poor me party better than anyone else I ever met. He also would say, "I have the gift of gab, I can talk my way out of anything." He also knew EVERYTHING and was always right, apparently he knew me better than I even knew myself! Everything I owned seemed to turn into his. He had violent outbursts, and it was always my fault for not being appreciative. He humiliated me in front of his company who he refused to stop bringing over. He would degrade me, and tell people I did sexual favors for meth.
After I was torn completely down emotionally, I would act like he was sorry, or that it was a misunderstanding, we would have pretty good sex, and he would be on his best behavior for a short while. There were a lot of times where we would go out and do something and have a lot of fun. He would tell me I was who made him whole, and the reason he wants to live.
Trapped with a vile monster
The abuse got so bad that I became a total stranger to myself. I was trapped with this absolute vile monster of a human who was my soul mate, yet with in a few months I had lost everything, my family avoided me, and my kids couldn't come home!
Read more: How to leave or divorce a sociopath
All with in one month I made many attempts to leave him. It was all out dangerous, he would break in and terrorized me until I relented. Once he pretend that he killed himself while I was at a friend's house. I waited to make sure he was dead before I went home, just for it to be a way for him to lure me in and was held hostage for hours. He tired to kidnap me once. All of this abuse and domestic violence was reported to the police. He was never arrested!!
When I did get my locks changed, he used a police standby to STEAL from me, he stole my keys, my cards, and the order of protection I had filled out and ready to file!! He even got caught stealing the keys and cards, and he wasn't arrested still. I was so broken down, that I got completely strung out, and went from place to place with nothing but a backpack of gel pens for a few days afraid to be in my own home until I found someone willing to stay with me.
He fell to his knees sobbing
That's when he did a total 180. He picked my locks, and quiet as a mouse snuck upstairs into my bedroom. When I noticed him I completely panicked, while he fell to his knees sobbing hysterically saying how sorry he was for everything he has done for me, that he was a broken man, that he didn't mean to be the way he was but he needed help because he has never been loved before and only been abandoned, he told me he hated himself for how he treated me, and he hated himself for ruining his chance at finally having a family.
The disturbing part about it all is that I was convinced. I felt like I was going against my own values and was evil if did not accept his apology and pleas to be loved, and it was only a couple days later I discovered I was pregnant, and he reacted with complete joy.
For a while, things seemed great. Life was coming together again, we went to meetings, I got my job back, and my oldest son came back home. I got a new vehicle, but by the last month of my pregnancy life was total shit again. He lost 2 jobs, he was stealing money out of my wallet, a couple grand I saved for maternity leave was completely gone 2 weeks before I gave birth, and I had no idea about the physical and physiological torture my son was going through right under my nose, and by the time the baby was a month old cps was called because my son confided in another adult about the abuse, my ex finally was arrested for d.v, and was released the next day.
Arrested with 4 felonies
I believe he was hiding in the woods behind my house, and watching the house for a few days before he finally decided to break in during the day when I blocked his number. I had both my older kids that day, and was upstairs with the baby when I heard my kids screaming that they seen him in the woods, then screaming that he was in the window and than he forced entry and ran after me. He acted like he was going to blow my brains out, after he scared me enough for his pleasure he was going to take the baby to get more of a rise out of me, before handing the baby back to me and going upstairs to my room to find my purse and steal any money I may have had. He did not realize my son had got out of the house and called 911, when he went to walk out the door thinking he won one over on me. He got arrested for abuse and domestic violence with 4 felonies. All violent d.v offenses.
He still broke the no contact order multiple times from jail, I have gotten love letters, I have gotten told that he don't deserve to lose his life just cause we had a disagreement. He claims that he has found God. He has been trying to guilt me in to not testifying. Lied about a plea deal being 4 years when I found out it wasn't even a whole 1 year. He swears he never abused my son yet my son is in intense therapy. He has also threatened to kill our baby we have together if I put him in prison.
I feel cursed to have had to mingle with this man. I have even read on demonic possessed people, and wondered if a deliverance minister could help him. I feel like I have put a curse on myself for all the sex drugs and partying I did.
Learn more: How understanding empathy and emotional intelligence protects you from abuse and enriches your life