The tragic story of Keaira Bennefield might never have happened if lawmakers had a clear understanding of sociopaths.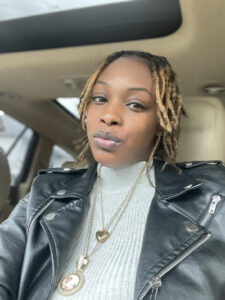 Perhaps you've seen the story in the news. Keaira Bennefield, of Cheektowaga, New York, near Buffalo, was estranged from her husband, Adam Bennefield. On September 28, 2022, he allegedly showed up at her apartment and beat her, punching her at least 28 times. Keaira had security cameras inside her home and the whole episode was captured on video.
Keaira screamed for Adam's sister, Rachel, who lived in the apartment upstairs. Rachel came down and Adam told her that Keaira wasn't getting out of there alive. Rachel called the police.
When the police arrived, they found Adam locked in the bathroom, allegedly harming himself with a box cutter. Keaira didn't ask to go to the hospital, so they arrested Adam and charged him with harassment, which was a misdemeanor. That night, Keaira uploaded the video of the assault to Facebook.
Arrest and violence
On October 4, Adam Bennefield was arrested and charged with multiple misdemeanors. He was taken to court, where the judge issued an order of protection for Keaira, but due to the New York State bail reform law, released him.
Less than 24 hours later, on October 5, Keaira was so afraid of her husband that she put on a bulletproof vest to take her children to school. On the way, Adam allegedly rammed his car into her vehicle, got out, pulled out a shotgun and fatally shot her, according to the police.
Keaira's three children, ages 9, 5 and 6 months, were in the back seat of the car.
A week later, Adam Bennefield, the father of the infant, was arrested and charged with murder.
Read more:
Slain mom of 3 Keaira Bennefield told cops 'I thought I was going to die' just days before she was killed, on NYpost.com.
'Stuff of nightmares': Man indicted on charges he killed estranged wife in front of children, on Buffalonews.com.
History of violence
Adam Bennefield has a history of violence. As recounted in the video at the top of this story, he spent 15 years in prison after being convicted of kidnapping. In that case, he forced a former girlfriend into a vehicle at gunpoint, which led to a police chase. He was arrested, convicted and sent to jail. Then, he climbed a wall to escape the correctional facility. In the video, he claimed that all he wanted was help for his mental health issues.
In the latest case, according to the New York State bail reform law, the judge was not allowed to consider Adam Bennefield's past behavior — a conviction for kidnapping his girlfriend at gunpoint — in the decision to release him. The judge had absolutely no discretion to consider whether or not this man was dangerous.
Bail reform
The New York State bail reform law went into effect on Jan. 1, 2020. The intention was to be fair to people without financial resources who were languishing in jail before their trials simply because they didn't have the money to make bail. The idea, according to Syracuse.com, was to "give poor people the same pre-trial freedom that people with money have."
According to the new law, judges can set bail only if the defendant was charged with specific, violent crimes, including murder, forcible rape and illegal weapon possession. Most people charged with burglary or robbery are released without bail, unless there were weapons or injuries involved. According to the law, a drunk driver who kills someone and is charged with vehicular homicide must be released without bail. Someone who is charged with any sex offense, misdemeanor or felony, however, can be required to post bail.
Also, judges can only consider the circumstances of the crime for which the defendant is currently charged, and not any previous crimes. "A defendant's prior criminal history — no matter how bad — cannot be used to hold someone on bail unless the current charge permits it," explains Syracuse.com.
Dangerousness standard
Many other states have also passed bail reform laws in recent years. But in every state except New York and Mississippi, the judge is permitted to consider the "dangerousness" of the defendant, and whether the defendant is a threat to public safety, in deciding to set bail.
Even Eric Adams, the mayor of New York City, wants state law changed so that dangerousness can be considered. At a press conference about bail reform on August 3, 2022, he said, "Under the current law judges are not allowed to consider whether someone is a threat to public safety when deciding whether or not to hold them in custody. This is a big mistake."
Against the dangerousness standard
Bail reform advocates say judges should not be given the discretion to lock up suspects whom they consider to be dangerous. They argue that judges may be biased, particularly against young, black men who have already had run-ins with the law.
"This standard would allow a judge to deem someone to be a threat to the public based on little more than supposition. The judge could use this dangerousness rationale to keep someone in jail before trial, even though that person remains legally innocent," said Susan Gottehrer and Nicole Triplett of the New York ACLU.
"People of color, especially black people, are disproportionately impacted at every stage of the criminal legal system. They are more likely to face arrest, to face stiffer charges, to get convicted and to receive harsher sentences. When judges are asked to lock people up based on a perceived threat, the criminal histories on which they rely are already skewed by this racial disproportionality."
Police charging errors
Judith Olin, director of the University at Buffalo Law School's Family Violence and Women's Rights Law Clinic, said the fault in the Keaira Bennefield case lies not with the bail reform law, but with the police.
After reviewing the police reports and charging documents, including the victim's statement, Olin said Adam Bennefield could have been charged with felony sexual assault and felony unlawful imprisonment, according to Investigativepost.org. Both of these charges would have required bail.
In her statement to the police, Keaira said:
Adam tried to pin me down and I was able to wiggle myself free and I ended up on my stomach. Adam then started hitting on my back and sides. I was screaming for help the whole time. Adam told me to "shut the fuck up" and that he was going to kill me. I stopped yelling and he locked the front door and grabbed my phone. Adam went through my phone and then he came back over to me and kicked me about four times in the stomach and chest area. Adam then looked through my phone again and put it down. Adam then walked to the back room and came back. Then Adam grabbed my legs and told me to take my pants off. I tried to kick him off and he was grabbing my pants trying to take them off. Adam was able to get my button undone and broke the zipper to my jeans. Adam was then able to take my pants down to about my knees and he stuck his hand in my vagina. I was screaming for Rachel who is Adam's sister. She lives in the upper apartment. I heard Rachel coming down the stairs and Adam saw her coming. Adam answered the door for Rachel and he told her that he was not done with me and that I was not going anywhere. Adam also told Rachel that I was not getting out of there alive.
Read the complete statement of Keaira Bennefield.
Missing: An understanding sociopathic behavior
None of the arguments about bail reform or police charges address the fact that some people are criminal sociopaths. They have serious personality disorders that, as I prove in my book, Senior Socipaths, do not go away. Once a sociopath is an adult, they do not change.
Back when he was 22 years old, Adam Bennefield said on camera that he needed help for his mental issues. That was after he was convicted of kidnapping a woman at gunpoint. Maybe Bennefield had been evaluated during his years in prison. In my opinion, if he was evaluated, his diagnosis could have informed the judge's decision.
Psychological evaluations
The Psychopathy Checklist Revised was developed by Dr. Robert Hare specifically for the purpose of determining whether an offender was likely to offend again if he or she were released. Hundreds of studies have shown the instrument to be valid. If Bennefield had a high psychopathy score, it would indicate that releasing him could be dangerous.
The best predictor of future behavior is past behavior. But when it comes to bail, advocates for the current New York State law do not want to consider past behavior at all.
So yes, maybe the police could have added charges that would have enabled the judge to lock up Adam Bennefield under New York law. But the truth is, some people are dangerous. I believe that judges should also be allowed to consider the potential for danger when making bail decisions.
Psychological evaluations could be helpful in making these decisions in an unbiased way. This has nothing to do with race or money — plenty of rich, white people are also dangerous psychopaths, who may need to be locked up for public safety as well.
The goal should be to protect vulnerable victims and the public at large.
Upcoming webinar
Lovefraud is planning an upcoming webinar on How to report the sociopath's crimes so the police take you seriously. The webinar will be presented by a Lovefraud reader who is also a retired New York police officer. If you have any questions on this topic, please send them to me at donna@lovefraud.com so we can address them in the webinar.