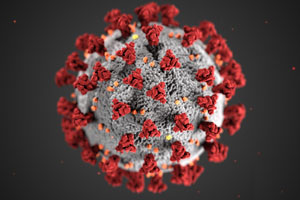 By Amber Ault, Ph.D., MSW
The current global crisis has me thinking of you, and how folks in relationships with personality disordered people face special challenges during this pandemic emergency.
Before we talk about that, let's think about how the novel coronavirus is similar to something less novel to you: the tricky, toxic patterns of folks with anti-social, narcissistic, and borderline personality problems.
Listen to Amber Ault discuss Domestic Violence During Lockdown on the Insights with Dick Goldberg podcast
Here's what comes to mind for me:
1. Novel coronavirus is parasitic — exploiting the very life of a human being who was minding their own damned business when the virus decided to move in and make itself at home.
2. Novel coronavirus doesn't reveal itself up front — an infected person can "look great" for some time; it takes a while for you to realize that contact with the person who looked good might really mess you up.
3. By the time you start to realize you're dealing with a viral parasitic jerk, it's probably too late to evict them, break up with them, or go no-contact with them without a fair amount of suffering.
4. The novel coronavirus may cost you your time, money, and health and leave you worse off than when you met.
5. The novel coronavirus wants you to believe it isn't as bad as it is.
6. Once you have fed and housed the novel coronavirus and shared it with everyone you know, you cannot expect it to take care of you when you are sick or in need of help. It does not care that there isn't a hospital bed for you — it just wants you to go to the hospital so it can meet a rich doctor and ditch you.
7. The novel coronavirus has fancy tastes — it likes to fly on planes, go to conferences, and shake hands with world leaders and the pretty people. It will have its way with you just to find out who you know.
8. The novel coronavirus feels threatened when you take care of yourself.
9. Even if getting involved with the novel coronavirus doesn't kill you, it just might kill your grandmother.
What do you think? Is the novel coronavirus a little psychopath?
The great thing for folks who have had relationships with partners or parents or siblings with toxic personalities is that you have some transferable skills in this time of crisis.
In the current pandemic emergency, it's imperative that you:
1. Establish and maintain great boundaries.
2. Resist the efforts of others to gaslight you into behaviors that are against your best interests.
3. Educate yourself about what is true and operate as though your life depends upon it — because it does. Over-estimate the damage that could be done, rather than under-estimate it. Plan for a worst-case scenario.
4. Value your own life and welfare, treating yourself as you would a most beloved person. This is not selfish — it is absolutely necessary.
5. Practice really good self-care. Whether you are cocooning at home solo or with loved ones, or are quarantined with a toxic person who is crazy-making or dangerous to you, you must be committed to keeping yourself well and sane, at the very least. Even better would be embracing the possibility of enjoying a personal time-out, following the lead of the Italians and Spaniards who are practicing social distancing and serenading each other from their balconies.
6. Go no-contact or low-contact or digital/phone contact. Practice ICU or "new baby" level precautions when you must go out and about or be in public spaces. You know how to do this, and it's really important that you do, to the greatest extent you can achieve.
7. Lean into your support system. If you need more support, reach out. Create new webs. Check in on others without mutual contact — some new data suggest that the least symptomatic carriers have the greatest viral load. As a result, none of us know whether we are putting others at risk, even if we aren't symptomatic, so the caring thing is to keep our distance — and to connect from there.
These are extraordinary times, with extraordinary challenges. The resilience and mental strength you have cultivated in navigating extraordinarily challenging relationships give you some extra special resources for finding your way through this current crisis. You are not alone, and what you do —what each of is does— makes a difference for how all of us fare in then coming weeks and months.
Stay strong. Be well. Practice compassion and wise action.
Amber is available for germ-free consultation by phone and by web — visit amberault dot com. Also, check out her Lovefraud webinars:
For survivors: The Five Step Exit: Tools you need to leave a psychopath, narcissist or other toxic partner
For therapists: The Five Step Exit: Tools you need to help clients leave a psychopath, narcissist or other toxic partner