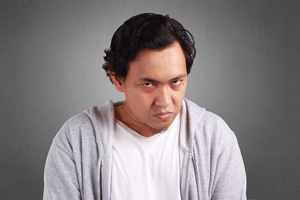 UPDATED FOR 2021. Editor's Note: This letter to Lovefraud was submitted by the Lovefraud reader who goes by the name "Shanmoo." This article was originally published in 2014, but the message is timeless. Shanmoo wanted to know if the guy she dated is a jerk or a sociopath. Donna Andersen's comments follow the letter.
I can't believe I've had to come back here after five years. I had a spath boyfriend in 2008-2009, and spent many a night on this site. However, I did move forward, and I believed I had dealt with all the issues, karma and justice happened and in fact I met a decent guy. Unfortunately we went our separate ways because of my illness, at that time.
My relationship with co-worker "A"
And that brings me to this guy, we'll call "A". We are broken up now, and he is basically being an absolute jerk, I work with him, and I need your help to deal with him. I'm having to find another job and it's just not right.
Two and one half years ago I had to move back to my home country after a life abroad, due to illness. I have fibromyalgia. I took a job here in the UK, well below my qualifications. It was better than fighting the disability benefits system. About 16 months ago I met my now ex — "A" — in my workplace. I used to walk past him, and I remember him just staring at me; watching me as I went past, almost obsessively. He is quite attractive.
Anyway, I used to see him in the work kitchen and one day I figured, just talk to him. So I did. Well that was that. He used to watch me from his desk. He could see to the kitchen, and every time I went in there, he would turn up, and talk to me. This went on for weeks. I wondered, when is he going to ask me out? Then I got collared by his friend's wife, who also works in there, and she said he had been talking about me and if he asked me out, would I say yes, well of course. She told me that in all the years they had known him, he had never gone out with, or been bothered about any woman. She assured me he would treat me well. Anyway I engineered things a bit. I asked him along to a mutual night out with friends. That night he asked me to go out the next night and I said yes and that was that.
We started seeing each other, and honestly, it was really good, although he wasn't your average man. He was a bit useless. A very long term bachelor, and didn't really have any home skills. I was decorating my flat at the time and I was shocked that he had never held a paint brush in his life. I had to teach a 41 year old man how to paint. He also didn't drive, which I found a bit odd.
He used to message me and be with me loads though. I can't complain. However after about five or six weeks he landed a bombshell. He sat me down and told me the relationship wasn't working for him. I didn't understand this as we had been getting on great especially in the bedroom but he told me he felt that we were just friends. It brought me to tears. I was really upset. He apologized and said he didn't want to upset me and asked me to forget it. He said he had just misunderstood stuff. Women had previously treated him like second best…. etc.
Anyway we just plodded on and really things were good.
An invitation to move in
Four months into the relationship and he was asking me to move in with him in a new place, and have his baby…. which I thought was a bit soon to be honest. However I am 45 years old.
The one main thing however that bugged me was the driving license. Now admittedly I wasn't in a great place as in March this year my fibromyalgia flared up and it was really bad, I was in so much pain and I started to feel resentful. He had promised me that he would learn to drive, and in April, he told me that he had never wanted to learn to drive and just said it to avoid an argument.
So I took him out at the car park in work, and told him to basically f*** off and be single, for lying to me. I didn't really want to break up with him; it was a cry for help. I couldn't manage everything. However, he just walked away. I tried to work things out with him two days later and he told me that he had wanted to break up with me months ago? He said I had been so negative for months and he is a laid back positive person.
I found that a bit of a joke; as most nights when he had been at my house I had been listening to him complain about various people at work incessantly, also just before going to sleep!
The breakup
To cut a long story short, the last five months have been absolute hell. He has treated me like complete rubbish since our breakup.
Initially after the breakup I tried to get things working again. I went to see him, accepted my part, that I had been wrong to push him to learn to drive, and we talked loads. It was good. At one point his barriers came down and he held my hand. But then he said "oh we will just be friends". I thought this a bit odd?
Friends didn't work. He basically treated me hot and cold, as he wanted. Would be nice to me, then just ignore me and blank me. So I went to his flat about three months ago and had it out with him big style. It came out in the row that he was very angry about the way we had broken up. Ok, fair enough. However I told him never to speak to me again. So what did he do? Two days later in work when he saw me, sparked up a conversation with me, as if it had never happened.
A difficult work environment
We didn't speak for three weeks, and it was just awful. Being in the same workplace and having mutual friends. I could see from going by him in the office that he was bothered. The atmosphere was terrible, especially around mutual friends and when I needed to go by him. Someone suggested that we go out for a coffee and put the past behind us. When I suggested it, he seemed up for it, and then went weird, so we ended up falling out about that!
However eventually we met up and you know what, we had a great afternoon. We spent three hours together and it was great. He left with a big smile; walked with me towards my car. Next day in work he was beaming. We had loads of contact. He was protective. He was interested in me. He cared what was going on. After that there has been some chat, often consisting of him following me to the kitchen, then hooking me into conversations, wanting to know what was going on, and asking question after question.
We went out again three weeks ago… same again, for most of the night. After our coffee he asked me to stay out longer which I did. He walked me to the car park, which was quite a way, but then went weird on me like "bye"… huh? I hadn't asked for anything. He didn't even see me to the car and make sure that I was safe. His excuse was that the lighting seemed good.
Since then he has just got more and more distant, and now he has completely cut me off again. He blanked and ignored me the other day in work!!!
Insecure, a jerk or a sociopath?
It is so doing my head in. I have been wanting to leave my job ever since we broke up and now I'm getting desperate.
I raised it with my supervisor today. It is emotional control and abuse. I don't know what I'm going to deal with in work — will he be nice to me, and talk with me, or will he ignore me and blank me, stick his nose up like he can do better ? He ignores me in front of other people that we work with? It's horrible.
It's upsetting me and I can no longer work in this environment. You can't work "around" an abusive relationship; the only solution is to get away. However to do that, I need another job. In the meantime, I have to deal with this ****head in the office, five days a week. It's killing me. I am going home most nights in tears. I'm either drinking or on sedatives.
This guy is actually very insecure, but hides it well. Right now his ego is boosted by having had an attractive girlfriend who chased after him.
My life is in tatters, as I'm having to leave a secure job because of his behavior, and my mental health is a mess. He walks around like he is the bee's knees. I try to knock him off his pedestal but nothing works. I'd so like to punch him!
I should tell you that he loves his money. He is obsessed with work and saving, but spends it on nothing. He is a total commitment phobic.
Can you help?
Donna Andersen's comments
Shanmoo, I welcome you back to Lovefraud, although I am sorry for the circumstances that have precipitated your return.
You've asked for help in dealing with "A." Here are my thoughts.
The basic issue is that "A" has been indecisive, ambivalent and sometimes cruel in his involvement with you. Some of his behavior, such as the following, is typical of sociopaths:
Blaming you for being negative, claiming to be positive, then complaining incessantly
Breaking up and treating you like rubbish
Being hot and cold with you
After a big fight, talking with you as if nothing had happened, then cutting you off again
So is this guy insecure, a jerk or a sociopath? Although his actions certainly feel abusive, based on the information you've included in your letter, a clinician might say "A" doesn't quite meet the criteria for a personality disorder. (For more on how to determine if someone is "a sociopath," read, Sociopaths range from sleazy to serial killer.)
Guess what? For you, it doesn't matter.
More healing
In my opinion, the fact that "A" came into your life means only one thing: You have more healing to do.
This does not mean that you have failed. In fact, it may indicate that you've made very good progress.
Here's how you started your letter:
I can't believe I've had to come back here after five years. I had a spath boyfriend in 2008-2009, and spent many a night on this site. However, I did move forward, and I believed I had dealt with all the issues, karma and justice happened and in fact I met a decent guy. Unfortunately we went our separate ways because of my illness, at that time.
I'm sure you did a lot of personal recovery work. If you saw some measure of karma and justice for your sociopathic ex, that's terrific. And if "A," as miserable as he was, wasn't as bad as your previous sociopathic boyfriend, it means your emotional state has actually improved.
But you're not finished.
Deep emotional wounds
Throughout our lifetimes, we can suffer many, many emotional wounds. Some are far worse than others.
Often, we are not in a position to deal with them when they occur. During childhood, for example, we may have had to endure abusive or neglectful parents. Or perhaps our mother and father were simply too exhausted trying to make ends meet to give us the attention we craved. Either of these situations — plus anything else that may have happened — can create deep wounds.
But as children, we often can't do anything about it. We lock the pain up in a corner of our psyche, and do our best to survive.
Then we may have had previous romantic relationships — especially with abusers — that created terrible feelings of disappointment, betrayal and fear. But at the time we may have felt trapped, so again, we stuffed the pain into a psychological closet.
Even romances that end amicably create wounds. You mentioned meeting a "decent guy," but that didn't work out. It's still a disappointment, and you may still be carrying the residue.
Learn more: Dating again after the sociopath
Your involvement with "A" was legitimately painful. But I think it has a hidden blessing. As you release the negative emotions of this experience, the pain of other, deeper wounds may also rise to the surface, so you can release them as well.
Be patient
So what do you do now? Cut yourself some slack. Recognize that you are in the thick of this experience, and it will take you some time to recover.
If you're arriving home in tears, that's okay, because that's how you release the pain.
I would advise that you lay off the alcohol. Alcohol is a depressant, so it will make you feel worse. I'd also advise being careful, and consulting your doctor, on the sedatives.
About your job — don't do anything yet. Give yourself some time to process everything. You may soon feel better, and discover that "A" is easily ignored at work.
You may also come to the conclusion that you're better off without him after all, who wants a man who can't drive and can't paint?
Lovefraud originally published this article on Sept. 29, 2014.