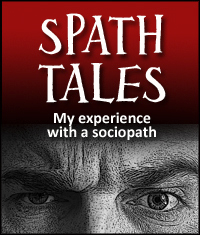 Editor's note: A Lovefraud reader, whom we'll call Marilyn22, sent the following story about learning her husband is a sociopath. Names are changed.
My ex husband stalked me while in high school from age 14 to 17. Whenever I saw him coming I would hide from him because he always wanted to talk to me and asked me to be his girlfriend. I was not attracted to him because he was always walking with other boys who seemed like troublemakers and they were loud.
Finally, when I was 17, I saw him and was by himself and seemed quiet. He called out to me and I went to talk with him. I enquired about his quiet and polite demeanor and he said that he was now a Christian. I was delighted to hear that because I was a Christian.
From that day he began to meet me after school and walk me to my bus stop. We started dating. He wanted me to meet his family so after school one day I took the bus with him to his home. I met his father, two sisters and the maid. This was in Jamaica and his mother had separated from his father and was residing in the USA. His father, sisters and the maid welcomed me and we had a good relationship.
Going to America
My parents were very strict and would not approve of me dating at age 17, so I could not tell them about my boyfriend. About two months after we started dating, Pierre migrated to the USA with his two sisters to live with their mother.
At that point I wanted to end our relationship because he was going to be living in the USA and I did not want to get hurt. I thought he would find an American girl and forget about me. He assured me that I was the only girl he loved and always loved from the first day he saw me in 1976.
He migrated to the USA and we kept the relationship going by writing letters to each other. After a while I lost interest in him and stopped writing to him. He kept writing to me but I never wrote back to him.
Proving he is the right man
Then in 1980 he showed up at my gate in Jamaica. He convinced me that he loved only me and that he had to come back to Jamaica to prove his love for me. I had to introduce him to my parents then.
He visited my house every day for the week he spent in Jamaica and told me that I was his dream girl and he wanted to marry me. I was scared when he mentioned marriage because he was my first boyfriend and I was only 18 years old. I told him I could not marry him because he is not the man God has for me. He asked what type of man I was looking for and here is where I made the mistake of my life.
Seduced by a sociopath: It's not love, it's love fraud
I described the type of husband I was looking for. He said to give him the chance to prove that he was the right man for me. So I agreed to continue the relationship. He returned to the USA and we corresponded by letters and phone.
Then one day he told me that he was now an ordained minister and I was thrilled because I desired a true man of God.
We got married
We maintained a long distance relationship from 1980 till 1984. We got engaged in 1983 and I agreed to marry him only if he returned to live in Jamaica. I was a shy and quiet person and USA seemed overwhelming to me. He graduated from NYU and returned to Jamaica to live in 1984.
When he returned to Jamaica he told me that his aunt refused to allow him to live with her and asked if my parents would allow him to live with my family. My parents took him in and treated him like a son.
We got married. He could not get a desirable paying job and he was discouraged. I offered to make the sacrifice to migrate to the USA since he would have a better chance of getting a better job. He returned to USA and filed for me and I got a visa to live in USA and migrated. I lived with his mother and three sisters in Bronx NY.
He became a different person
After migrating to the states and living with Pierre, he turned into a different person. He would get angry for no reason and he started beating me. I complained to his mother and older sister about his abuse and they said it was my fault.
I believed them and tried to be a better wife by trying to do everything to please him and tried not to cause him to be angry. However my efforts did not help. The beating continued.
He was the assistant pastor at our church and often delivered the sermon. He would praise me from the pulpit but then beat me when we got home for no reason. He would apologize for hitting me and sometimes cried and promised it would not happen again but the violence against me continued.
Cheating on me
After 18 years of marriage, my daughter told me that my husband had been cheating on me. She said she had known for years but did not know how to tell me. I confronted him and told him that if he gave up this woman and went to therapy for his anger and infidelity, I would forgive him. We went to a therapist and he admitted to having an affair and blamed me. It was at that point that I decided to leave him.
When he left for a work trip to Germany in 2003 , I packed the kids' things and mine and moved out of the house. He controlled all the money, we had only one joint account but I was not allowed to have a checkbook. I was a registered nurse and worked 2 jobs to support the family.
Starting a business with my money
Pierre had become a sports agent and was building a business which I started with my earnings. When I left the house I took money from the bank and when he realized that I had taken money from the account, he called me from Germany and demanded that I put his money back.
For five years I worked 2 jobs to support the family while he was in the process of getting the business off the ground. Every year he travelled all over the world with the athletes getting them into races. Every year he would come home empty handed and stated the business was not making any money. I begged him to give up the sports business and find a job since it was not profitable and it was difficult to manage the 4 children when he was away.
However every year he promised that the next year the business would make money. I found out after I left the house that he has accounts in Switzerland. I filled for a divorce. I had to sneak into the house one day to get paperwork from the business for my lawyer.
Threatens to kill me
He realized that I had gotten into the house although he had changed the locks and he threatened to kill me if I ever went back into his house. I had to spend few days in a women's shelter with the 4 children because I was so afraid he would kill me. I got a protection order against him.
Due to the shock of finding out about the affair and his threat to kill me I went to a therapist with all 4 children. The therapist informed me that my eight-year-old daughter told him that her father had been molesting her from age 4. I reported it to the police but he was not arrested.
At the final divorce hearing the judge stated that I made up the story about the molestation and I was punished. I was not awarded any money from the business which I had funded for 5 years.
After the divorce
I went to therapy and after telling my story that was when the therapist told me my ex-husband was a sociopath. I was in shock. The therapist took a book from her book stand and told me to read the definition of a sociopath and that's when it hit me that I was living with a monster for almost 20 years.
Learn more: Your disordered ex — what you need to know for your divorce and custody battle
The therapist asked me why I stayed with a man that was violent to me. I told her that my Christian beliefs stated that I should not divorce, only for infidelity. I explained that I had no idea about his infidelity.
My sister informed me that my ex-husband had molested her years earlier. My son reported that my ex-husband, his father, molested him. An airline booking agent told me he swindled her out of over $30,000.