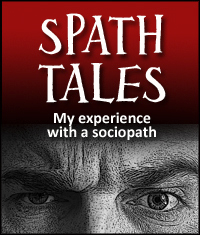 Editor's note: Lovefraud received the following story from a reader whom we'll call Shipra22. She wrote that her ex-husband pretended to be the perfect father and husband.
I met him at 17 on the first day in college. A former classmate of his was interested in me and he pretended to help him out and targeted me himself.
He was violent and had had a history of being involved in. violence or some sort or the other.
He told me strange stories of life (his real escapades) as if they were his friends who were doing them. He was constantly testing to see how much he could dupe me. We dated 10 years and were married 17.
Parallel life
He was bisexual and pretended to be homophobic so that I wouldn't know. He had a completely parallel life.
He financially sabotaged me without my knowledge. Once I jokingly said that I had a better credit history than he. After that he took me off all accounts that could build a credit history without my knowledge.
He pretended to be the perfect father and husband and I adored him. Meanwhile he kept having affairs everywhere. We never stayed in a place more that 4-5 years, that is probably how long it took for people to get his true bad intentions.
Kept me from working
He made sure I stayed busy with our child (which I enjoyed). He dissuaded me from working and when I shared any concerns when he was diagnosed with cancer that maybe I should get out there and look for a job so I would be able to raise our son. He said we were provided for.
Chat with Donna Andersen live on Youtube – Tuesdays 8 pm ET
He tried to smear my name with our mutual friends. He dismissed my capabilities so that my son thought I didn't have abilities. Through years of therapy I got rid of that notion and taught my son to respect my right to parent him. I had to constantly prove that I was a good mother, as he kept undermining me.
No longer in love
One day in 2014 he came home and said he was no longer in love with me.
I was horrified and in disbelief and had huge PTSD. He said that if I called a lawyer he would quit his job and my son and I would be on the streets. He brought his mother from India and they kept harassing me to leave. I was able to talk to a few good friends who offered help and get him arrested. There was domestic violence once in about 10 years or so. He ruptured my eardrum a year into our marriage, broke my nose, and tried to smother me during an altercation.
He made sure I never developed roots and friendships. He moved every 4-5 years (may also have been because he was in some extra-marital relationship and had got into trouble).
Worse when we separated
He tried to scare my lawyers and became full blown sociopathic as we separated. Stalked me. Called everyone on my phone book to threaten them not to help. Hacked my email. Bid on items for huge amounts of money on Ebay and stole from his own son (he shared his joint account with the Child Support folks so they too $4,000 that belonged to my son to be able to pay for penalties from his lack of paying child support.
Learn more: How to protect yourself financially when divorcing a sociopath
He owes me $200,000 in back alimony. $100,000 in unpaid 401K that was marital property, sold off stock options before we went to court. Made huge buys so we wouldn't have any money to split. This was after the sociopath pretended to be the perfect father and husband.
Diagnosed as a sociopath
I found out he was cheating on me when he gave me the HPV that causes cervical cancer. When I confronted him and said we should go to a therapist. He said a therapist diagnosed him sociopath when he was 15 and was laughing at his father's funeral.