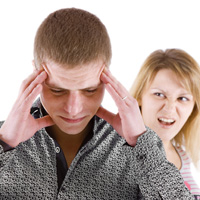 Editor's note: The following was written by a Lovefraud reader whom we'll call "Winifred."
This is titled "The Other Prey," and is for all of us who have chosen to love our current partners who were married to, or close to, sociopaths in the past.
When I met my husband over 15 years ago, he had filed for divorce. Even though he was an extremely quiet and private man, after years of friendship, he shared with me that his soon-to-be ex wife was a "sociopath"! I was in my late 30s and had heard of this term before, but one never really can begin to absorb what it means until you experience a sociopath first hand as I am.
Growing up as a child of an alcoholic mother, I had been in two failed marriages before. After being divorced for almost 10 years, my only child was raised (successfully). I remarried determined to make it work this time. My husband and I have been married now for over 5 years, and together for 8. I have been blessed with tremendous strength throughout my lifetime, hence I have survived this nightmare.
It began with death threats. She called my husband where he was staying before we were together to tell him that, "she was in my neighborhood with a gun and was going to kill me"! That led to her trying to get me fired from my job and stalking me. Fortunately, I adopted a no fear, but cautious attitude. That was the easy part.
Watching her use their 2 children as pawns, and alienating them from their father was the worse part. This was no defiant, bitter spouse; this woman was and is a psychopath. In order to survive, I had to quickly learn that I had to stay one step ahead of her thinking at all times. I had to learn to think like her, and it was exhausting!
Pro at milking the system
She is a pro at milking the system for whatever she wants "¦ and sadly she gets it. Whether it's the so-called judicial system, doctors, lawyers, churches, schools, anyone she can get something from. She got her brother, who is a doctor, to say she has Gillian Bare (a neurological disorder) so she can collect SSI. (Social security insurance, not disability. She has only worked 2 years of her entire life and is 52.) She was never tested for the disease to this day. She drives and walks around like you and I, but we all pay her way.
She told her family and 2 children when the divorce was going on that she was "dying of uterine cancer," and tried to get her soon-to-be ex to move back in and "take care of her and his kids"! Having a medical degree, when he described her symptoms to me I knew she was lying; it didn't match up.
After this she joined a huge church and proceeded to tell the church heads that her ex was a "deadbeat dad, and they were penniless." (The kids lied right along with her, they were 9 and 13.) The church began paying $2000 worth of her bills a month, even thought we were paying for $4400 monthly. (She got $24,000) When I got wind of this fraud I contacted the church and we took all the legal documents to prove to them what we were giving her "¦ it was more a month than my husband brought home. You see, he had agreed to pay for the house so they had a place to live for 3 more years, on top of child support and spousal maintenance. I supported us "¦ all 5 of us!
Latest victim dead
Sixteen months ago she hooked a married man. She had gone to high school with him and had lured him in on an alumni website. After 13 months with her, he supposedly took his own life in April of 2011 "¦ with his gun! (A gun she had threatened him with 2 weeks before, the police report read) I know he wasn't the one that shot himself "¦ she found him, after he had thrown her out.
Her true calling should have been an actress, she limps into court with a cane "¦ when 1 day earlier she was grocery shopping and carrying groceries "¦ the only days she used a cane where court appearances. The judges here only want to figure out who owes who and pays what, and you are out.
My husband's kids
We have forked out $74,000 in lawyer fees from 2004 until present, and my husband's kids do not speak to him. They have accused me of everything they thought they could pull off, despite my good intentions for them.
His son has torn up his room in my house with a knife twice. Having them here for visitation was pure hell for all of us. Just when they would start to become human and relaxed she would use them. She would call 27 times a day, and when I unplugged my phone, she got them cell phones. When my husband took the cell phone away, she called the cops. The kids and her ended up destroying the house and we had to take $9800 to get rid of it at closing, that's after she lived in it for free for 3.5 yrs.
The hard parts
The hardest parts for me are two things:
The energy I have to put forth just for us to survive her wrath that is continuous.
The toll it takes on our marriage.
We are both strong, good people. My husband is laid back, and has developed his own coping mechanisms. I am not laid back. I am the fighter and keep her at bay. She thought at first I was this dumb blond, but soon learned she had met her match.
We have given up so much, my husband is now almost 63, and we still pay child support for a 17 yr old to her. A 17 yr old who won't even return her father's calls.
I see the pain in his eyes as he sees the frustration in mine. We have managed to evolve to survive, with each other and without "her"!
This past year things have been more settled, although I am terrified to write it. I am 51 and have never had a vacation, all of our money goes to lawyers just to keep what we have.
I would do it again
People close to this situation often ask me "if I would do it again" marry my husband "¦ and without hesitation I say "yes"! I would caution someone who gets involved with a victim of a sociopath in the past. If they have children with their ex, it will be a life of emotional, draining hell for both of you. If you love someone like I do my husband, you fight, in the hopes that someday you will be together, legally unattached from the sociopath. We have about two years.
Pages of police reports, stalking charges, phone taps "¦ nothing stops her. The more attention and drama a situation has, the more she feeds on it. I know in my heart of heart that although love and devotion has kept us together "¦ the idea of splitting up and letting her win "¦ also keeps us glued.
Good luck to any of my kindred spirits out there like me that fall in love with someone who was victimized by a sociopath. You both can make it, just stay focused and be a survivor!
God Bless