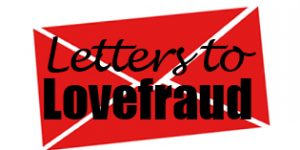 Editor's note: Lovefraud received the following letter from a reader whom we'll call "Claudette19."
I hope this letter explains to you all what I have been through and how I am still trying to recover from the impact.
Dear ex
Only by staying away from you did I begin to see your destructiveness and I had to detox from your trauma. For almost 4 years you projected all your anger from your past/present onto me. You did this by calling me a c**t b**h, throwing things at me, charging at me, hurting me, threatening to kill yourself, bullying me and breaking things. You were unpleasant, manipulative and you constantly lied to me. You told me you were the only person who knew how to love me, take care of me, you knew me better than anyone else, nobody will love me like you. For almost 4 years I wasn't in my own head, you controlled me, loved me, belittled me and abused me.
You will never comprehend how your actions had such an impact on my health, I wanted to seriously end my life, the realisation of the betrayal and abuse you had caused devastated me.  At the time I was so enmeshed in your abuse I didn't really see it. There existed an intermittent threat of violence from you. Your abuse was insidious and ate away at my confidence and self-esteem. It has taken a lot of hard work figuring out how someone who declared to love me could treat me so cruelly when I had done nothing wrong. 
You handed me your horrible life on a plate, and I took it. I have a massive heart, I am a kind and understanding person and I believed all your lies. I believed the story you told me. I believed that you were dealt a bad hand by your exes and your mother, you made out you were an unwelcome object as a child. You seemed lost and sincere and you asked me to help you get back to the person I had known in 1997. You said everyone had let you down and I was the only one who really knew you. You knew I would help you, you knew I wouldn't give up on you because I believed the fantasy that you were this loyal, lovely misunderstood person. You played the victim remarkably well and you got the sympathy. At the time I had no idea this was history repeating itself and this was nothing more than another manipulative game you were playing.  
You played it well. You're an expert in turning things around rationalising, justifying and explaining things away. You lie so smoothly and argue so persuasively that one can doubt their own senses.
All your problems became mine and I became responsible for fixing and rescuing you.  I was the only person there for you. I remember you getting mad at me, throwing books and ornaments at me, because your parents left you and went off on holiday. You were forever punishing me for what others did to you or how they made you feel. You always had an excuse for your bad behaviour, "I'm not mad at you, I'm mad at the situation," "You don't understand what I've been through," "my mother never loved me, she said I was fat, look what my ex did to me," etc etc etc. You used verbal abuse, anger, intimidation to establish dominance. Now, I have been made the source of all your problems, another excuse to avoid yourself and your delusions.
I still have corresponding texts and emails from you father outlining your abuse. He replied, "what do you expect after what he's been through." Did nobody ever stop to think that you assaulted another woman on several occasions and her son and that I did not deserve to be abused because of it? (throwing books and ornaments at me is still assault and it hurt me). I had the opportunity to read the police statements and I can now see the similarities in how you treated me, and it frightened me. I am so ashamed that I had allowed you to treat me like this and it is something I am still working on. I am ashamed that I sat in silence listening to you and your parents laugh at your ex for driving a rubbish car. You all seemed so satisfied by this and yet had no insight into the impact of your abuse. You lied to me, you forgot to tell me you had assaulted her son on many occasions. I have read your email to your parents admitting this. You also lied about your abuse towards your ex. You lied under oath and in your police interviews.  Even when faced with solid evidence, you come up with more lies. 
I  was so disorientated with your rapidly changing behaviour/situations. It was shame, your dysfunctional behaviour and then the nice in between times that totally confused me. I spent a lot of time in my head taking the blame or making excuses. I hid all of this because I was protecting your reputation and dealing with my shame. After each episode of abuse, you would follow up with "its not my fault." When I tried to help you, you would get angry. You were very cautious this time round, you had learnt your lesson from your ex — don't put anything in writing etc. Careful to make out to the world and on FB you were this great guy madly in love and behind closed doors you were a Dr Jekyll and Mr Hyde.
You had absolutely no gratitude for me for almost 4 years. Forgotten all that I had endured because of you. You said I had changed since I took on my new job, I was stressed and slept in most weekends. I was killing myself in a job to keep a roof over your head while you trained. I was so exhausted that all I could do at weekends was sleep so I could continue this job. The reality of life was getting boring for you, you weren't getting the usual emotional attention from me and I was no longer accepting your anger/abuse. And just like that, so casually you sought comfort in another woman's arms, a tutees mother no less. Even after her husband confirmed the affair to me you still denied it and blamed me for causing a family to break up.
How deluded are you that you are so comfortable with your lies?  Reckless escapism when things get tough is a coward's way to live. To put yourself in yet another vulnerable situation for pure self-indulgence and attention and not consider the other people you are hurting just shows what a low life you are. I've realised now you groom vulnerable women with children, you choose your targets wisely during your assessment phase — do they have a nice house, money?
You made me feel completely worthless and you ruined me without a second thought and you cut me dead. The callous and shameless way you betrayed me. You didn't even pause for a milli second to look back and acknowledge anything. A true self -serving narc. Nobody who loves someone would ever leave them in the emotional, financial mess you left me in, and not take responsibility for it. You had me in a vulnerable position, you controlled me and our relationship.
I was consumed by your problems, past relations and your longstanding issues with your family. For a while you had so much control over me that I thought you were my only source of light, when I needed you the most, to pull me up (like I had done for you for years), your hand was not there and instead you pushed my head deeper into the surface. 
I want you to think of the woman who couldn't eat or sleep because you had convinced her all your actions were her fault. I want you to think of the woman who hated herself so much she wanted to kill herself, who had to force herself to get up when all she wanted to do was crawl under a rock. I want you to think of the woman who you abused physically and mentally, manipulated and projected all your anger onto. I want you to think of the woman you pretended to love. I hope you never have to experience the same hell you put me through. 
Claudette19
*****
Claudette19 writes: My recovery continues and I am dealing with a massive amount of shame. I couldn't work for months, he left me homeless and I lost 24 years of my stuff.( I sold my home and moved to another area for us to start a life together and as soon as he got a job he casually left me and moved himself into a nice cottage.)
I'm trying everything — therapy, journaling, meditation, etc., but I'm still drowning from the after effects, and the more I'm away from him the more memories come to surface and I have more to deal with. 
Question: How and will I ever get my life back? I'm working so hard but the pain, shame is still as strong.