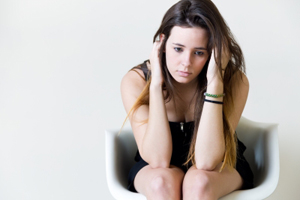 Editor's note: Lovefraud received the following email from a reader whom we'll call "Caitlyn." Read her original story: "I should feel lucky to be free of the sociopath, but it's tearing me up!"
You posted my first story and I now have another one. Just couldn't get him off my mind and I took him back only to be discarded again despite my healing.
I am very embarrassed and disappointed in myself today, but it may help someone think twice. My story is as follows:
Well I did it again. Allowed him back in despite my progress towards healing.
This makes the third time. It lasted 2 months and I was discarded again yesterday. Somehow I think my body knew this would happen as I've had panic attacks over the last week as if I was preparing for this.
At first he said he loved and was in love with me and missed me and would do better this time and make it up to me. So I said if that were the case, you would not have gotten married, so his response was that he wasn't happy and he said that he felt like he bought a coat that wasn't the right fit and it was too late to return it "¦ he referred to his new wife as a garment!!!
And he said he wanted some time to work on his situation with her as if to make me think he'd leave her. So because I truly loved him and cannot seem to make it sink in that he's a sociopath, I allowed him back despite all of my progress towards healing with my therapist, books, and reading on Lovefraud. I got those same empty promises from him as before.
This time he was going to buy me a car, take me out of town, buy me this, buy me that "¦ well I got nothing. So I told him how I felt yesterday. to sum it up I said you haven't changed like you said and I made it clear that if he was so unhappy with his wife he would not have married her.
He was the cause of this pain by not being honest from day one, as he never told me he was engaged when we met. I found this out on my own after I had fallen for him!!! But again he still married her, so if I mattered so much then why didn't he choose me and call off the engagement?
After this last time of me telling him how I felt, he said he was coming to talk to me, but now he's ignoring me. I've called and texted and nothing. It seems that every time I confront him with truths I get dropped.
My last text to him I called him a coward. If he doesn't want me then why not block me or just say it? Is he getting off on me blowing up his phone?!
This married jerk also has a dating profile And he's removed his photos from his online dating profile.  I find this funny because the first 2 times I confronted him with my feelings and he discarded me, he did the same thing because he thinks I will tell his wife, because I did the first time. I wonder why he just removed the pics and not delete the profile if he's so in love with his wife?
I think there are other women as well, because the last few weeks before this discard I noticed not as much love bombing and a distant feeling. I would call and 2 minutes in he would say my brother is calling, I'll call you back, or my daughter is calling, or my business partner, but he'd never call back.
Other times I'd call he never answered, and when I asked about it, he'd say he never got a call and his phone doesn't show a missed call. All bull because I always left a vm and why was this happening all of a sudden? He always got my calls before, so I sum this up to be another woman/my replacement in addition to his wife, or he's grew tired of me just that quick.
I feel like the discards are my fault and this is my fault for letting him back in. But I really loved him and wanted to believe he was "normal".
But he has made me sick healthwise with panic attacks and dreams that someone is trying to kill me, which I think is due to me feeling like he's trying to destroy me in reality. I never ever had these before!!!!!
I just hope he stays away this time.
Response from Donna Andersen
Caitlyn,
I am sorry that you took him back and it turned out badly. But you are certainly not the only one who has experienced this. They are so convincing especially when we want to believe what they are saying.
He will never change. The key to your recovery is for you to decide that it is over. He will keep returning as long as you allow it. This is part of the game for him. So you must end it, and never answer any call or text from him again. No Contact permanently is the answer.