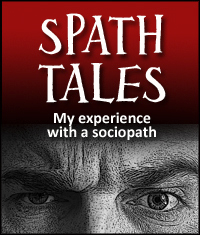 Editor's note: Lovefraud received the following story from a reader whom we'll call "Janeen."
I was in an on again off again abusive (physically and mentally) relationship for the past year with a narcopath. He had numerous online accounts and profiles on dating sites where he would find women that he could lie to about who he was, what he did, how many kids he had "¦ everything.
The only truth he told was his name.
I found this out the hard way; I was one of those women. We had met online and within a month I was living with him in a different city, an hour and a half away from my friends and family.
He would start arguments with outlandish accusations every time I went back home to visit my son or family. I was always accused of cheating on him, when in fact, it was him that was cheating.
We had gotten into several physical fights throughout the course of our relationship, which always led to me moving back home.
He would stalk me online and constantly blow my phone up with a cycle of messages. It started off with how much he hated me and I'm a piece of sh*t and turn into how much he loves me and wanted to work things out, promising to change, right back to me being a piece of sh*t "¦ all of this and everything in between in a time span of anywhere from 15 – 45 minutes.
I'd always go back "¦ at first it was because I believed him, eventually it was because he would make my life so unbearable that being mistreated by him was actually easier.
About 5 months ago I ended up getting pregnant, with not one but two babies. Come to find out that he gotten his 2 girlfriends before me pregnant as well. One gave hers up for adoption, the other moved out of state and had a protection order placed against him.
About a month ago I ended up back at his house trying desperately to save a relationship I knew wasn't worth saving for the sake of the two babies "¦ bad idea.
I got a call from my mom back home who needed me to take her to an early appointment the next day, so I left the house with just an overnight bag, and stayed with mom.
The next day he started yet another fight with me and accused me of cheating "¦ so I left mom's and went back to him, only this time I didn't call or text him to let him know I was on my way.
When I pulled into the driveway there was another car parked behind the gate that was locked, and the house was locked up. He had another woman locked inside with him having sex.
He lied and said he was at the casino, told me that he would bring my belongings to me if I left then, tried to get his friends and his landlord to remove me from his property, which did not work.
After an hour of me sitting in his front yard, knocking on his bedroom window and telling the other woman all about who he is and what he's really about, he finally came out"¦ with his fists flying. He beat me up in the front yard, while I'm 4 1/2 months pregnant with his twins.
After that he threw my clothes, which were already conveniently bagged up and ready to go, into the yard. I left there with a swollen eye, a boot mark on my jaw and a broken heart.
Since then he has not tried to contact me at all, which is really unusual, except to tell me that if I go after him for child support, him and his new woman will take my babies from me.
I laughed because he has an extensive history of DV, arson and other felony charges, he is currently a methamphetamine dealer with no job, and he has nothing to do with his other 4 kids.
I've had to block him on all social media, since I found out he has numerous fake profiles that he uses to stalk me with.
I'm currently 22 weeks pregnant and still living in my hometown with friends and trying to recover from his abuse and put the pieces of my life back together.