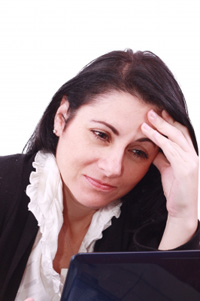 Editor's note: Lovefraud received the following story from a reader who posts as "freebird." Names have been changed.
My story started July 24th. I had just joined plentyoffish.com, very ambivalently, as I was looking to hopefully meet someone worthy of my time.
I received a message from "Karl." He was soooo hot, five years younger than me, just moved here from New York. I've always had a thing for the northerners.
I found myself excited to get his messages, and the only reason I'd get on it at one point was just to talk to him. We switched numbers and talked a little before we met.
He told me that he moved here to start a company with the goals of it merging with his prior company, and that his family and work were somewhat linked. His company is in advertising and marketing, all things that I know little about, and didn't want to pry too much in fear of sounding stupid or "not listening."
Immediate chemistry
We met at a bar, and had immediate chemistry. We had a great time, and he really made me laugh. He came over afterward for a movie, and we were magnetized to each other in a way I've never experienced. It took everything in me not to have sex with him that first night.
He gave me tips and pointers on how to be "hidden" on the dating website so that my mailbox wouldn't blow up, and I could call the shots instead. I felt that was strange but I wasn't trying to be presumptuous, this was the first date.
He was staying with his aunt and uncle while he looked for his own place. I went over the next day, as they were out of town. I had lots of sex with him, once even in the pool when he said, "yo, I don't know you like that. We don't know if one of us is gonna cheat on the other," in regards to not using a condom that time.
Things were strong: chemistry, passion and attraction was thru the roof. He even told me that "if you play your cards right, maybe you can meet my aunt and uncle someday."
He texted me EVERYDAY, always mentioning things he wanted to plan with me. Sometimes his plans would be along the lines of "within the next day or so," in order not to disappoint me if "something came up."
Facebook
He told me that he found me on facebook but that my profile was so private and that he was so interested in "trying to figure me out." We became fb friends and I scanned his page. Not much there for the most part.
His current location still said "New York City." I also found it odd that for someone who has lived in multiple cities around the country, that he only had like 200+ friends. That's unusual. His pictures that I liked, I was one of a very few, like five. Made me wonder early on if he was hiding or if he had pissed a lot of people off or something.
He got my brain twisted right away. I think it was only week one or two and we were having sex and I said, "Hey, are you sleeping with anyone else?" he said, "What? No. I've been wanting to ask you the same thing." I trusted that and told him my reasoning for asking was because we weren't having safe sex.
Business trip
He went to Austin early on for a "business trip." I remember making a comment that I haven't been to that city in a long time and needed a reason to go myself. He made a comment that I could always go and maybe meet someone off plenty of fish out there! Red Flag. Made me wonder if that's why he was going, but we were always very playful with each other, but I felt pained by his comment.
We weren't in contact much that weekend. I just figured he was busy out of town. When I contacted him with how was it, he just said, "miss me already?"
When he came back, I felt a little distance, and just told myself from that moment that I HAVE TO stay on guard with this one.
One day he came swimming, and he was wearing sunglasses he found in his car. He then stated that "these are girls' sunglasses. Some girl must have left them in my car I guess."
Again, I tried not to trip. He doesn't know anyone here, but maybe he had a friend of the opposite sex, I don't know. He just always said stuff to keep me on my toes. I loved it in a way, but it was eating at me and my whole demeanor became consumed with him and trying to figure him out.
Divulging my secret
I think it was only about a month in, he was over and he told me that he really liked me but felt like I was holding back. I then told him a vital piece that I had held out about myself, which was that I used to be a major party girl, and had suffered some consequences and I got a little teary eyed. He placed his hand on my knee and I told him I hadn't told him because I just liked him so much and I didn't want to push him away.
We came inside and he IMMEDIATELY suggested that we both deactivate our plenty of fish accounts because he wanted to "see where this can go." So reassuring especially after I just vulnerably told him my business.
The next day, he texted me to ask if I could meet his aunt and uncle for dinner. Another way for me to trust him.
The only thing he wanted me to tell his aunt and uncle if it came up, was that I had previously met him in Houston. It DIDN'T come up, but I understood not wanting to admit to meeting someone online.
I remember asking his aunt and uncle if they all worked together because of his comment that work and family were kind of tied together. They look at me confused and said, "we're retired!"
Blowing me off
He made me mad one night by being flaky, and blowing me off and I refused to take his calls, and he brought my favorite Chinese food up to my work. They told him I was off but that I was at home.
He told them that I was mad at him and just to let me know it was there. I thanked him later and we made up and I asked him why he didn't just bring it by my home (I live at the apartment complex I work at), and he said he didn't want to disturb me and that if I had another guy over, it would have "broken his heart."
I often felt offended that he would even consider that kind of behavior from me. Every time he came over, he'd ask if I had been "snuggling around."
I always said no of course but I'd ask him back, to see his reaction while it resonated that he either didn't trust me, or that he was projecting his infidelities onto me.
Another trip out of town
One weekend he was going to Philly for a music thing with some friends from NY. He told me that he wished I could come. I later texted him that if he was serious, that I actually probably COULD. He said he'd talk to his friends and let me know.
Well, he never mentioned it and just off he went. I told him that I needed him to start meaning what he said, and vice versa. He agreed that was something he should work on.
I picked him up from the airport and he said he partied too hard and that him and his buddy ended up getting in an argument and he had to stay with another friend. I asked details and he said it was something he didn't want to talk about.
Around month 2, his parents were coming into town and he told me that "they wanted to meet this Freebird girl." I told him of course I'd be happy to.
On Tinder
My cousin came over with a screen shot of him on Tinder, a DIFFERENT dating app. I confronted him via text and he playfully said he could call tech support, that he wasn't really on it, and I didn't respond for a day.
The next day, I TEXTED HIM, acting sorry for overreacting. He assured me he wasn't 'using' it and I was telling him that I was just wanted to make sure that he wasn't still "looking elsewhere."
I was patiently waiting for these plans to come up about meeting his parents. He said they "got too busy," and again I got mad at him. Same stuff once again.
He then told me that he was also still a little mad at me for 'CALLING HIM OUT!!" for the online dating app. I told him "wow, being called out is admitting guilt."
He disagreed and kept pleading his innocence. I eventually asked him why his fb profile still said New York. He said that it's because he didn't tell hardly anyone that he moved.
State fair
We went to the state fair, and I posted pictures of us. While there, I asked him if he was going to spend the night with me again, which would mean all weekend! I had always joked with him about being his "weekend girlfriend." Some weeks it was weekdays only, some it was weekends only.
His response was that he needed some good sleep, and that he didn't need to spend the night with me "two nights in a row, and that he was a 'freebird' after all."
I of course got my feelings hurt and told him that I'm sorry I'm "such a drag." He ended up staying anyway but we were tense. He then said, "hey I don't want to make you mad, but can I untag myself in that picture you posted?" "What?" I looked at him steaming with tears rolling up in my eyes as if everything was coming full circle in my face.
He then agreed as long as I took away the caption as it said "state fair of texas." "It's not that I mind being tagged in a picture with you, I just don't want people knowing I'm in texas."
Playing me?
I had definitely had about enough at this point. I'd get mad at him, ignore his calls, threaten to break up with him, and he always sincerely had a way of making me feel special anyway.
I was in between thinking "is this guy just aloof and clueless, or is he totally playing me?" It got to a point where I was constantly mad at him, and seeing the forest for the trees but too addicted to him to actually follow thru on my threats to leave. I gave him the benefit of the doubt because I didn't want to be wrong or paranoid and it be MY FAULT why we broke up.
One week he wanted to take me out to frozen yogurt, which I thought was cute. While we were there he discussed that I needed to start saving money so that him and I could travel together. He left early that night so he could go home and "attend to emails." That was always the reason.
The next night, after texting, it took him over three hours to respond and my head immediately went to "who is he with?" I confronted him and he played it off.
Didn't trust him
The next day my heart was weighing heavy and he could tell something was up. I told him that I didn't trust him, that my intuition was telling me things that I couldn't ignore.
We talked and he assured me everything was cool and made me promise not to bring up the tinder app thing ever again, and said "you have to trust me." I agreed to try, and move forward.
Things were really shaky and he got really distant. He called one night to tell me that everything with us was good, that he had a lot going on and stuff he wanted to talk to me about in person. We agreed to lunch the next day.
I texted, called, left a voicemail, and I GOT NOTHING in return as he stood me up. That night fuming, I sent him a message basically saying thanks for playing me, a**hole.
He called me repeatedly and said he really needed to explain. I let him over that night, where he came in crying that his mom was dying and that he hadn't even left his bed or changed his clothes in a couple of days. I wanted to be sympathetic but I was also learning on just what scale his sociopathy was on.
Another dating site
I confronted him that yet another friend found him on yet ANOTHER dating website and that I need to be treated with respect. He said he changed his location when he moved here but still vowed that he wasn't actively using any of them. He even said he trusted me 100%; this was MY problem.
I told him that night that if his motives and intentions with me weren't pure, or honest then to please just let me go. "Intentions? I don't have intentions, Freebird. I really like you a lot, obviously, and want to see where this can go with us."
He asked me what I wanted and I told him I wasn't sure. I agreed to do a date night that week while I still figured it out. The next day, besides a good morning text, he vanished. A night later I asked him via text to at least tell me that his mom is okay and that I was worried about him.
The next day, he replied with "hey, how are you?" Later that day, I texted him that I officially gave up. And I never heard from him again.
Pathological lying
I did send him a message detailing my thoughts on him that he is a pathological lying psychopath and he messaged back that "Freebird, just reading this now makes me very worried. I walked away on an entirely different situation and I don't know how this got this far…I understand me not responding could make you think, but this? We are def not on the same page about anything you saying and that scares me…that's what I had to say. Lastly, please tell me what you want. I have never stopped caring about you."
I have now deleted and blocked all contact, but am so hurt, devastated, betrayed, angry and feel so violated.
I've been having panic attacks, major depression, and still my head goes to me being the crazy one, the blind one, while I wonder and painfully think about all the other girls he's doing the same thing to, and wonder how far they go, before he has to fake another death. I'm plagued and want to strengthen up and move on from the man I thought was my dream man, the one I was already falling madly in love with.
Thanks for letting me share. This has been an awful experience and I want very bad things for him. I want answers but I know the answers are all right in front of me already.