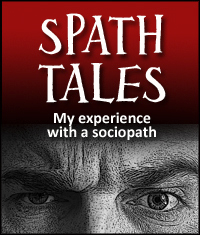 UPDATED FOR 2021. Lovefraud received the following email from a reader. whom we'll call "Camille," who asks, why did I let my abusive ex back?
When I was 16, I began a relationship with a guy that was 20. I met him through a mutual friend. We began a relationship that was volatile and tumultuous.
I was a senior in high school. I would get out of school midday on a work program, but instead of going to work, I would go to his house. He would force me to have sex with him, steal from me, and physically abuse me. He would call me and apologize and I do not know why, but I would always go back.
One day he called me and told me that he wanted to take me to eat at one of his friend's house. I drove to his apartment. He led me up the way to his "friend's" house. As we approached this apartment building, he went to open the door. I thought this was strange but it was his friend so I paid it little mind.
Next thing I know he was slinging me in the VACANT apartment and proceeded to beat me like he never had. That day he also stole a necklace from me that was a gift from my mom.
Told my mom
When I returned home, battered and afraid, I shared with my sister what had happened. She told me that I needed to tell my mother.
I told my mother and she proceeded to take me to the police station but when I told her that I went to him every time she stopped in her tracks. Nothing further.
She changed my phone number and told me not to give it to him. So I didn't. I went to college and that was that.
I had a long-term relationship in college and went on to marry a man I met later. Both relationships were unfulfilling.
Reconnected on Facebook
Fast forward 20 years.
Now I am 36 and Facebook is the new thing. My sister told me that she saw HIM on this site.
I pondered for some time then contacted him. I thought that maybe since I suffered from his abuse at such a young age and disappeared without closure, that I needed to let him know how he affected my life and relationships. My excuse was that I wanted an apology.
So I embarrassingly contacted him.
Let my abusive ex back in
The way that he was talking really threw me off. It made me think that he was not the same person. I should have kept it moving. But he started sweet talking me into his realm again and I fell for it.
He eventually moved in with me and my kids. Forming relationships with my kids and being affectionate to me.
He was always talking about plans for "our" future. How we were going to do this and that. I got caught up into his nefarious activities…he continued the abuse — both physical and emotional — only to find out that he was scamming me and planning a future with a woman that he dated that I always felt he loved.
I knew he was wrong for me
Five years of my life — gone — just like that. I've made some bad choices as it relates to him, but I don't understand how someone could be so cruel.
What bothers me most though is that I knew he was wrong for me. I never felt that his feelings were real for me, but he promised me he was a changed man and I wanted to believe him.
I made him leave my house last Thursday. He charged music on my debit card Monday. This is so unbelievable to me. I blame myself and that is what hurts most!
Donna Andersen responds
I would guess, Camille, that the question that bothers you the most is, "Why did I let my abusive ex back into my life?"
The answer probably is that you still felt a betrayal bond with this man.
The man exploited you when you were young. "Exploitative relationships create betrayal bonds," writes Patrick J. Carnes, Ph.D. "These occur when a victim bonds with someone who is destructive to him or her."
Even though you had moved on with your life, you likely did not address the real emotional pain that the man caused you. So even though 20 years had passed, the betrayal bond was still in place.
And that's why he was able to talk his way back into your life.
I strongly recommend that you read Carnes' book, The Betrayal Bond — Breaking free of exploitative relationships. It explains how the bonds form, and contains worksheets for helping you recognize and release them.
It's work that needs to be done for you to recover fully.
Lovefraud originally published this article on February 20, 2015.