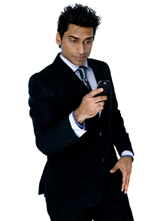 Editor's Note: This letter was sent in by a European Lovefraud reader whom we'll call "Lizbeth."
I had a relationship with a psychopath when I was young and naive. He completely wrecked my life. At that time I was a 20 year-old University student. I was not stupid, but I still fell for his con. He was a few years older and already graduated from University.
Every day was an absolute psychological torture. He completely humiliated me every day for utter nonsense. For instance, if I was ten minutes late, it would be a complete fall out. Or I would take a Spanish course, well that was the end of it, since I did not ask his permission to do so. Worst of all, nobody supported me.
Mom fell for his looks

My mother was smitten by him since he looked so good and he had this wonderful job. She is a very naive woman who only looks at face value. So every complaint I gave about him she wavered away, since he was so good-looking and so successful. Despite that he had a wonderful job, he never rented a proper apartment like most normal people do when they graduate from University but continued living in his student apartment for 100 dollars a month so he could just save his big money.
How did our relationship hold on then? Yes, of course, he came for a sleepover everyday at the house where I lived with my mom. Yes, of course, we had to cook for him every day and wash his clothes. And we had to do the household. In the meantime, he bashed on me, telling me I needed to live on my own that I was childish for still living at my mom's house.
Trapped in a loveless relationship
There I was, young, beautiful and trapped in a relationship completely devoid of any love. I could not stand his friends they were like his mirrors. I could not stand his parents. We were in a relationship for several years, and everyday he argued with me about living at my parent's house. But the real estate is very expensive in the area where we live — similar to New York. Even people with regular jobs can barely afford a house, let alone a student.
Every day was awful

Every day was a continuous struggle. It was awful. Since I was a student he could not take money from me, however he exploited me from every side. He robbed me of my energy. I had an awful student life since I was continuously studying and doing the household. Although he earned big money, I even had to pay for our holidays myself — having to borrow money to do so.
My in-laws were awful. I think he derived his character from them. Every visit was a complete disaster in which they exploited every method to humiliate me since I was not "good enough" for their son. At the end I did not even bother to visit them, yes as you can guess, that would bring big arguments too because we have to visit his parents and "a relationship brings commitments."
The fights I had with him were awful. He is this big tall guy with an impressive physique. He really shouted at the top of his lungs, so the neighbors had a good listen in too. Meanwhile my mom continued to tell me "he is such a good man for you." I think she really wanted me to have a boyfriend, otherwise I could not explain this naive behavior. She really did not back me up and she was witness of the psychological abuse. He would never miss a day to fight with me.
Now I am older, looking at how beautiful and smart I was then, and really feel sorry I ever crossed paths with him. The five years I spent with him were an utter waste of time. Worse of all is trying to recover from the humiliation and psychological abuse. I have spent years and years recovering mentally.
They look normal in the beginning
The horrible thing with psychopaths is that they look like normal people with nothing the matter. In what would have been known as the "honeymoon weeks" had we been married (we never actually married), he presented himself so well. He came across as such a nice and loving honest individual; that is why I fell for him.
The minute the relationship got serious he completely changed into this monster. I had literally to fight with him every day just to avoid him using me as a doormat. I really regret every minute I have ever spent with him. Every day was awful and new to survive. He completely drained me of my energy and alienated me from my friends.
Wasted time
I graduated from University, only due to my high intelligence. He never supported me, not one bit. On the contrary, he tried to block me from my studies.
When you're attending University, you're young and supposed to be looking to meet your life partner. I was drained from meeting a nice guy since he had his hooks in me. So there I was, single, graduated, I had to start up looking for a partner all over again. Despite the fact I look good and I am a nice person, it is difficult to find someone you really connect to and it is easier to find someone when you are in University and still young.
What is the end of the story? Yes, of course the day I broke up with him was the day he had a new relationship with another woman … charming.
How did it happen?
The reason he sought me out was simply to have someone who was intelligent and good-looking to accompany him to parties attended by his colleagues and friends. Eventually, yes I would bear is children, and do the household a highly educated homemaker. No offence to homemakers, but he just could not see me in any other light than that.
In all the stories people tell about psychopaths, I miss the complete humiliation and personal drama a victim has to endure and the lack of support of friends and family. They only see the charming appearance.
Complete humiliation
A psychopath is only there to devastate you completely, suck you dry and then move on to his next victim. Every day you spend with a psychopath is awful and horrendous. They really are the most chilling characters to be with. Do not think that if you do not have money you cannot be of interest to psychopath. At the end, everybody wants a relationship, so do psychopaths.
I hope this story will enlighten women. I have read Robert Hare and Martha D. Stout. The psychopaths among us; I wish I had read the book before I met him. I would never have entered into the relationship if I had known.