by Quinn Pierce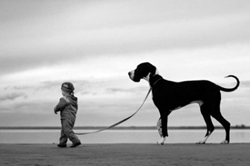 One of my least favorite activities is walking through the women's fragrance department at the mall.  I always reach the other side of the store trying to hold my breath while fighting the impending headache and dizziness that always follows.  By the time I get home, I feel as though every area of my environment has been saturated; the scent lingers on my clothes, in my car, in my hair"¦
It is with similar annoyance that I recognize the clinging traces of my ex-husband's sociopathic behaviors in my own responses to current situations.  For instance, throughout my relationship, my ex-husband often criticized or attacked my decisions and actions that were independent of his input.  Through this continued act of devaluing my voice, second guessing myself became second-nature.
Far-reaching Effects of Abuse
For me, the most difficult part of healing after my marriage to a sociopath is realizing just how many areas of my life were affected by his abuse and manipulation.  It isn't so much that I am disappointed with myself, but rather, that he still has any influence in my life at all.
Especially when I think my behavior is simply a reflection of my unique personality, only to find, it's really a post-traumatic response to an otherwise normal situation.  I recently discovered this, again, while deciding what to buy a friend for her birthday.  Knowing the person's likes and dislikes well, I still managed to talk myself out of almost everything I looked at.
Post-traumatic Responses
This is typical of me.  I often become overwhelmed when faced with choices that will affect other people, even if it's something meant to be a nice gesture or simple gift.  That day, within minutes, my heart rate increased, my stomach twisted, and my face became flushed.  By the time I returned home, I was exhausted.  At least I was able to decide on a present for my friend first.  Sometimes, I leave without making a decision, returning home exhausted, none-the-less.
And that's truly frustrating, feeling as though I haven't accomplished anything, yet feeling as though I have run a marathon.  It's the constant internal battles that take place, draining my energy, leaving me with a sense of inner chaos that can't easily be described.  I could probably list dozens of examples in less than a minute of how my ex-husband's responses kept me off-balance and challenged my decisions.  One situation in particular, however, will always stand out against the rest, and that is because his reaction was so unexpected, that I still see the images replay like a scene from a movie.
It's the Thought That Counts, Right?
It was the first time I was truly excited about a birthday gift I had picked out for him.  I spent months before his birthday making sure everything was just right, and I was sure it was something so unique and thoughtful that he would love it.  The day of his birthday, we had dinner with some friends and I gave him his present in front of the small group.  He seemed happy, but I could sense he was not as thrilled as I thought he'd be.
The gift had a customized label as an added touch, and I remember one of our friends read the label, but changed the words in a joking way.  We all laughed, including him, as it was a harmless joke, and it was nothing out of the ordinary for this very entertaining group of friends.
As soon as we got in the car, I felt the mood shift.  I tried to ignore the sudden chill, but I could feel my anxiety beginning to increase before we reached the end of the driveway.  My ex-husband didn't say anything to indicate he was upset, but the non-verbal clues were glaringly obvious: the clenched jaw, narrowed eyes, tensed muscles- all indications that he was not happy.
An Explosive Reaction
The next day, some small incident, I can't even remember what it was, set him on one of his tantrums.  He began storming around the house yelling and banging things.  Shortly after he began his tirade, he grabbed his present from the night before and began berating me for such a thoughtless gift that I obviously thought was such a joke.  He was accusing me of embarrassing him on purpose, ruining his birthday, and on and on.  To my horror, he threw the gift against the deck outside and I heard the unforgettable, distinct sound of glass shattering as I watched the contents run down the railing, mimicking what felt like the blood draining from my body.
For years, I couldn't figure out what went so terribly wrong that day.  How could it be that after all the time, care, and effort I put in to finding and creating the perfect gift for him, my ex-husband believed my intention was to hurt him and embarrass him in front of our friends.  Of course, that was my reaction before I knew what a sociopath was, let alone that I was married to one.
Criticism is Never Allowed
Knowing what I do now, I find his reaction to be not at all unusual for him.  First of all, it wouldn't matter to him how much time I spent working on his gift or how sincere my intent, the only thing that mattered was the reaction of our friends that night.  And even though the laughter was not aimed at him directly, being a sociopath, he interpreted the joke as criticism and a personal attack.  What's more, it was an attack by me, since I was responsible for the gift.  The only thing worse than ignoring a sociopath is embarrassing a sociopath.
My ex-husband is an attention seeking, praise craving, drama creating individual.  He is eager to criticize others, but the slightest indication that he is being criticized in any way is like waging a war.  I played two roles in his life: ally or enemy- until my divorce, at which point I was cast in the role of enemy for eternity.  That night, I quickly transformed from ally to enemy at the first hint of laughter.
Impossible to Predict His Reaction
For all the years of my marriage, this was a key element to his behavior, but one that left me navigating a sea of unpredictability and anxiety.  How could I predict the reactions of others in every situation?  Aside from that, it was nearly impossible to try to figure out what would make him happy, since he was merely mimicking those around him and rarely revealing anything sincere or genuine about himself.
I learned in those tumultuous years that my efforts were easily discounted, and my choices were easily ridiculed.  Many times, when my ex-husband deferred the decision-making to me, it was a set-up of sorts.  He either wanted to ensure that he could not be responsible for a decision that was made, or he wanted to be able to blame me for the decision, even if he supported it at the time.
No matter the situation, making decisions became a panic-induced activity for me.  I knew that most of my choices would receive a reprimand of some sort; it was like constantly being spritzed with a disapproval-scented perfume.
Of course, I am much healthier since ending my relationship with a sociopath, but there are days when I still feel like I need to take an exceptionally long shower.