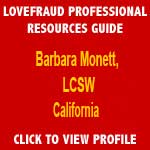 Lovefraud presents a series of Q&A articles with members of the Professional Resources Guide. Barbara Monett is a clinical social worker in California specializing in therapy for individuals facing problems of addiction and/or codependency.
Q. What experience have you had dealing with sociopaths or other disordered personalities—personally, professionally, or both?
A. Professionally—I am trained as a clinical social worker and have also completed the Hendricks Coaching Program for Couples and Individuals in Ojai, CA., as well as numerous other related trainings on mindfulness, codependency recovery, substance abuse recovery. I have personally been involved with Alanon, Coda, AA for over 25 years. I developed and ran the outpatient intensive program at our local recovery center for seven years, and worked as a dual diagnosis therapist for the local hospital for three years.
I met and married a handsome, smart man in 1989 after dating for two years. Sixteen years later, I found out that this successful contractor/developer was falsifying contracts, and selling parcels of land to friends, family and other investors that he never owned. He was busted by his business partner for up mishandling over $3 million. A good portion of that was my personal inheritance. I lost everything we had worked for over the last 16 years. He was sentenced to prison for three years. He only did half that time and was released. I'm convinced his good looks charm helped him get out early.
At the time, I was working in the mental health field in an office with a long time friend, a psychiatrist. We spent many conversations trying to figure out what happened to him, me, my marriage, my life. It never occurred to either one of us that he had a personality disorder. It took years to come to that realization.
Since then, it has become increasingly clear that I was raised by a narcissistic mother. Again, at the time she was alive, my brothers and I knew something was very "off" with her behavior, we spent hours upon hours taking and scratching our heads wondering how to make sense of her actions. All those years,  we had no idea what it could be.
Now it all makes sense! I liken the increasing realization of the impact of personality disorders on individuals and families to how issues of addiction/codependency began to be seen and felt 20 plus years ago. Essentially, it's everywhere.
Around that time, people were discovering that addiction and co-addiction was very often at the core of the family disfunction. Many programs and treatment centers, along with individual therapists began to understand the implications of these disease processes and we began facing the truth and healing from damage done.
Q. How do you go about helping clients who have tangled with a sociopath?
A. Since I have so much personal experience, and the experience of working with so many others who have lived with, been parents of or children of sociopaths, I feel as if I have a sixth sense when it comes to identifying how this condition plays a part in peoples' problems, frustrations, concerns, worries. I see them coming into my practice often. They are usually not aware that antisocial personality disorder or narcissistic personality disorder has anything to do with their presentation, But I DO! I can feel it, I can hear when I am listening to them and sensing their despair.
After doing a thorough assessment, which I do with any new client, there comes a point where I may simply  introduce the symptom list of antisocial personality disorder characteristics. I do a lot of educating early on and throughout treatment.
Q. What, in your experience, is the biggest issue or problem that people who have been betrayed by a sociopath need to overcome?
A. How to learn to trust and love oneself again (or possibly for the first time). First of all, we are usually not aware of who or what  we are dealing with and may believe that this guy is just what the doctor ordered—attentive, attractive, responsible, generous, etc. In retrospect, after realizing that we have just been thoroughly duped and betrayed by this same man, we wake up to find out that we are actually dealing with someone who has done, and will do, anything to get what he wants, no matter who gets hurt.
Q. What's one tip you can suggest for helping Lovefraud readers recover from the betrayal of a sociopath?
A. Know that ITS NOT YOUR FAULT!!!
Stay open to the practice of staying aware of the big and little red flags that let us know that something is not feeling true or authentic. Learn that it is essential to address these feelings and issues, no matter how small they may seem or how foolish we may feel. Learning to identify the difference between  reality and fantasy can also be part of the healing that we must face and embrace.