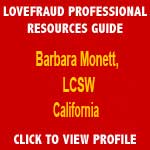 Lovefraud presents a series of Q&A articles with members of the Professional Resources Guide. Barbara Monett is a clinical social worker in California specializing in therapy for individuals facing problems of addiction and/or codependency.
Q. What experience have you had dealing with sociopaths or other disordered personalities—personally, professionally, or both?
A. Professionally—I am trained as a clinical social worker and have also completed the Hendricks Coaching Program for Couples and Individuals in Ojai, CA., as well as numerous other related trainings on mindfulness, codependency recovery, substance abuse recovery. I have personally been involved with Alanon, Coda, AA for over 25 years. I developed and ran the outpatient intensive program at our local recovery center for seven years, and worked as a dual diagnosis therapist for the local hospital for three years.
I met and married a handsome, smart man in 1989 after dating for two years. Sixteen years later, I found out that this successful contractor/developer was falsifying contracts, and selling parcels of land to friends, family and other investors that he never owned. He was busted by his business partner for up mishandling over $3 million. A good portion of that was my personal inheritance. I lost everything we had worked for over the last 16 years. He was sentenced to prison for three years. He only did half that time and was released. I'm convinced his good looks charm helped him get out early.
At the time, I was working in the mental health field in an office with a long time friend, a psychiatrist. We spent many conversations trying to figure out what happened to him, me, my marriage, my life. It never occurred to either one of us that he had a personality disorder. It took years to come to that realization.