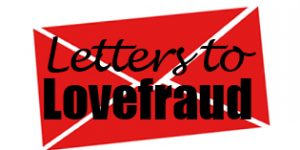 Editor's note: Lovefraud received the following email from a reader whom we'll call "Marjory18."
When I got involved with a bad person last year I wrote in to you with my story.
I have been committed to reading stories, articles etc on your Lovefraud site.
All I can say is thank goodness for your site and the info you provide.
I had another online date recently
Signs were there.
My mama raised me right (was told to me before)

Super charming

Tons of compliments

Lots of sexual talk (on the first date?)

We seemed to have a lot in common (really? that much)

Heartfelt and deep conversations (on his part)

That he studied psychology (was told that before – is that suppose to freak me out and open up?)
Anyway the list goes on and on….I was feeling uncomfortable at times especially when he wanted ME to give him same type of personal info. I did not.
Once we left he told me he would like to see me again and how much he desired me (Really?) and for me to think on getting together again.
Well I went home and 2 mornings later I GOT IT….same as before…..another potential sociopath. I say potential as I really don't know for sure…but sure SEEMS like it.
When I went back to read his online profile…there was the one telltale sign…he writes NO DRAMA (that info stuck in my mind).
I did a lot of investigation on him (as I did before and busted the previous sociopath on everything with hard evidence – GO ME!!!).
Found some what seem to be lies and untruths on the new person. While I don't know anything for sure this time I AGAIN will go with my gut (as I did before).
Texted him this morning and told him not interested in seeing him again (in nicer words).
So THANK YOU for all the advice you offer and steering me away from another potential sociopath as I am armed with information this time around.