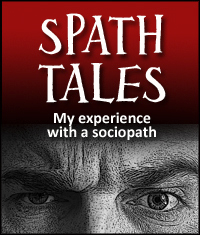 Lovefraud received the following story from a reader whom we'll call "Mary-Louise."
I was married for 9 years to a man who is a malignant narcissist, very similar to a sociopath. I have 2 kids and we share legal custody. I thought being married to him was bad, but divorcing him is worse in a lot of ways.
He had a sex and gambling addiction. He works as a fitness coach for adults and loved the automatic authority that gave him. He took full advantage of the women clients and had affairs with many of them. This was unknown to me until we separated.
There were several women he had on-going affairs with over the course of 10 years. Regularly he would invite his fitness clients over to our house for dinner. I guess that was to throw me off and I wouldn't suspect he was having an affair with someone who he had the balls to invite for dinner.
While we were dating, he moved into the house that I owned. All his money and effort went into his fitness business. He also started to trade stocks during the dot com boom.
It didn't take much experience to make money and he jumped right in. He borrowed 100k to start trading. He spent all his time trading, making up to 7 figures at one point.
That money was just sitting in the market. He didn't spend any of it and he got caught thinking that the stocks would continue to go up. He didn't pay back the original loan so when the bubble burst and stocks went down, he lost what he had earned plus owed the original seed money.
He lost several hundred thousand dollars and we refinanced the house several times to avoid bankruptcy.
His fitness business did not pay well so he got back on his feet by going into the real estate business with one of his fitness clients, a woman who worked in high-end real estate. He had had an ongoing affair with her and she was trying to help him out since he needed work.
Although she worked on commission, he talked her into paying him a salary. Using his considerable skills of seduction and manipulation he convinced her that he could take her business to the next level. Over the two years, he instead drove her to the brink of suicide, which thankfully she did not follow through on, but it landed her in the hospital.
When we separated, he began a full court press, claiming poverty, lying about not having money despite the fact that he had over 100K in cash and making 200k in real estate.
He borrowed money from his clients, telling them that it was to help pay the mortgage, but he never paid them back nor used it to pay the mortgage. He even argued with the judge during one hearing telling the judge that the income *he* reported to the court wasn't accurate.
He worked the same fitness job for over 15 years but had increasingly bad rapport with his boss. Rather than accept the status quo and keep his regular pay, which he could use to support his children, he quit his job.
That meant going to a new location and starting a client base from scratch. He tried to get child support reduced but the judge didn't grant him any slack and imputed income.
He was over 15k behind in child support at the time of the official divorce and I couldn't pay the mortgage every month without help paying for child care.
With the house going into foreclosure, I got the lender to agree to a loan assumption. All the ex had to do was sign the papers.
He wouldn't agree to let me assume the mortgage, and asked the court to order the house sold. Of course he sold the house rather than sell to back to me.
It didn't matter to him that that was where the kids had grown up or where all their school and friends were. It was all about his control.
After all that, I thought he had accomplished what he wanted. But he went in for the kill. He sued me for damages. The house had no equity because I was behind, so the court granted him damages.
This was devastating financial setback and I had to file for bankruptcy.
But he still wasn't done.
He then tried unsuccessfully to get full custody of the kids. He didn't have any evidence that I was a bad mother, so he made it up, using my struggle to pay bills as evidence. I had to hire a lawyer to defend myself, which I barely had the money to spend.
His strategy was to take everything away from me, the house I bought, the money I earned, breaking me and then finish me off by taking the kids.
This took him years to do and involves elaborate strategy. I underestimated the stamina he has.
It has never been about the kids and their best interests, what would be the best for them. His focus is still on me and he's willing to spend his time and money to destroy me.
There's so much I would have done differently had I known how relentless his campaign would be.
It was obvious that the kids weren't his focus and he didn't care about being a father to them. It also became obvious that he doesn't value things that other people value such as security, value of work, planning for the future. Things always seem like a game with him.
I also know that the courts aren't there to provide what people think of as justice.
And that dealing with a narcissist tests you to your limits.