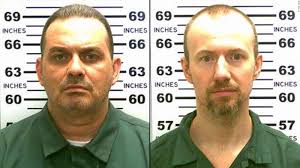 America's attention in recent weeks was focused on the Hollywood-worthy escape from prison by two convicted murderers Richard Matt and David Sweat.
Matt is now dead. Sweat was shot, captured, and is now under guard at the Albany Medical Center in Albany, New York.
The media have referred to both of these men a psychopaths. Looking at their crimes, I agree.
Sweat was convicted of murdering Kevin Tarsia, Broome County Sheriff's Deputy, in 2002. But he didn't just shoot the sheriff. Sweat ambushed Tarsia in a town park, shot him multiple times and then ran him over with a car. Here's the story:
David Sweat's brutal path to prison, on PressConnects.com.
Richard Matt had a lifelong history of violence. So what was the crime that landed him in the New York prison? Matt kidnapped, tortured, killed and dismembered his former employer, 76-year-old William Rickerson. Here's the story:
Richard Matt's troubles began early in life, on DemocratAndChronicle.com.
CNN did an article explaining what a psychopath is, and how people become psychopaths. Multiple Lovefraud readers sent me a link to the story. Here it is:
The birth of a psychopath, on CNN.com.
The article presents a good overview of the disorder. At the end, the article quotes Robert Hare, who says:
"Not all psychopaths are criminals. They are in business, government, academia and media. You'll find lots of these people, but they're not committing criminal acts. They will take advantage of people."
But unfortunately, most people still think psychopaths are deranged killers. Some of them, like Sweat and Matt, are. But most psychopaths never kill anyone.
So even though the information about murderous psychopaths is accurate, and it's important to know about them, many more people will be abused and exploited by those psychopaths who manipulate and deceive, rather than kill as many Lovefraud readers know all too well.