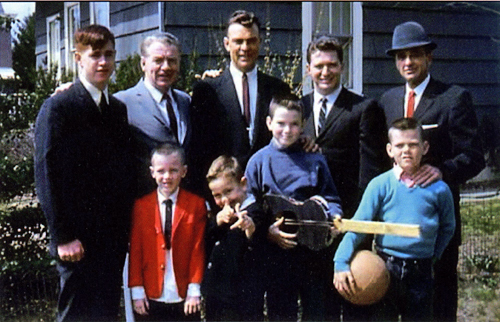 Hundreds of Roman Catholic priests sexually abused thousands of children over multiple decades, according to a grand jury report released by Pennsylvania Attorney General Office on August 14.
One of those children may have been my cousin, Terry Smith.
Terry lived with his family in Millville, New Jersey, which is less than an hour from Philadelphia. He was a few years older than me. I remember that he was a born entertainer; he always wanted to joke around, play music and sing. I guess that's why the priests liked him.
I don't know much about what Terry endured, but I did hear that he went to the Jersey shore with priests, and that he was "passed around." Perhaps he was abused by some of the Pennsylvania priests while they were on vacation.
The scathing, 900-page grand jury report documents sexual abuse in six Pennsylvania dioceses. More than 300 priests were identified, although many of those still alive have filed lawsuits to keep their names from being revealed.
The report also exposes the systematic and intimidating methods bishops and other church officials used to hide the abuse. They shuffled problem priests around without alerting parishes about their behavior, essentially providing the predators with new prey at each new church. The officials actually maintained secret archives of the abuse complaints, which the investigators obtained.
The Philadelphia Inquirer has extensive coverage of the scandal. If you want to know more, start here:
Pa. Catholic Church sex abuse report names hundreds of priests, accuses leaders of cover-up: 'They hid it all.' on Philly.com.
Today the Press of Atlantic City published an article about a child-molesting priest who once served in my family's parish, St. Francis of Assisi in Vineland New Jersey, which is next to Millville. It provides a chilling description of how priests were moved around.
Ex-Vineland priest in Pa. abuse report, on PressofAtlanticCity.com.
As for my cousin Terry, I believe that being sexually abused by priests ruined his life.
He eventually came forward, although his mother, a good Irish Catholic, refused to believe what had happened to him for a long time. As adults, Terry and two of his friends were among the first to receive settlements from the church. The cash came with gag orders that they were not allowed to talk about their experiences.
Terry spent most of his money buying drinks for his friends at the bar.
Terry never had a career, and rarely had a steady job. He married a wonderful woman from a good family and had two children, but his marriage fell apart. He had no place to live, and eventually had to move back in with his elderly father, Tom.
Terry became addicted to heroin, and as addicts do, became deceitful and manipulative. At one point assaulted his father, who filed a restraining order against him. After Tom died, Terry continued to live in the house, along with a bunch of transients, until something went wrong and the house burned to the ground. By this time he had also burned his bridges with his family, and no one wanted anything to do with him.
Terry died in February. His life was a mess, but at least he had friends — about 200 people showed up for his wake at a local Millville bar. They celebrated what was good about Terry. No one discussed his pain.