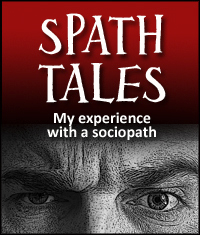 Editor's note: Lovefraud received the following story from a reader whom we'll call Kurt21 about his father's new wife. Therapists concluded that the woman was a pathological narcissist.
My father is on his third wife "P." I was opposed to their marriage due to the previous disastrous and expensive divorces. Just prior to their marriage Dad revealed to me the nature of his financial arrangements with P, and those arrangements mimic the community-property constraints that are setting him up for yet another expensive separation (should that occur).
Why would he do that, and why would P (herself a two-time divorcee) accept such an arrangement?
P is a licensed psychotherapist. Shortly after their wedding, my wife and I started receiving letters from P explaining the sources of my opposition to their marriage. Sending handwritten letters on her professional stationery, she explained that I don't like my mother, I love my father, and I am jealous of P because she is taking dad away from me. My father, who very much subscribes to the therapies of psychology, psychiatry, and psychotherapy, agrees with P and requested that I show those letters to a psychologist.
Pathological narcissist
I did show it to a few such therapists, and all of them concluded that P is a pathological narcissist. I didn't know what the word meant until that moment. P exhibits all the symptoms of a narcissist: lying, denying, blaming, rage, shamelessness, and entitlement.
Because she found yet another victim, my father, who is unable or unwilling to see P for who she is, he sides with her and at this point my relationship with Dad is toned down to courtesy phone calls and visits. I can't trust him, because he may share discussions with P who will explain to him what they "really" mean–all to her advantage.
Can't break it off
I have heard that the only way to resolve a relationship with a narcissist is to break it off. In my case, I can't break it off. Staying away from P means staying away from Dad, which I choose not to do completely. She manipulates him and me; I am aware of it, but I can't do anything about it. My best course of action is to be courteous but superficial with both of them.
There are worse cases involving narcissists, I realize. Nevertheless, my situation is a bit unusual because I can't leave the narcissist due to her manipulation of my father. (I am convinced that there are many other biological children in my situation.)
I would ask that people who engage in forming relationships–matchmakers, clerics, estate attorneys, judges–do some investigation into the nature of the people getting married for the second or third time. It might help prevent vulnerable, lonely divorces/divorcees or widowers/widows from falling in an abusive trap that affects them and their children.
Donna Andersen responds
Kurt21,
I am so sorry for the situation you and your family are in. Unfortunately, I've heard disordered women, I've heard of disordered therapists, and I've heard of mature men being targeted.
In fact, that's the topic of my newest book: Senior Sociopaths — How to recognize and escape lifelong abusers. It's about what happens when disordered people turn 50. Although many mental health professionals believe sociopaths "burn out" in their 40s and engage in less antisocial behavior, my research shows that this is not true. After age 50, their behavior is just as bad — or worse.
You didn't mention the woman's age, but if she's also been divorced twice, I'm willing to bet she is 50 or near 50. My book is based on a survey of 2,377 Lovefraud readers who had senior sociopaths in their lives. You might want to read it — the hundreds of stories inside may match what you are seeing. There are several stories about female gold diggers and tips on how to deal with them.
My book includes information on what to do when a senior sociopath comes into your life. Yes, it's best to get away from them, but many people are in the same situation as you, and conclude that the best approach is to keep the relationship polite but superficial. Your primary objective should be to maintain communication with your father. The woman will try to isolate him, and that will make matters worse.
I hope, one day soon, your father sees that his wife is a pathological narcissist. But until that happens, please continue to stay in touch with him as best you can.
Learn more: Senior Sociopaths—How to recognize and escape lifelong abusers