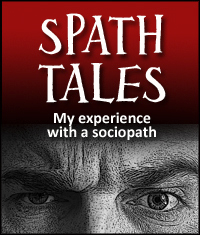 Editor's Note: This SPATH Tale was submitted by the Lovefraud reader whom we'll call "Mary Agnes."
I married a Narcissist and am SO glad we are not together anymore!
It took stupid love-blind me a few years to work out what my Narcissist-ex husband was doing. In short, he was stealing money from my family wealth over the years and giving it to his mother to spend on first class travel, cars, paintings, clothes, etc.
I spoke to a psychologist who informed me that it was likely that his mother and he were both narcissistic personality disorders, plus he was co-dependent on his mother.
He stole to feed his mother, both of them without empathy. In fact, his mother was really nasty to me the whole time she was getting him to steal from us.
Anyway I was in hospital at the end of our relationship — for an unrelated condition. I was very sick and in ICU for four days. In total I was in hospital for six weeks.
I never saw him.
He decided while I was in hospital to leave our kids and take a trip to Hong Kong for his 40th birthday to the Peninsula Hotel (one of the world's best).
I was too sick to cancel our credit cards and block him off my account.
He racked up 10,000 partying for his birthday while his kids were left with a nanny and their mother was very sick in hospital.
He is a true pig.
He has another girlfriend now and she doesn't believe any of it.
In fact he has told her that I ripped HIM off, because I kept the house. The fact is, the house was NEVER his. It always belonged to my family for generations.
He just acted like it was and like he was the rich one who earned all that money.
He did not. He is a fraud in every part of his life.
It's all about his image — his clothes, his car, etc. The same with his mother and they will stop at nothing to get it.
I am tempted to put his name but I won't. He is very good looking and SEEMS charming, funny etc.
But he has no substance.