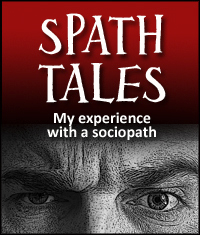 This SPATH Tale was submitted by the Lovefraud reader whom we'll call "Carlisia."
The sociopath left me and our son homeless.
We were involved six years ago when I became pregnant. He was very upset about the pregnancy and treated me badly, even offered me money to have an abortion.
He disappeared from our lives when our son was six months old and found another victim. Three years passed and because something went wrong with my child support I had to contact him again so he can fix it. We started communicating by email and exchanging pictures and he wanted to take me out to dinner to "catch up."
I accepted and the love-bombing started all over again. More intense than the first time.
He promised not to hurt me ever again, and he had plans to buy a home and move me in with our son. He said he was tired of dating (he is very promiscuous) and he wanted to settle down and form a family with me. He even cried telling me he finally found what he was looking for in me.
Meanwhile he was dating someone when he came back to me. After a while he discarded her to be with me.
He bought the house, furniture which I picked out, we remodeled it to my liking, I felt like his princess.
We moved in, and after three months of bliss I saw an inbox he sent to his old neighbor saying he wanted to meet up for sex.
I confronted him and he told me nothing happened that he made a mistake, that he was going to have sex with her but changed his mind because he didn't want to lose me. He even took a lie detector test, which he passed.
We decided to go to counseling after his pity play, where he cried like a baby. And life went on.
After a few months from that incident I found transsexual porn in his phone, I confronted him about it, and he gave me some lame excuse that he worked with a shemale and they were making fun of "her."
Anyways fast forward, he is in a motorcycle club which hold meetings every Wednesday, and some weekend events. One time he came home from his meeting I caught him texting someone. He gave me a story about some girl he met in an event but it was just friendship.
Well when I check his online phone statements (looking for that particular number he texted) I find a pattern of calls to shemale escorts every time he is out on Wednesdays and weekends.
The girl he was talking about never existed. He fabricated a story which we had arguments about. The person he texted was a shemale.
Every week he hooks up with shemale escorts. The phone bills go back to 2012. He's been doing that since then.
He denied it of course, saying that he only meets them to buy drugs. And he acted as if I was insulting him by confronting him with it.
He has smeared my name among his friends and family telling them I am a lunatic.
I left the house with my son and I'm planning to stay far away from him forever, even though I am in so much pain. This is very hurtful, but now I'm far from his physical and mental abuse.
This guy is an Italian stud, incredibly masculine, so people don't believe me when I tell them what he does. He rides a Harley and has had many relationships with women, but he uses them as cover, to lie and manipulate, while at night he engages in gay sex with transsexuals.
I am devastated and disgusted, and at the same time I realize how lucky I am to be out of that situation.