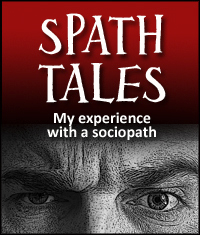 Editor's Note: This SPATH story was submitted by Lovefraud reader "Isis2014"
My father displays behaviors that are consistent with narcissistic personality disorder. He was emotionally abusive and neglectful to my mother, my siblings and me.
He and my mother were married for 28 years.
Months before their 28th anniversary, my mother discovered that my father had a 25 year old daughter. She is three weeks younger than my parent's second child. He hid his daughter's existence for 25 years. No one knew about her, not even his own parents.
My father exploits people, especially ones who are shy and quiet. He has exploited all of his children and continues to exploit my brother to this day.
My sister broke away from him shortly before my parents were officially divorced.
My relationship with my father has been strained since childhood.
I didn't know it back then, but I was picking up on his narcissistic behaviors. I knew something was wrong but I didn't know how to explain it. I have a personality type that is assertive and questioning and he tried to break me down.
He made it no secret that he preferred my siblings over me.
He had me make a cassette tape for a friend of his. Later I found out that the "friend of his" was the woman he was having an affair with. I've been introduced, by him, to at least three women he had affairs with.
One of those women worked at the same place he and I worked at. During that time he and I worked at the same company. He would lie to my mother that he was having lunch with me, when he was really having lunch with women he had affairs with from our job.
I didn't even realize he had been using me as an alibi until my mom talked later.
He fought my mother once but she fought back.
My father is extremely controlling but he's subtle.
Very few people ever believe that he is capable of this behavior. He's arrogant and jealous.
He used to isolate my mother. He didn't want her to work or go to school.
He loves to be admired. The only thing he cares about is his image.
That is the only reason I believe in my heart that he didn't try to physically harm my mother during the divorce. He knew that he would have been a suspect, and he can't bear anyone to see him behind bars. It doesn't fit his image of perfect husband and father.
His behaviors tend to be subtle which is what made it so hard to figure out and why people didn't believe.
This is just the tip of the iceberg.