Editor's Note: This SPATH TALE was submitted by the Lovefraud reader whom we'll call "Kathleen Jones."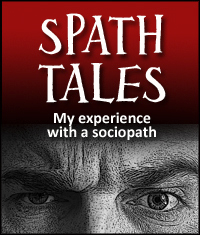 I dated a sociopath for two years before I found out what he was.
We met on an online dating site.
He mirrored my shyness and interests. I was smitten with him right away. He was not pushy, but patient, and soon we were a couple.
After three months of bliss, he would start arguments with me over nothing, but would manipulate me by crying and lying so that I always thought I was in the wrong.
It was a long distance relationship, so we saw each other on the weekends.
He went from idealizing me, to neglecting me.
When I would bring up how I felt, he would say he felt pressured and was doing the best he could. He said he had a full life.
I met his friends and family who all seemed to like me and confirm his story that I was his "first girlfriend."
Eight months into what I thought was an exclusive relationship I found out he was smoking pot and drinking consistently after he told me he never did stuff like that and hated putting poison into his body.
This lie I caught him in seemed so unlike him that I broke off our relationship.
Around this time, his email had a virus and sent an email to everyone he had emailed. Out of curiosity I checked who he had emailed and found he had responded to craigslist personal ads to have sex with both men and women.
I confronted him and he claimed someone had hacked his email. I believed him because it seemed so far from the man I knew him to be.
With me he was shy, gentle, and courteous. He once kicked a path for me in the snow because I mentioned my shoes might get wet.
After I broke it off, he proceeded to pursue me relentlessly with promises to change and "grow up." He was no longer neglecting me, but idealizing me again.
Two weeks of this and I decided to give it another shot. Again he was prince charming and wanted to see me all the time. We moved in together and once again I was on cloud nine.
Then he started neglecting me again and saying he was homesick and missed his family. He threatened to move when I complained about him neglecting me.
He started ignoring me completely and wouldn't even respond when I asked him questions.
If I pressed for an answer, he just said he was depressed.
He wouldn't sleep in my room with me, he slept on the couch. When I wanted to stay up, he went to bed. When I went to bed, he stayed up downstairs on his computer.
During this time I had another roommate renting with us so that I could afford to stay in my place. I was on disability, had a tenuous living situation in which I rented from my dad who wanted to sell his house if I couldn't keep it rented out.
I did not get along with my other roommate, who was female. One day I came home and found my supposed boyfriend talking with my roommate. They both stopped talking when I entered the room and I asked why.
In private, he said she was trying to buy pot from him.
I decided I'd had enough of her and would appease my boyfriend by moving to his hometown. He was thrilled and I told my dad to sell the house.
A week later my boyfriend broke up with me because I was "keeping him down." He moved that day back to his hometown, knowing I had lost my place to live.
Later I discovered he had stolen my migraine medications. Furious I demanded he make restitution for what he stole. He did and begged me for my friendship which I gave after another month of his relentless pursuing.
He told me he wanted to marry me which I knew was a lie, but could not figure out why he would go through all that trouble if he didn't care.
That's when I decided to tell him I knew what he had talked about with my roommate.
He confessed at that point that he had been trying to buy pills from her and that she had never asked for pot. It was then that I knew he had lied about not responding to those craigslist ads and that no one had hacked his email.
I cut contact.
My friend told me to look up the description of a sociopath and when I did I was both mortified and relieved to realize my ex fit the description perfectly, from his flat affect and dead eyes, to his impulsive irresponsibility, and pathological lying.
Everything made sickening sense and I realized he never loved me.
I later found him by his photo on several dating web sites with different identities.
He had told me once that no one could put anything past me, and he had been cheating on me while implying that I was too needy. This single cruelty illustrates the calculated maliciousness he operates with.
For a long time after I stopped talking with the sociopath. He called and harassed me and I had to change my contact information.
I suffered a physical relapse from an autoimmune disease I have and worsening depression, which I am happy to say are getting better today.
I hope to educate people about sociopaths so no one ever has to experience this kind of abuse.