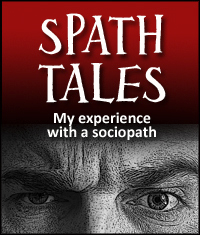 Editor's note: Lovefraud received the following letter from a woman whom we'll call "Eleanor." Names have been changed.
The sociopath is my ex-husband. We were married for 10 years, two children, girl and boy. He changed THE DAY we were married.
He has alcohol problem, cheated on me, lies. When I asked him to see marriage counselor, he told me to go by myself. I went for counseling by myself for approximately 4 months and was told, "I can either counsel you to live with him or counsel you to live without him."
This is way before I figured out he is a sociopath, I decided this was not my idea of love. So I told ex that I was going for divorce.
He was enraged. Would not give me money for lawyer. My sister gave me money. He did not have an attorney and dictated what he would pay for child support and everything he wasn't going to do. I accepted 50% child support.
The first 18 months he was angry with me. Bought our children all kinds of computer games, etc. (so he wouldn't have to deal with them).
THEN he went back to his trying to manipulate me to coming back to him. He was taking the kids on vacations, picking them up every day from school, taking them to their sports events, and I would pick them up every day after I got out of work.
After approximatelt 4 years of that (he was dating, lying to kids, etc.) I started dating "¦ THIS WAS THE BEGINNING OF THE END FOR ME AND MY CHILDREN.
He said he was tired of this, wanted his own life, etc. He quit picking up kids, quit EVERYTHING. After a year I filed papers for full support and won.
Then he hired an attorney and said that, "I was alienating kids from him." Six and a half years later, the judge said "there is no alienation, however we are keeping the support the same," which went against the law "¦ cost me an additional $10k to go to the Supreme Court.
Supreme Court overturned decision, however the back support that I won, all went to my attorney's fees.
When Tucker was 15 years old, he found favor with older guys that knew the law, put him up to stealing merchandise from a pawnshop. The next day the men had Tucker go to GameStop to "sell" them and it was then they called the police.
He was arrested and put into a house for troubled teens. After a couple of months he was released back to me, after I BEGGED to have him sent to "Boystown" in Nebraska.
The state refused and the put him on "probation" with an electronic device on his ankle. My parents and my sister and my daughter all witnessed the officer putting in on his ankle and telling him, "if he so much breaks the rules once," he will go to placement.
Well, I lived on a main street, his "bad" friends knew exactly where to find him and they did. I came home from work 10 days later and he was "high." I called the probation officer and NOTHING HAPPENED.
So even though I had social workers coming to my home, other "social" professionals coming during the day for Tucker, this nightmare got worse.
Me and his father were told, "Tucker was not to be with anyone but either of us." His father would take him to the YMCA and get in a fistfight with him and then LEAVE HIM THERE to walk home ALONE. This happened on at least 2 occasions.
Then the probation department decides to let Tucker ride his bike to school "¦ I could go on for 3 days "¦ long and short, I finally wrote a letter to the probation officer. It had 3 months since Tucker was out of the troubled teen house, I found him "high" more than once, he was seen "supposedly" trying to break into cars on his way to school, he was leaving the house during the day, (even with an anklet on).
With all this stress "¦ my daughter's eyelid was drooping "¦ I finally wrote a letter to the Probation Officer and told her if she wasn't going to do anything about Tucker, I would, and that there is another child that lives in this home!!
Another thing, when their father quit being a father, approximately 7 months later I started taking both of them to a counselor. Their health insurance was covered under their father.
Their father would call the counselor and "tell him how to counsel" the kids!! Being their father works at company that "runs the city," and this particular counselor did a lot of work with their employees, the counselor said he wasn't going to see us anymore!
So during the 6.5 years of court, a couple years was with a counselor about 35 miles out of the way.
Counseling started out great. This counselor said to their father, "if you so much lay hand on your son, I will make sure you never see him again."
I thought FINALLY! Someone to make him accountable!!
That was short-lived. Probably a year into counseling, the counselor's son gets a job where my ex works!! And now the counseling session starts off with "¦ what is your position at ______? OMG!
My attorney had been in contact with the counselor as well as the other attorney. My attorney said earlier, "he has your back". Now it comes to having him appear in court, and he would not go to court. He sent a letter that was so vague it was pathetic!!
So after the letter I wrote to the probation officer, she then filed papers to have Tucker taken into custody and put in an agency.
The day after Tucker was taken there, his father starts on him. Tucker "¦ if you come live with me, I will buy you a car, I will do my basement over, etc. "¦
The ex hired an attorney, not only any attorney, but the same attorney who was the children's Law Guardian the entire time of court case. This attorney KNEW their father was a freak! But as the saying goes, MONEY TALKS.
Now we are in court to get Tucker placed with his father. When the judge asked me if "I was ok with Tucker living with his dad" I stood up and so "no, its not fair to Tucker." The judge looks at the attorney and said, "looks like you have another lawsuit on your hands."
Then the attorney turns around and scowls at me and repeats, IS IT OKAY FOR TUCKER TO LIVE WITH HIS FATHER?
Well here I am. NO money, house on the market "¦ completely broken and yet trying to keep positive for my daughter.
So at that point Tucker was placed with his father. Tucker had 2 treatment plans through the agency that NEVER went into fruition?? How is that fair to my son?
He was placed at the agency in January by the end of August same year, his father quit paying support for both kids.
I file papers with the court for him stopping payments. We go to court October and his father had NO CONSEQUENCES FOR STOPPING CHILD SUPPORT ON HIS OWN. The judge reduced his child support.
In the same month of October, Tucker meets his first girlfriend (Tucker turned 17 in August). His father lets this girl spend the night at his house IN TUCKER'S BED.
His father took Tucker to Verizon (I was paying for phones for us, which I had to take over because of their father constantly turning on/off the kids phones for every little reason he could find). They got into my account, his father bought the Iphone, but the rest would be on my phone bill THAT I DONT HAVE MONEY FOR.
I received an email from Verizon. I went to the store, small individually owned store, which I did not realize, and called both of them to get to the store. They both came and Tucker came over and said, "mom I am so sorry" "¦ while his dad just laughs "¦ hahhahaha!
Their father's phone is paid for by the company he works for. So I said I am not paying for Tucker's phone or charges from here on out, he is off my account.
The following May, I got the call that Tucker was arrested for a protection order. His father bailed him out.
Then Tucker texted the girl and was arrested again.
Then while we were in court, he was ordered to be on house arrest for a month. (The girl who put the protection order on him was GOING TO HIS FATHER'S HOUSE TO VISIT TUCKER on a regular basis!!! His father allowed this!!!!
When he was off house arrest (1 month I believe), end of July, I am coming out of church, my phone rings. It's Tucker, crying and scared "¦ "cops came to dad's house, I jumped out the window "¦ mom I don't want to go to jail "¦"
So the police went to his father's house early Sunday morning, Tucker, his father and the girl (who is 18 yrs) are there!
Tucker is found rather quickly. I called the District Attorneys office 2x.
Finally the "confidential secretary" said to me "what is your question?" I said what are the consequences for Tucker's father?
She said Tucker is old enough to make his own decisions. I said, wait a minute "¦ Tucker is 17 yrs old, I pay support for Tucker. If Tucker sneaked out of the house it's one thing, however the girl that had the order on him was at the house WITH THE FATHER.
She said to me, "well, that may be the way you parent, but not the way of all parents"!!!
So knowing that Tucker was going to go to jail, his father continued to allow this girl to come over, welcomed his druggie friends over for dinner with Tucker, etc. "¦ Tucker was led right into the Lion's Den!!!
His father never hired an attorney. Tucker had a public defender (who could have cared less). I had no money for an attorney. Tucker is serving 1 to 3 years at a Medium Correctional Facility… How sad is that 🙁
I begged for help for Tucker. I told everyone that I though could help him that I have watched him unravel since his father quit being a father.
I went so far as to take him to a psychiatric unit and refused to leave with him. Of course, his father goes and gets him.
It has been COMPLETE AND UTTER CHAOS! I never, EVER dreamed this was or would be my future.
His father visits Tucker and is still manipulating him.
Their father did anything and everything to UNDO any kind of normal lifestyle the children and me had.
He would call Tucker drunk, and call him all sorts of names, tell him that he is going to end up in jail, etc. "¦
I would tell Tucker to hang up on him, that you don't have to listen to that, but Tucker would just sit there and listen.
One of the conversations was his father calling him drunk and yelling at him for not answering his call. Tucker said, dad I was at practice, I'm sorry, I love you dad, wouldn't trade you for anything.
His father's reply was, "I WOULD TRADE YOU FOR A BASS BOAT." And that summer, he bought a bass boat.
Oh so there is so much to my story "¦
My daughter had clung to me and is very successful, going to college, her sophomore year and is on dean's list.
When she turned 18 I printed out information on sociopath "¦ she has little contact with her father "¦
I still live in "fear" of him. I don't share a lot with Tucker when I visit because I know everything goes back to his father "¦