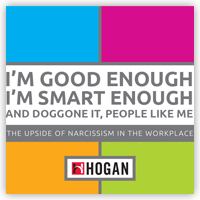 A Lovefraud reader sent me a link to a free e-book. The reader's only comment was, "ugh." Here's the book:
The Upside of Narcissism in the Workplace
The book was created by Hogan Assessment Systems. On its website, this company says, "Hogan uses the powerful science of personality assessment to help you hire the right people, develop talented employees, build great leaders, and impact the bottom line."
I downloaded the e-book. It's very short only nine pages. It points out that young people in general exhibit more narcissism than in the past, but in "controlled doses," narcissism may be good for an employee's career.
The e-book points out the potential pitfalls of narcissism. For example, people high in narcissism are often impulsive, entitled, insensitive and unrealistically confident about their abilities.
The e-book suggests that by presenting personal development as a "strategy for advancing their personal agenda," narcissists can tone down their narcissism, and improve their career success.
Narcissism and sociopathy
All sociopaths are narcissists, but not all narcissists are sociopaths.
Here's how WebMD describes Narcissistic Personality Disorder:
Narcissistic personality disorder is further characterized by an abnormal love of self, an exaggerated sense of superiority and importance, and a preoccupation with success and power. However, these attitudes and behaviors do not reflect true self-confidence. Instead, the attitudes conceal a deep sense of insecurity and a fragile self-esteem. People with narcissistic personality disorders also often have a complete lack of empathy for others.
One of the key differences between narcissists and sociopaths is mentioned in this description: Deep inside, narcissists are insecure. Sociopaths are not insecure about anything.
Another difference is that narcissists are so focused on themselves that they are somewhat clueless when they hurt others. Sociopaths, on the other hand, often set out to intentionally exploit and damage others. All they really want is power and control.
Deal with a narcissist?
Narcissism and sociopathy are both on the same continuum of personality disorders, and the criteria overlap. It's often difficult to tell one from the other.
In romantic relationships, I don't think it matters sociopaths and narcissists should be avoided. I mean, what is the point of a romance with someone who has "a complete lack of empathy for others?"
But what about in the workplace? Can you deal with a narcissistic co-worker or boss?
And what do you think about the suggestion that narcissists can rein in the negative aspects of their personality and become confident and energetic members of the company team?
If you have worked with narcissists, please post about your experiences.