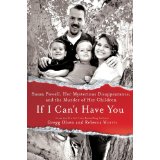 Gregg Olsen and Rebecca Morris released their book "If I Can't Have You: Susan Powell," which reveals what life was like inside the home of Susan and Josh Powell and their two young sons 7 year-old Charlie and 5 year-old Braden. According to neighbors, Josh mentally and physically abused Susan and the boys.
After Susan's mysterious disappearance in 2009, her parents, Chuck and Judy Cox, cared for the boys. They began to see signs that the boys may have been sexually abused while living with their father and paternal grandfather.
Susan's body has never been found. Josh Powell blew up their home, killing his sons and himself in the explosion.
Revealed: Josh Powell 'sexually abused his two sons' before their mother vanished and he butchered the boys with a hatchet, from Mail Online.