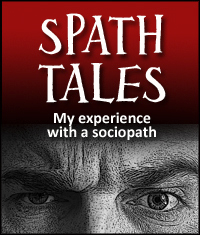 Editor's Note: This SPATH Tale was submitted by the Lovefraud reader whom we'll call "Leslie Ann." The names in this story have been changed.
I met Matt. I was tired of dating and definitely tired of dating jerks.
Matt was stable, not as good looking as the men I had dated before, in fact he seemed a little awkward. He was very kind and polite.
I was ready to get married and settle down.
He said he had been divorced for 8 years and that his wife has lived in another bedroom for their 18 year marriage and was cold to him but that they had a peaceful marriage. He was starved for love and was so wanting to find his soul mate. He had dreamed of finding woman who looked like me.
I'm petite and blonde. His friend and family eventually confirmed that I was physically his dream girl.
I had been in an abusive marriage for 20 years with a sociopath but had been divorced for 13 years. I could spot them a mile away.
Matt was so kind, and sweet and would always say that he was like Richie Cunningham … never cheated or lied or went to bars He was not the charming, smooth type. Rather socially awkward. But rather like a Boy Scout.
Everyone loved him … the guy anyone could depend on. Same job for 25 years. He told me from the beginning that I was his dream girl. That he would always keep the romance alive. That he would never hurt me like other men.
There were no addictive behaviors in him or his family. He had a large family and they were all happily married. He let me meet them all.
I had finally found a guy with character.
He seemed a little inexperienced in the bedroom at first. He wanted to use a vibrator but did a big show about how he was afraid of them. I asked him to do a little spicy talk he said he'd never done that before but he'd try. Next time we were together he was an expert. He said he'd studied YouTube videos on the subject. He shortly became the best lover I ever had.
After a rather short time all of the romance that he promised became short lived. I'd ask him why he seemed to be so intimate in the bedroom and distant outside the bedroom. He'd clean up his act for awhile. He was excessively stingy with his finances and accused me of trying to manipulate him for his money. I had never asked him for a cent and we were hardly ever going out, just having sex.
It took me awhile to notice this pattern. I broke up with him. I put up a dating profile.
He called me distraught and said that he wouldn't be able to date for months since we broke up. I apologized for hurting him and we reconciled.
I found his profile up weeks later. He claimed he had it up to search for mine and he didn't know how to take it down.
He gave me a commitment ring. He received a text at midnight that night and said it was from his best friend, Chris. Chris would tell me that Matt was true blue, never ever lied or cheated. Please note Matt was not charismatic. He played himself as awkward and non-social.
Fast forward. Matt would repeatedly say to me … "you do so much for me what can I do for you?"
He was working long distance so I'd ask him to call or text sometimes. Of course, he wouldn't. It was a chore. Very confusing to me since he said he was going to be so romantic.
Next he brought out his fetishes. Long nails, latex, pornography. He wanted me to wear this in public. I refused. I did wear it in the bedroom. If I didn't he pouted or was passive aggressive.
He would insult me in front of others. I found out that he was having an affair with a woman in LA where he was working. He told me that he was devastated by his behavior. She was very homely. He said he would stop the affair. He said he had never cheated before in his life and had been tormented by his behavior.
I ended up degrading myself and checking his phone. A woman that he claimed had been a long time friend that I never suspected because she was very unattractive had been repeatedly calling him. I listened to her messages. They were obviously involved also.
He had not broken off the affair as I saw by the fact that he was texting her. He had also written her emails telling her the same things that he told me in the beginning of our relationship.
I confronted him and said to end it. He said no one gives him ultimatums and he wanted to take a break but he would still communicate with me. He called once.
I called him for an airline ticket and asked to see him after three weeks. He jumped at that chance.
Before I did I saw my therapist who pegged him as a sexually addicted sociopath. I cancelled.
He called and begged me to call him. I did not at the advice of my therapist who explained that he would just be trying to seduce me.
I was telling my friend this story soon after the break; she asked his name. When I told her she said: My friend from college was engaged to him!!
In an hour I was talking to his ex fiancée who informed me that he had been calling her throughout our entire relationship trying to date her, telling her we were broken up.
The night that I got the engagement ring, she was the one who texted trying to give me a heads up that he was cheating. He did the exact same pattern with her. When they got engaged at the six month mark, he stopped flying to see her (they were long distance). The same girl that he was cheating with was in the picture with her and she missed it also because she was unattractive. She also had been married to a sociopath and could spot them a mile away but we both missed it with this guy because he presented an awkward, unassuming demeanor.
Not all sociopaths are charming and polished.
I knew that he had hundreds of thousand of dollars in the bank. She did not.
He told her he was just a blue collar worker and had her paying for their vacations, her own Christmas gifts (claiming he'd reimburse her), etc.
He is currently working his magic on a new victim. He hides the truth from his family and even his best friend. They all think that he is the salt of the earth.