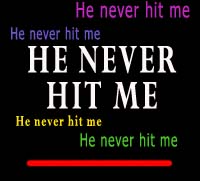 Writing in the first person, Reut Amit describes a dialog that many abused women know: As long as her partner wasn't hitting her, she could put up with his lies, his cheating, his verbal and psychological abuse, and her isolation.
"I set a benchmark. The red line I wouldn't cross. The minute he hit me, I would leave," Amit writes on Huffington Post.
With the help of other abused women, she did not wait until the arbitrary red line was crossed to get out of the relationship.
He Never Hit Me, from HuffingtonPost.com.
Link supplied by MaryAnn Glynn.
Need help? In the U.S., call 1-800-799-SAFE (7233) for the National Domestic Violence Hotline or visit the National Sexual Assault Online Hotline operated by RAINN. For more resources, visit the National Sexual Violence Resource Center's website.