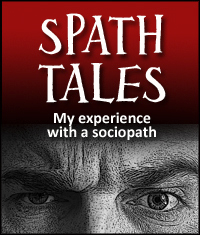 Editor's note: Lovefraud received the following story about parental alienation from a reader whom we'll call, Jennifer20.
Well I honestly wouldn't know where to begin. People are always telling me I should write a book. Maybe one day I will, but I will start here.
I was 17 and I was pregnant with my boyfriend of 3 months. My mother felt bad for me and my father was completely ashamed and embarrassed. I was young, naive, and really, really stupid. I didn't realize the sociopath the father of my child really was until it was too late.
I was about 8 months pregnant, scared, and in a very vulnerable state. I make decisions against my family's advice and soon found myself regretting all of them. I was taken advantage of, was manipulated, and was mentally abused.
Every time I got away, he made things so hard for me that I kept going back because it was just easier than dealing with him making me pay for leaving him. I couldn't decide which scenario was worse.
My son was injured in a hit and run accident when he was just 3 years old while playing outside. It was the scariest time of my life. The worst thing you could imagine. Thank God he was ok and had no injuries that would affect the rest of his life.
It should have been a time when both families came together to support each other. While we were in the hospital my ex lied and said he had to leave to go get car insurance? Really he went to court to get emergency custody saying it was my fault, and I couldn't even take my son home from the hospital. My son went to my ex's house and he didn't even live with him.
My dad had a friend who was a judge who got the order switched around for us the very next day thank the Lord. That was just the beginning.
Now my son is 15. I have spent the last 15 years in and out of court (all from my ex filing over and over for ridiculous things). From my research I realized that there is a term for what he was doing to me — court abuse (among other types of abuse).
I have spent thousands and thousands of my and my family's money on lawyers and therapists. By the time my son was 12 — my ex had completely brainwashed my son, who previously was petrified of him and hated him. He completely turned my son against me and my son told the judge he wanted to live with his dad.
Without listening to my plea that he was being coached by his father, and I had emails from the child psychologist and the co parent counselor (who told us she could no longer work with us because my ex would flip out cursing in our sessions), she gave him custody.
I told myself that whatever happened at that hearing I would just live with. Because I couldn't put my family through that anymore. I was going to lose my husband if I kept going. I wasn't present for my other children because all my energy was going towards all of this.
I was so depressed and stressed, I lost weight and my hair was falling out. My family was so worried and told me to just give up. That my son would realize it one day.

My son is mentally abused by his father and is so petrified of him that he does whatever he says. My son wouldn't talk to me or acknowledge me when his father and step mother were present.
He has developed two personalities. He is himself when he is with me, but turns into this other person when we are around his father or even talk about anything relating to him. It's very scary.
I don't know how to help him at this point. I am physically, emotionally, mentally, and financially drained. I'm trying to raise my two year old and I'm pregnant with my next.
I'm trying to be a good parent to all of my children but I feel helpless in this situation.
Webinar: Battling Parental Alienation: What to do when your ex convinces your children to hate you