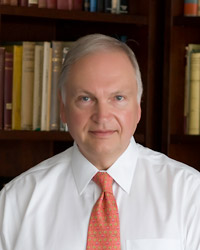 This week I had the privilege of tapping into the vast knowledge of Dr. Park Dietz, one of the world's foremost authorities on criminal behavior. He has consulted and testified for the prosecution in many high-profile criminal cases such as Jeffrey Dahmer, John Hinckley, Jr., the O.J. Simpson civil suit, Andrea Yates, the Unabomber, the Menendez brothers, Jared Lee Loughner, and Susan Smith. Dr. Dietz was also brought on as a consultant after the Columbine shooting to investigate the motivation behind the attack.
He received his degree in psychology at Cornell University and completed his residency in psychiatry at John Hopkins University. In 1978, Dr. Dietz became Harvard University's youngest assistant professor. Today he owns two companies: Park Dietz and Associates and Threat Assessment Group, Inc. (T.A.G.), which specializes in detecting and managing threatening behavior in schools and corporations.
I decided this week to reach out to Dr. Dietz for advice on safeguarding ourselves and our families from criminals. Many of the visitors to Lovefraud have had their lives negatively impacted by sociopaths – we often don't realize we've been snagged by one until it is too late. How can we better protect ourselves and our kids? I asked the leading expert:
Wendy: Online dating services have become quite popular. What advice do you have for those getting to know people via online dating? Are there certain warning signs to watch out for?
Dr. Dietz: The only outcomes I ever see from online dating are unsatisfactory, but perhaps that's just the nature of my work. I've heard of some pleasurable hookups by people with reciprocal perversions on unseemly sites, but that's not useful for most people. It's difficult enough to judge the character of someone to whom you're introduced and whose family you know, and it's impossible to do this with the many liars and posers on dating sites. At a minimum, one should do a criminal background check and avoid anyone who sounds too good to be true. I'd also be suspicious of anyone who seems charming or charismatic. Before being alone with the person, ask to meet a family member or friend. The first time you catch someone in a lie, see a frightening temper flare, or feel pressured to do something you think is wrong, end the relationship.
Wendy: You've mentioned in interviews that restraining orders can do more harm than good, often escalating an aggressor's anger. What advice do you have for someone dealing with a psychopath who is relentlessly tormenting (say, an ex-spouse or a relative)?
Dr. Dietz: The only complete relief requires not being found, and the Internet has made this more difficult than it was in decades past. Short of disappearing, the best resolution most people find is to create safe zones for themselves at home and at work (with pre-planned routes of escape or defensive strategies), safe habits of travel, and avoidance of predictable and vulnerable locations, such as favorite restaurants or shops. Moving across state lines can help, because the federal stalking law has more teeth than any of the state laws.
Wendy: With all the red-tape in school systems as well as the concern for "political correctness" over safety what do you recommend to parents who feel the safety of their children is being compromised? For example, if worrisome behavior is observed in classmates, but nothing is being done about it?
Dr. Dietz: This is all too common. Remember that the schools and the teachers unions are not in business to protect your child. If reasonable requests to the principal and district officials don't result in your child being separated from danger, you either need to hire a lawyer to make it happen or remove your child from the danger.
Wendy: In my experience, as well as that of many others, attorneys and judges don't seem to take psychopathy seriously. This seems especially true if the psychopath doesn't appear intimidating (or is a really good "actor"). If there is a diagnosis of psychopathy on file (or even clinical notes that someone is a threat), why do courts often ignore these warnings?
Dr. Dietz: Neither criminal nor civil law provides tools for protecting anyone from psychopaths until after a felony has been committed. The police, prosecutors, and criminal courts are made up of mostly hard-working and dedicated people trying to do the right thing, but they have no duty to protect people from future harm. Preventive detention is unconstitutional (except in federal court where a showing of dangerousness can be grounds for pretrial detention). The civil law is quite good at recovering money from wealthy bad actors after they rape, maim, or kill you, but it offers only paper-thin preventive measures, such as restraining orders, cease and desist letters, or threats of lawsuits. The two times that a solid diagnosis of psychopathy can actually help protect future victims is in criminal sentencing and in parole hearings, but there, too, it is only effective after at least one felony conviction.
Wendy: You mentioned that psychopathic behavior can be detected as early as age 6. What can parents do who suspect their child may be a psychopath? Are there early preventative measures that can be taken, or is biology stronger than behavior modification?
Dr. Dietz: It would be a lucky and unusual little psychopath who had a parent good enough to care what became of him. Such a parent would probably make the right moves, like providing love, setting limits, and not abusing the child. The goal is to channel his fearlessness and need for excitement into pro-social activities like sports, and to keep him away from alcohol, drugs, and delinquent peers. Fearless children can grow up to be risk-taking good guys, but they need lots of direction. If the child has ADHD, treatment is all the more important, as boys with ADHD are much more likely than other boys to grow up antisocial.
Wendy: You have vast experience in dealing with notorious criminals. You once spent three days analyzing Jeffrey Dahmer (in a room alone with him) and didn't feel apprehensive at all! But what advice do you have for a layperson who encounters a violent offender? What are some "dos" and "dont's"?
Dr. Dietz: I was safe with Dahmer, as I wasn't his type. My only brief advice is this: Avoid such people if you can. Be respectful and get out of the way if you can't avoid them and they aren't attacking you. Once you're under attack, make noise, cause pain, disable, and run. Every school of self-defense emphasizes different approaches and tactics, but what they all have in common is keeping sufficient awareness at all times to avoid being in this situation in the first place. That means not letting anyone into your home that you don't already know is safe.
Wendy: It seems like psychopathic behavior is becoming more prevalent. Would you say the number of psychopaths in the world is increasing, or does it just seem that way due to extensive media coverage?
Dr. Dietz: There is no scientific evidence of an increased prevalence of psychopaths. I think awareness is increasing and the media, as always, are quick to give them headlines.
Wendy: Speaking of the media, you've expressed concern over how the media sensationalizes criminal activity. Do you think psychopaths generally don't care about violence (and are thus not swayed one way or the other), or do you think these reports are pushing non-violent psychopaths into violence?
Dr. Dietz: My concerns about media coverage aren't entirely about psychopaths. Coverage of mass murders prompts copycats among depressed, paranoid people, but they aren't usually or necessarily psychopaths. Media pairing of sex and violence, I fear, makes it more likely that young viewers will learn to find violence against women sexy, and if I'm right about this, the psychopaths among them take this out on unconsenting partners once they reach their teens and early 20s. Media hype about a "new" form of crime teaches even the dumbest of psychopaths a new way to get a thrill, leading to such media-driven fads as product tampering threats (1982-1986), carjacking, and most recently, the "knock-out game."
Wendy: I am very interested in your TAG program. Can you tell readers more about TAG? What TAG sources are available for individuals who want to learn more about personal safety (particularly for those who are currently in threatening situations, such as domestic violence)?
Dr. Dietz: Threat Assessment Group (TAG) was the first company to specialize in violence prevention. For nearly 30 years, we've served the Fortune 500 and occasional universities, schools, celebrities, and families. We've just filmed new on-line training materials for corporations, educational institutions, and government agencies and departments. If these are successful when we launch them later this year, we'll look at creating affordable on-line training for individuals. Our next project is child sexual abuse prevention for large organizations.